Here's Why Danny Masterson's Hyde Isn't In That '90s Show
The actor was sentenced to prison after two rape convictions.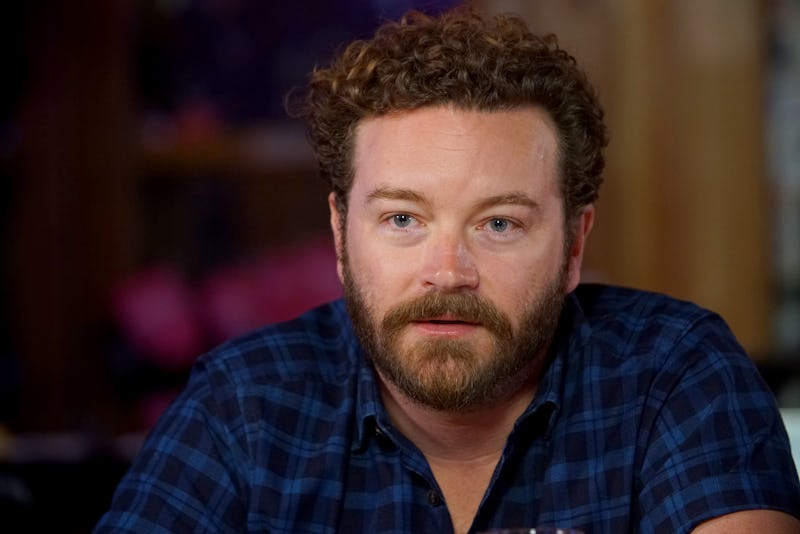 Anna Webber/Getty Images Entertainment/Getty Images
In Netflix's That '90s Show, a new generation of Point Place teens set up camp in the Formans' basement, but the original That '70s Show cast is still very much in the mix. Now grandparents, Kitty (Debra Jo Rupp) and Red (Kurtwood Smith) open their Wisconsin home to Eric (Topher Grace) and Donna's (Laura Prepon) daughter Leia (Callie Haverda) for the summer. Not only do all of those actors appear in the pilot alone, but Mila Kunis (Jackie) and Kelso (Ashton Kutcher) make a quick cameo, too. Once Wilmer Valderrama later reprises his role as Fez, there is only one noticeably absent original star: Danny Masterson, who played Steven Hyde for the sitcom's entire eight-season run.
Though the That '70s Show spinoff doesn't directly address why Hyde doesn't return to Point Place, there's an obvious reason Masterson did not participate in the series. When Netflix announced the cast of That '90s Show in February 2022, the actor was awaiting trial on three rape charges. The Los Angeles County District Attorney's Office announced on June 17, 2020 that, after a three-year investigation, an arrest warrant was filed against Masterson with allegations of the assault of three different women from 2001 to 2003. His bail was set at $3.3 million, and the actor was booked into the Los Angeles County Jail and released on bond the same day.
Masterson's attorney, Tom Mesereau, insisted in a statement to NBC News at the time that his client was innocent. "Obviously, Mr. Masterson and his wife are in complete shock considering that these nearly 20-year-old allegations are suddenly resulting in charges being filed, but they and their family are comforted knowing that ultimately the truth will come out," Mesereau said of the actor who married actor and model Bijou Phillips in 2011. "The people who know Mr. Masterson know his character and know the allegations to be false."
Facing a possible maximum sentence of 45 years to life in state prison, Masterson pleaded not guilty to three counts of forcible rape, and his trial began on Oct. 11, 2022. During the proceedings, all three accusers testified, putting a spotlight on the Church of Scientology, of which Masterson is a high-profile member. According to the Jane Does, the actor's status within the church "entitled" him to have sex with them. Two of the women testified that they reported the allegations to church officials but were dissuaded from reporting the assaults to police. All three women, including a former girlfriend, have since left the church.
In an October 2022 statement to The New York Times, a spokesperson for the Church of Scientology denied that they'd pressured any alleged victims. "The church does not discourage anyone from reporting any alleged crime nor tell anyone not to report any alleged criminal conduct," the statement read, in part.
On Nov. 30, a Los Angeles County Superior Court judge declared a mistrial after the jury remained deadlocked on a verdict. At the time, the D.A.'s office said they would consider "next steps as it relates to prosecuting this case." On Jan. 10, 2023, they made that determination, and Deputy District Attorney Reinhold Mueller told the court that their office would pursue a second trial against Masterson. "Not giving these victims another chance with a jury who can sit there and consider all of the evidence — win, lose or draw –- that would be an injustice," Mueller said, arguing that the jury ignored supporting testimony, per Variety.
Defense attorney Philip Cohen argued that it was unlikely any jury would vote unanimously to convict Masterson and moved to dismiss the case. However, the judge denied the defense's request and set a date of March 29 for jury selection.
After the news broke, two of the women who testified at the actor's first trial issued a statement. "We are pleased that Danny Masterson will not be permitted to simply escape criminal accountability," they said. "Despite suffering years of intimidation and harassment, we are completely committed to participating in the next criminal trial to the extent requested by prosecutors and again testifying about Mr. Masterson's depraved behavior."
On Feb. 16, however, LA Superior Court Judge Charlaine Olmedo, slightly delayed Masterson's second criminal trial, moving the start of jury selection from March 29 to April 11, per Deadline. The reason for pushing back the proceedings is reportedly to accommodate potential witnesses. Deadline also reported that various hearings are still on the schedule, including a motions hearing on March 27 and 28.
After a second trial, a jury found Masterson guilty of two of three rape counts on May 31, and on Sept. 7, Olmedo sentenced the actor to 30 years to life in prison, the maximum allowed by law, according to the Associated Press. Masterson, who is 47, will be eligible for parole after serving 25 1/2 years behind bars.
"I know that you're sitting here steadfast in your claims of innocence, and thus no doubt feeling victimized by a justice system that has failed you," Olmedo told Masterson before handing down the sentence, per the AP. "But Mr. Masterson, you are not the victim here. Your actions 20 years ago took away another person's voice, and choice. One way or another you will have to come to terms with your prior actions, and their consequences."
If you or someone you know has been sexually assaulted, you can call the National Sexual Assault Telephone Hotline at 1-800-656-HOPE (4673) or visit hotline.rainn.org.
This article was originally published on