Katherine Ryan Has The Funniest Response For Those Who Doubt Her Relationship
The comedian spoke candidly about the remarks that her husband is using her for money.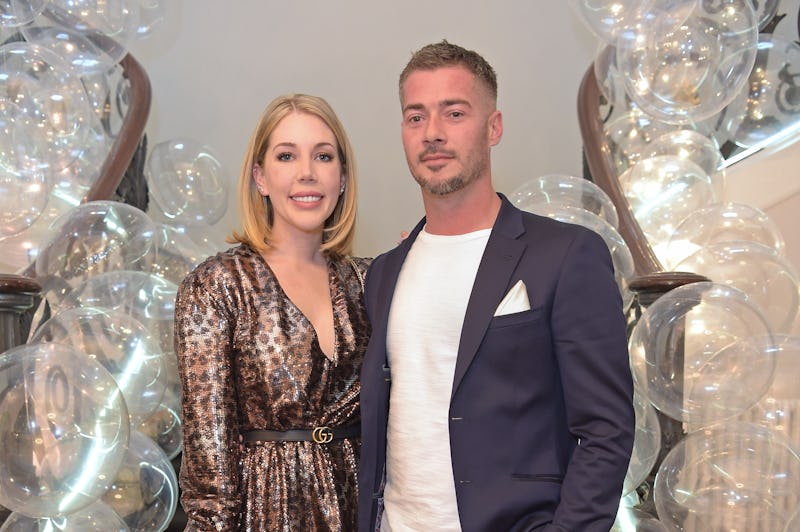 David M. Benett/Getty
Teaming up alongside Romesh Ranganathan, Katherine Ryan takes a lead role in Sky's upcoming series Romantic Getaway. The comedy drama sees a couple go to great lengths to conceive a baby through IVF. However, when they run out of money to fund the treatment, the characters quickly spiral into the criminal underworld for help. But while Ryan's on-screen family drama is sure to pull in viewers, what do we know of the comedian's personal life?
Well, the story of how the comedian met her husband is almost too cute to be true. In 2019, Ryan entered a civil partnership with Bobby Kootstra, a year after they started dating. However, they have had a long history, as they dated whilst teenagers in their native Canada.
In 2018, Ryan went back home to film an episode of Who Do You Think You Are?. During that time, she reconnected with Kootstra. "Magically, my high school boyfriend walked into my life and I did everything possible not to marry him. I really was against partnership at that point," the comic explained. "I was looking forward to aging alone with many dogs. And then I just loved him too much. It's funny that fate has a way of finding you and what's meant for you won't pass you."
When viewers later criticised Ryan's relationship by suggesting Koostra returned for her fame, she made it part of her sets. In an interview with Louis Theroux, she explained: "Like, if it's fun for people to believe that Bobby's only using me for money and I've had loads of plastic surgery and this and that, then that's great that I know that and can use that because my job is to make them laugh."
Ryan has a daughter from a previous relationship, 13-year-old Violet. Speaking fondly of Kootstra and how he settled in to her family, Ryan told Radio Times: "​​He didn't do the other things that I'd experienced in relationships. He didn't demand undivided attention, he was not in competition with my daughter. Like, I still sleep in my daughter's room in her sleepover bed. I don't sleep in my bed with my husband."
In June 2021, Ryan welcomed her first child with Kootstra. Since then, the comedian has shared her new life with baby Frederick on her Instagram. Recently, she posted a side-by-side picture of Kootstra in a flannel shirt and beige jacket, and one of their son in the same outfit with the caption, "Still Obsessed."
In July 2022, Ryan announced her third pregnancy on her podcast Katherine Ryan: Telling Everybody Everything, "You guys know I'm pregnant, I've been pregnant for a while and here's how I did that. I got pregnant while breastfeeding the first time I tried and to be honest with you I don't think it's going to work because I'm 39 – I would have been 38 when I got pregnant."
She added: "And I thought, 'We've got to get the kids out of the way.' You never know how long you're gonna have and I love my kids. I just thought, 'Well let's go for it.'''
This article was originally published on