Who Is Lil Nas X Dating? The 2022 VMAs Favorite Loves His Ex-Boyfriend "To Death"
The "INDUSTRY BABY" singer formerly dated a dancer he worked with.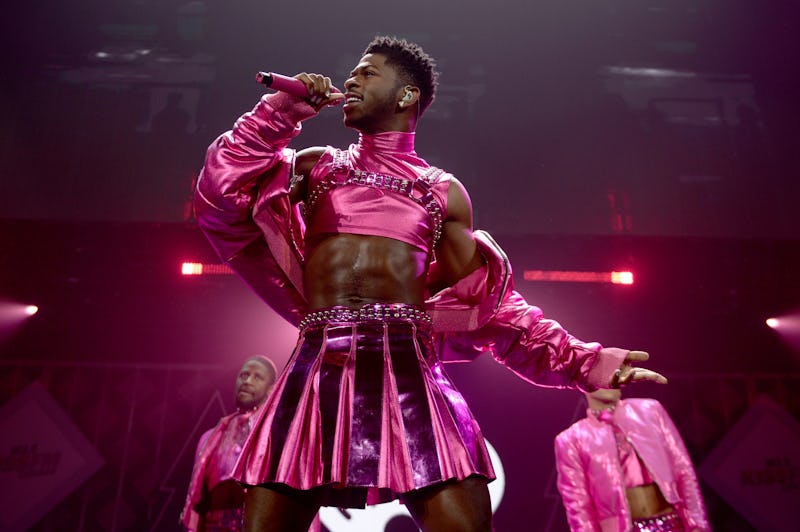 Daniel Boczarski/Getty Images Entertainment/Getty Images
The MTV Video Music Awards are back Aug. 28 — and at this year's VMAS, Lil Nas X stands to win as many as seven awards (the highest number at the show, an honor shared with Jack Harlow and Kendrick Lamar). The "INDUSTRY BABY" singer is nominated for Video of the Year, Artist of the Year, Best Collaboration, Best Direction, Best Art Direction, Best Visual Effects, and Best Choreography. And should he win a few shiny new awards at this year's ceremony, you might be wondering who he'll be celebrating his latest achievement with at the after parties, or when he gets home.
At the moment, Lil Nas X appears to be single and not quite ready to mingle. In September 2021, the musician went on SiriusXM's Andy Cohen Live and revealed that he was no longer in a relationship. "I was seeing someone," he said. "Um, I kind of decided I didn't want to anymore." The relationship update came roughly one month after the "Industry Baby" artist gushed over his now ex-boyfriend in an interview with Variety.
"Before fame, I didn't really have a sexual life besides one person or two," he told the outlet. "I've had some good boyfriends, some bad ones. A lot of them emotionally unavailable and whatnot. A lot of insecurity between them. But yeah, I found somebody special now." The "Old Town Road" artist didn't elaborate on his boyfriend's identity at the time, but fans were sure they figured it out.
Rumors began swirling in June of last year that Lil Nas X was dating his backup dancer Yai Ariza. (As Out reports, Lil Nas X confirmed that Ariza was, indeed, his former boyfriend.) Relationship speculation started after the rapper performed Michael Jackson's "Remember the Time" at the BET Awards. To mark the end of his ancient Egypt-themed performance, Nas kissed Ariza onstage, which sparked backlash online. In response, the rapper called out those who work overtime to make straight people feel comfortable.
"Y'all hate yourselves so much," he tweeted. "Y'all live your lives trying your best to appease straight ppl. Y'all are uncomfortable with what I do because y'all are afraid they will be uncomfortable with you. Work on yourselves, I love who I am and whatever I decide to do. Get there." It's worth noting that it took the rapper a while to get where he is now. After coming out on Twitter in June 2019, he told Time that he feared that coming out would alienate his fan base.
Elsewhere in his Variety interview, Nas went on to explain that homophobia used to have a huge impact on how he felt about himself. "It bred a lot of self-hate, but it also made me stronger once I started getting over it," he said. "I was 17 or 18 [when] I finally accepted [being gay], and slowly, more and more, I've grown into that person who is 100% open with it." In a 2019 interview on The Ellen Show, the rapper said that coming out was ultimately an easy decision because it would inspire other young LGBTQ+ people to do the same.
"I don't think I want any guy right now. ... I just want to work on music and every now and then, you know, maybe I'll kiss a guy, every blue moon."
"I'm on a new level, so it doesn't really matter, I guess," he told the talk show host at the time. "And also, just how it will be good for the young'uns who are listening to me right now, who are going to have to go through stuff like this in the future, know it's all right, I guess." In that same interview, the rapper was asked whether or not he was in a relationship. "Somewhat, somewhat," he replied, making it clear that he was seeing someone but that it was nothing serious.
Now, the rapper seems to be taking a break from dating altogether. "I don't think I want any guy right now," he told Cohen when asked what he's looking for. "Maybe I'm floating around right now. I just want to work on music and every now and then, you know, maybe I'll kiss a guy, every blue moon." But it doesn't seem like he's looking for anything serious. In a November 2021 interview with GQ, the rapper said that he's his main focus right now and that relationships are a lot of work.
"It's a responsibility. I've been wanting somebody for so long and wanting somebody to love for so long, but it's a real responsibility," he told the magazine. "And you have to give this person your time. And I like to go missing for like a week to focus … not talk to anyone and focus on myself. And I'm more in love with what I'm doing than people." However, despite being single, he said that he's been able to maintain a great friendship with his ex.
"I started actually dating my last boyfriend this past year, who I'm still on really good terms with," the musician said. "I love him to death. He's the best. I feel it was the most serious relationship I've ever had." And although he used to really want a relationship, things have changed. "Sometimes, when you get sad or whatnot, you just want to go with somebody and cuddle and kiss and hug," the two-time Grammy winner said. "And I love to do that. But ultimately, I feel I've gotten to a place where I have enough love for me that I can focus on myself."
This article was originally published on