Maternal Was Inspired By A Very Simple – & Unanswerable – Question
ITV's medical drama follows three doctors returning from maternity leave.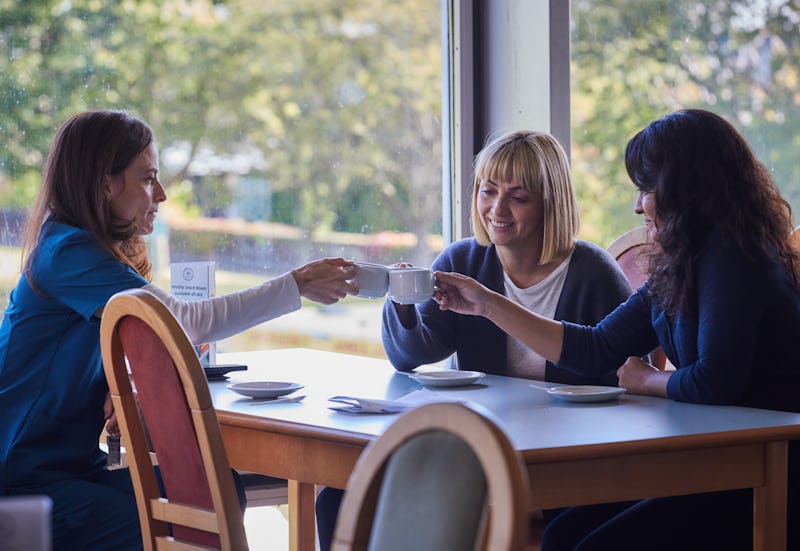 ITV
ITV's newest medical drama Maternal follows three female doctors returning to work after maternity leave, looking at how the medical professionals frantically balance the demands of work, an overstretched NHS, and motherhood. The six-part series stars some pretty familiar faces such as Bend It Like Beckham's Parminder Nagra, The Split's Lara Pulver, and Mum's Lisa McGrillis. And this new drama comes at a time where conversations around working conditions in the NHS are at the forefront of public discourse, with the medical professionals going on strike and talks of reforming the NHS from the Labour Party. But is Maternal based on a true story?
According to the show's creator and executive producer, Jacqui Honess-Martin, Maternal is not based on a true story. However, she does share on The Leader Podcast that there are definitely aspects of the series that are inspired by her own life experiences – namely returning to work after having a child, which she found "incredibly challenging." That experience stirred her to create the series, in fact.
"I was working in a job that was incredibly important to me, but I wasn't making life or death decisions every minute of the day, and that's what my friends working on the NHS frontline were doing and I just thought, 'how on earth are they coping with that level of stress?'" Honess-Martin explained.
Speaking to the ITV, Maternal's creator shared: "I am thrilled to bring this funny, warm, and quietly political story to ITV." She continued, "It's been humbling to have the opportunity to hear the stories of so many brave and brilliant female doctors working in the NHS over the past two years and I know the incredible team working on this show will do them proud."
Season 1 of Maternal is now available to stream on ITVX.