Natasha Parker Could Have A Connection With Other Popular Bachelor Nation Alums
Natasha has been spotted hanging out with franchise alums, but fans have other plans in mind.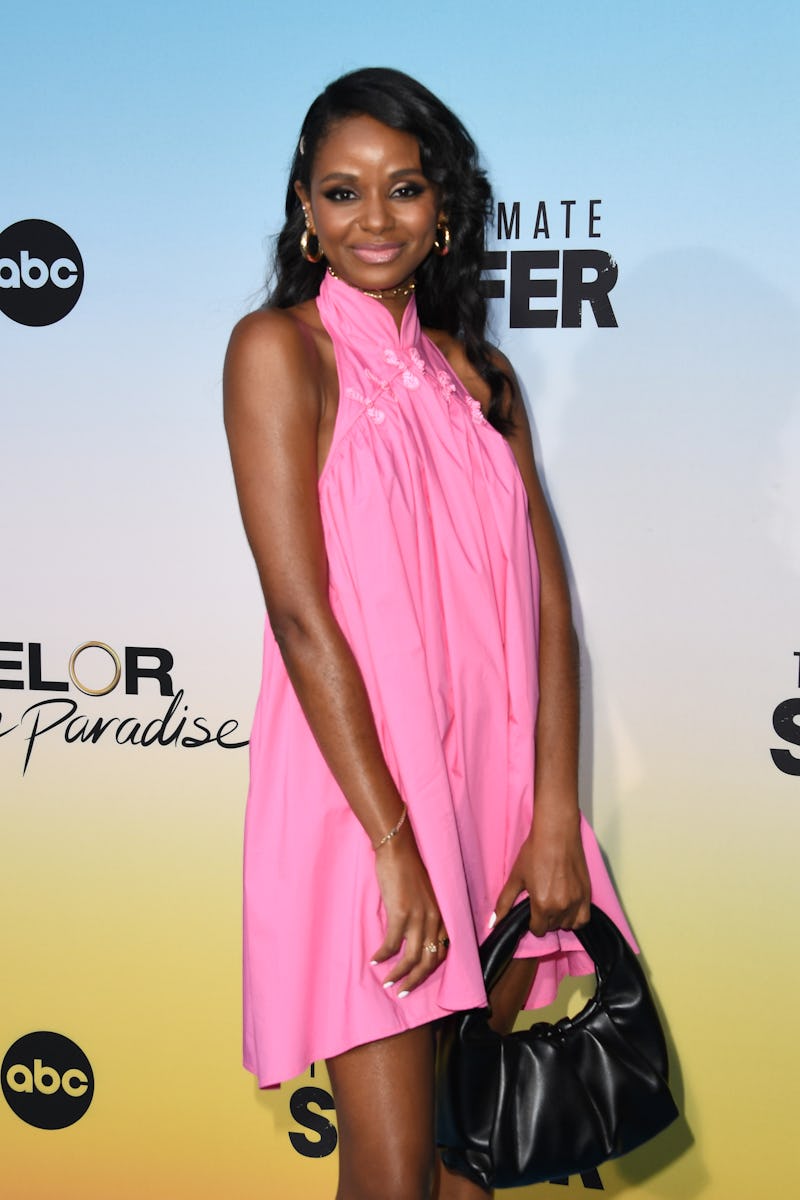 Jon Kopaloff/Getty Images Entertainment/Getty Images
Anyone else feel like Bachelor in Paradise did Natasha Parker dirty this season? Sept. 6's chaotic episode saw the arrival of Pieper James, who Brendan Morais was proven to be involved with prior to the show. It spelled trouble for Natasha Parker, who, up until then, was one-half of the more solid BiP couples. While their scheming left Natasha in a lurch, she was able to build connections with a couple more newcomers throughout the remainder of the season. That said, she didn't make one strong enough to last through the first rose ceremony of the finale. Regardless of her Paradise experience though, she might be dating someone after Paradise.
First, let's go back to the beginning: For the first few weeks of BiP, Natasha dedicated her time to Brendan. And while rumors circulated that Brendan had been seeing Pieper pre-show, another member of Bachelor Nation from Matt's season, he downplayed their "casual" relationship, telling Natasha that they only went on a few — two, to be exact — dates. (Brendan and Pieper were spotted in New York as early as April 2021.)
On the Sept. 6 episode, however, Pieper finally made an appearance and made a beeline for Brendan — date card in tow. In an explosive turn of events, the following chaotic details were revealed, among others: Brendan told Pieper he had to play the game to avoid getting booted (and then proceeded to talk about social media numbers), Pieper called Brendan her "boyfriend" in an interview, and after being confronted by Natasha, Pieper revealed they actually went on 10 dates prior to BiP (Brendan claimed he does not remember the specifics).
The following week, on Sept. 14, the group confronted Brendan and Pieper right before the rose ceremony, and the two left in a huff, even defending their plan. Without anyone else to strike up a romance with, Natasha was certain she'd be sent packing that night — until Wells Adams gave her a special rose because she was robbed of the opportunity to explore another connection. Since then, she went on a one-on-one date with Dr. Joe Park and ultimately gave her rose to Ed Waisbrot. But during the finale, Ed gave his rose to Mykenna Dorn, leaving Natasha to make the tearful SUV journey home alone. "I just can't want this anymore," she said. "The older I get, the harder it gets. I can't want this anymore."
On social media, Natasha hasn't revealed much about her time on BiP other than reacting to the Brendan and Pieper fiasco. After a series of upset tweets, the TV producer from Peter's season of The Bachelor chose to post about self-love on Instagram. Posting about the difficulties of dating, she ended the caption with, "If you're reading this, and it resonates with you, you will smile again, keep going, the right one will love you for your pure heart."
Whether she's already found the right one or is still searching remains unclear. Since BiP ended filming, though, her social media has been populated with photos with her friends as well as feel-good videos of her dancing with her dog.
It appears she's remained close with some of her BiP castmates, including Grocery Store Joe and Connor Brennan, the subject of an "appreciation post" that some fans quickly shipped. Another photo that circulated on Reddit prior to BiP's release was a cozy photo one with Mike Johnson from the premiere. Though fans decided they would make a great pair, it doesn't seem like there's anything beyond friendship between the two.
She also seems to be friendly with her one-time date Dr. Joe. On Oct. 1, the anesthesiologist posted photos of his time in Mexico, including some with Natasha. About her, he wrote, "Much love to @natashaparker. She's as strong, smart, mature, and beautiful in real life as she is on TV! And though we didn't have a love connection, I'm grateful for the moments we did share."
Natasha's more recent posts include group hangs, like attending the Governor's Ball with friends. Though she didn't include him in her own post from the music festival, she was spotted hanging out in a group with the newly single Greg Grippo. Whatever that means, at least she looks like she's having fun.
And if her connections with these men don't pan out, fans are calling on ABC to make her the next Bachelorette after Michelle Young's season.
This article was originally published on