Simone Biles Will Compete In One Final Olympics Event Amid Her "Twisties" Scare
A former Olympian explained why the balance beam is probably the "safest" route for Biles.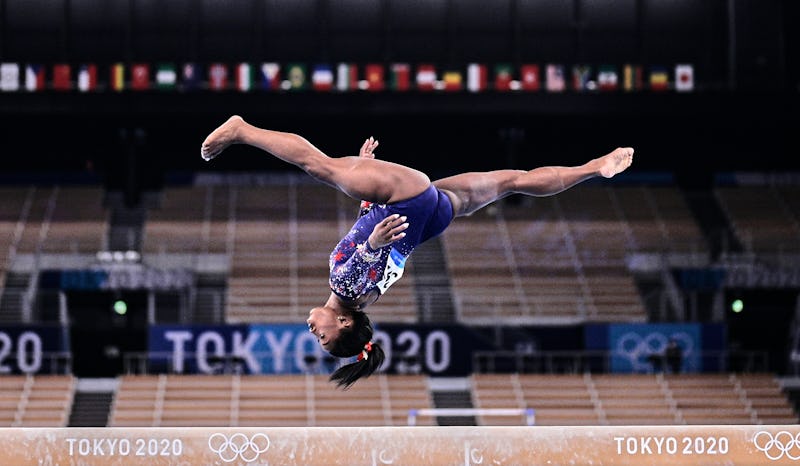 NurPhoto/NurPhoto/Getty Images
Throughout the 2021 Tokyo Olympics, Simone Biles has been plagued with a case of "the twisties," leading the gymnastics superstar to pull out of the team final and four individual events to manage physical and mental health concerns. The gymnast's ability to compete in her one remaining event has been uncertain over the past week, but Biles has officially decided to compete in the balance beam final for Team USA on Aug. 3 alongside teammate and all-around gold medalist Sunisa Lee.
On Aug. 2, USA Gymnastics confirmed Biles' decision to compete with a brief statement on Twitter: "We are so excited to confirm that you will see two U.S. athletes in the balance beam final tomorrow — Suni Lee AND Simone Biles!! Can't wait to watch you both!" The famed gymnast was the bronze medalist on beam at the 2016 Rio Olympics and has been hoping to improve on that result ever since.
Former Olympian Laurie Hernandez explained why the balance beam is probably the "safest" route for someone experiencing the "twisties" to compete. "For starters, it is upright," Hernandez said during an appearance Today. "When you are on bars, you are swinging upside down consistently." The 2016 Olympian noted that the loss of spatial awareness can be especially perilous for vault and floor events. "The Biles is a triple-twisting double-back — if you get lost on that, that is a huge safety hazard," Hernandez added. "So I think beam is probably the safest route in terms of doing skills that don't have too many twists. I'm curious to see what she'll do for her dismount, but I have a feeling she's going to do very well."
Biles' first withdrawal came during the team final on July 27 after she got lost in the air during a vault and told her coaches and teammates she couldn't safely continue. With the individual all-around competition just two days later, she again made the tough call not to compete. Then, on July 30, USA Gymnastics announced Biles' withdrawal from the vault and uneven bars, and then later from floor exercise. The balance beam, which is the last medal round for women's artistic gymnastics, is the only event from which she did not withdraw.
In recent weeks, Biles has been suffering from "the twisties," a common but scary mental block that disrupts a gymnast's mind-body connection. Explaining it in a series of Instagram stories on July 30 in Tokyo, the six-time Olympic medalist wrote that she "literally can not tell up from down" while twisting in the air and that "it's honestly petrifying trying to do a skill but not having your mind & body in sync." She emphasized the serious injury risk this poses because of the dangerous skills that gymnasts routinely perform.
Aside from the team event, which still resulted in a silver medal for Team USA, other gymnasts have gotten the opportunity to take her place. Jade Carey, one of the U.S. women's two individual specialists, was able to compete in the all-around and ended up in eighth place. On Monday, Carey took gold for her floor routine, scoring a 14.33. Meanwhile, the other specialist, MyKayla Skinner, had the opportunity to compete on vault after finishing fourth on the apparatus during qualification but initially being kept out of the final by the two-per-country rule. Skinner, who was a Rio Olympics alternate, finally got to fulfill her Olympic dream and took home a silver in the event.
Throughout the Olympic finals, Biles has been a major cheerleader for her teammates, rooting for them from the sidelines and celebrating their success on social media. On Aug. 1, the four-time gold medalist retweeted a post (below) confirming her support for the team during the Games. "Regardless of the picture the media tries to paint, the world really needs to know that Simone Biles is, in fact, cheering for her teammates and the other competitors with everything she has - so loud, you can hear her on the broadcast," the tweet read. "She's elated for them."
This article was originally published on