Jemima Khan Used Her Own Life As Inspo For What's Love Got To Do With It?
The rom-com writer was famously married to Pakistani politician Imran Khan.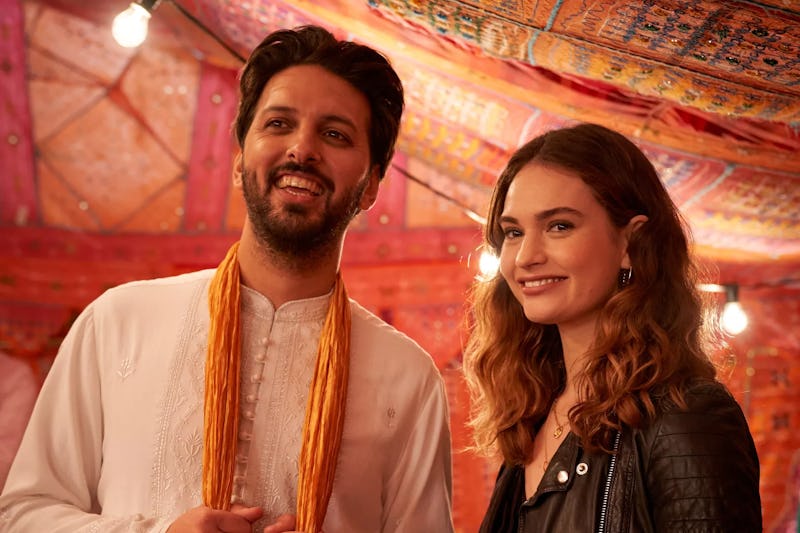 Studio Canal
A cross-cultural love story set between London and parts of South Asia, What's Love Got To Do With It? promises to tug on your heart strings whilst still delivering on the comedy. With Lily James, Shazad Latif, and Emma Thompson leading the cast, the story follows Zoe, a documentarian (played by James) and her childhood friend Kaz (played by Latif) as he indulges in the traditional arranged marriage process hoping to find a bride. The duo arrive in Lahore where Kaz is set to marry a stranger chosen by his parents and somewhere along the way, in classic rom-com fashion, Zoe realises there's a lot to gain from this approach of looking at love. But is What's Love Got To Do With It based on a true story?
Well, kind of. The script for What's Love Got To Do With It? is penned by journalist turned screenwriter Jemima Khan, whose personal life followed a similar trajectory to the film. The writer was previously married to Pakistani cricketer and politician Imran Khan. In an interview with Firstpost, Khan said the film takes some inspiration from her life.
"Since I lived in Pakistan for ten years between the age of twenty and thirty I understand a lot about their culture. And so I would say that every single character and anecdote comes from either someone I met in real life or an experience I have had in my own life. But it is not autobiographical," Khan explains. But added that "all the characters that I have met and pretty much every line is taken from real life."
Speaking to Variety about the importance of the film, Khan said: "This is a film that has very powerful female leads – which is Shekhar Kapur speciality – and it's about multiculturalism, tolerance, and love. I think it's very important to take that message around the world and be willing to be open with people."
What's Love Got To Do With It? will release in UK cinemas on January 27, 2023.