Jack Harlow Recorded His First Album With A Guitar Hero Microphone
The Grammy-nominated rapper will perform this Saturday on SNL.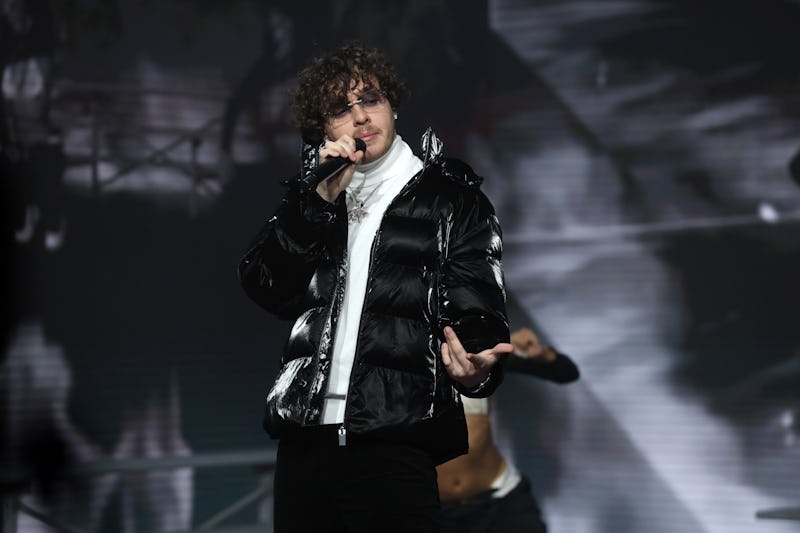 Rich Fury/Getty Images Entertainment/Getty Images
In June last year, Jack Harlow began trending on Twitter. The reason was not for his music (the rapper is best known for his 2020 single "What's Poppin"), but because his fans had somehow just discovered that he's white. Afterward, Harlow poked fun at the revelation on Instagram. "I did everything I could do to show y'all I am white," he wrote alongside a screenshot of his discography, all of which features artwork of his very white face.
Speaking to Louisville Magazine in 2017, the Louisville native acknowledged the role his race plays in his music. "I'm always going to look a certain way and can use that to my advantage, but I don't want it to become a crutch or a gimmick. I just want it to be: 'He makes good music,'" Harlow, who is now 23, told the outlet. "I tell videographers to really capture how I look. Even me, I'm more likely to click a video of someone who looks interesting."
Harlow added that while "Black culture was the coolest thing to all kids growing up," he "didn't want to copy" or appropriate it. Instead, he wanted to make music from his own perspective.
Ahead of his musical debut on Saturday Night Live, get to know more about Harlow below.
Jack Harlow's Family
Harlow's parents Maggie and Brian run a Louisville business called Signarama, which their website bills as "a global leader in sign and advertising products" such as indoor and outdoor signage, displays, and decals. Harlow, who also has a younger brother named Clay, has recalled "doing sh*t with PDFs" for the family business during the day while making music at night and on the weekends. By age 12, Harlow knew he wanted to pursue music, and he has credited some of his early musical influences to his mom playing a lot of Jay-Z, Eminem, Outkast, Sugarhill Gang, and Black Eyed Peas around the house from the time he was a baby.
Jack Harlow's Music
Harlow used a laptop and a microphone from the Guitar Hero video game to record his first CD, Rippin' and Rappin', with a friend in sixth grade. (He told Louisville Magazine they burned 40 copies and sold them at their middle school for $2 apiece.) After first performing under the moniker "Mr. Harlow," he began using his first name. And by his junior year in high school, his YouTube videos started gaining traction. Harlow's parents fielded calls from everyone from Def Jam Recordings to Atlantic Records, and he even had a meeting at Scooter Braun's Hollywood Hills home.
After graduating high school, Harlow began traveling to Atlanta for recording sessions and performed sets at music festivals including South by Southwest, Bonnaroo, and Forecastle. His biggest hit to date is "What's Poppin'," which earned him a Best Rap Performance Grammy nomination. (Megan Thee Stallion and Beyoncé ultimately took home the award for "Savage.") The track and its remix, which features DaBaby, Lil Wayne and Tory Lanez, hit No. 1 on Billboard's Rhythmic Songs airplay chart and reached the Top 5 of the Billboard Hot 100.
Harlow released his major label debut, That's What They All Say, in December, featuring artists like Lil Baby, Big Sean, Chris Brown, Adam Levine, and Bryson Tiller. The album also includes singles "Tyler Herro," "Way Out" (featuring Big Sean), and "Already Best Friends" (featuring Chris Brown).
Jack Harlow's Instagram
Among Harlow's more than 2.1. million Instagram followers are Lil Nas X, Gary Clark Jr., 2 Chainz, Tiffany Haddish, and Jordin Sparks. With posts dating back to April 2014, Harlow has shared photos with a slew of celebrities, including Lil Wayne, Wiz Khalifa, Pharrell Williams, Lil Baby, Playboi Carti, ASAP Ferg, and Donovan Mitchell. He also seems to have famous fans in Alicia Keys and Swizz Beatz, who he shared a video of jamming out to "Loose" in 2018.
Harlow is friends with fellow Louisville native Bryson Tiller, with whom he attended a march for Breonna Taylor in June. Most recently, he's also posted pictures from his and Quavo's victory over 2 Chainz and Lil Baby at the 2021 NBA All-Star celebrity game, and debuted his New Balance Running ad on March 22.