Whatcha Say? Jason Derulo Is About To Become A Father
The singer is expecting his first child with girlfriend Jena Frumes.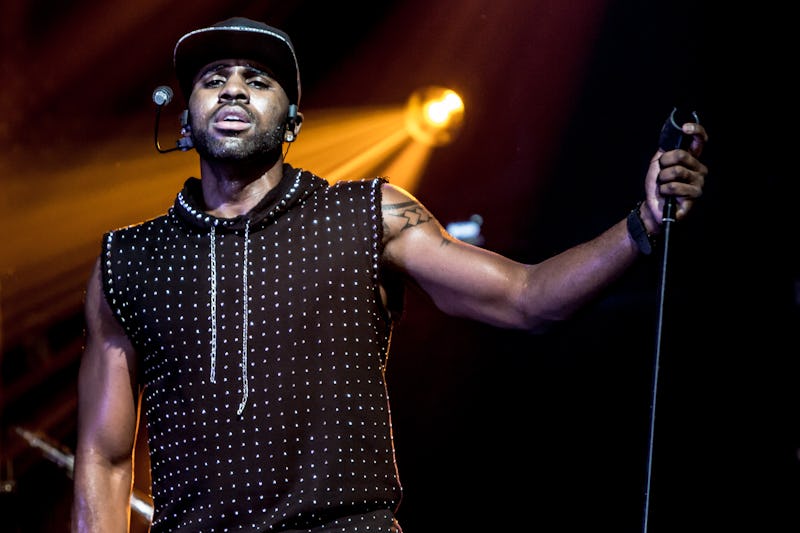 Sergione Infuso - Corbis/Corbis Entertainment/Getty Images
Jason Derulo is going to be a father — wait, whatcha say? Yes, you heard correctly. Derulo is expecting his first child with girlfriend Jena Frumes, as announced Monday, March 29. And if the baby's first word isn't dad's tagline, the drawn-out "Jason Derulo" that marks the beginning of his hits, then he has failed as a father.
The singer revealed the news in an Instagram video showing the couple frolicking around on a Bahamas vacation, with Derulo sweetly kissing Frumes' baby bump. "Couldn't be more excited for this new chapter in our life," he wrote. Frumes also announced the news on Instagram, sharing a photo of Derulo caressing her baby bump and officially dubbing themselves "Mom & Dad" in her caption. The couple is keeping pregnancy details under wraps for now by not revealing the baby's sex or Frumes' due date. However, Derulo wrote in the sand that their new addition was "coming soon."
Derulo has been dating model and influencer Frumes for just over a year. According to People, the couple met just before the coronavirus pandemic in March 2020 and have bonded during the pandemic by creating TikTok videos together — almost too many, in fact. "Sometimes we have to be like, 'OK, we should probably do some stuff by ourselves,'" he joked to the outlet.
In August 2020, Derulo told Page Six that he met Frumes at an Equinox gym right before quarantine, and it didn't take him long to work up the nerve to approach her. "We both have a similar desire to work out all the time, and I had seen her once there before, and then the second time, I was like, 'Aight. Imma go talk to her,'" he explained. "The rest is history."
The pregnancy shouldn't come as a shock for fans. Derulo, 31, told the outlet that he was thinking about starting his own family. "You know, I think I'm getting to that age, you know what I'm saying?" he explained. However, as Us Weekly pointed out, Derulo didn't want to rush things at first. "I'd be lying if I said the thought didn't cross my mind," he told Closer in December. "As the years go by, you're like, 'D*mn, what is it all for?' I watch all my peers have kids and I still don't have any, so I think about it often." It turns out the world had different plans.