Jen Shah's Arrest Might Play Out On Real Housewives Of Salt Lake City Season 2
The Housewife was reportedly filming right before her arrest.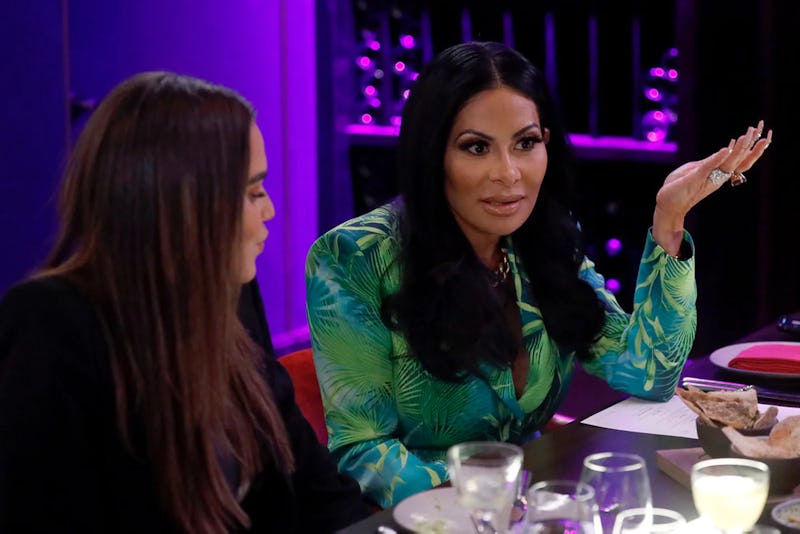 Gabe Ginsberg/Bravo
The Real Housewives of Salt Lake City is already facing major legal drama, and the show hasn't even premiered its second season yet. Jen Shah was filming RHOSLC right before her arrest, according to an Entertainment Tonight source, meaning the ordeal might just be featured on Season 2. Shah was arrested on March 30, alongside her assistant Stuart Smith, on charges of conspiracy to commit wire fraud and money laundering, in connection to an alleged telemarketing scam.
The source told ET that the RHOSLC cast, including Heather Gay, Lisa Barlow, Whitney Rose, Mary Cosby, and Meredith Marks, were on a bus heading to Vail, Colorado, on a cast trip when Shah received a phone call. She reportedly announced to her castmates that her husband, Sharrieff Shah, was in the hospital and asked production to pull over so she could leave.
However, according to Variety, who confirmed an anonymous tip received by the Instagram account @twojudgeygirls, federal law enforcement "swarmed production" looking for Shah after she had already left. Cameras were rolling during the ordeal, meaning viewers might see the cast's reactions to Shah's arrest (and her now-evident lie) in real time. However, the outlet couldn't confirm whether officers asked producers to stop filming when they arrived. TMZ has confirmed that Shah's arrest itself wasn't caught by Bravo cameras as she had already left set.
While the Housewife's arrest would be an enticing storyline for viewers, Bravo is said to be unsure of how to approach the situation. ET reports that Shah's fate on the show is currently uncertain and production has resumed without her. She can't rejoin the cast in Colorado, according to Utah reporter John Franchi, as a judge has mandated that Shah can't travel outside of Utah, except to appear in court in New York.
Shah and Smith, who was also featured on RHOSLC, are charged with running a telemarking scam where they "allegedly generated and sold 'lead lists' of innocent individuals for other members of their scheme to repeatedly scam," according to Manhattan U.S. Attorney Audrey Strauss. TMZ reports that many "vulnerable, often elderly, working-class people" were targeted, getting calls about buying into business opportunities that didn't exist. The New York Police Department alleges that they had targeted "hundreds" of victims in the scheme, which started in 2012.
"In actual reality and as alleged, the so-called business opportunities pushed on the victims by Shah, Smith, and their co-conspirators were just fraudulent schemes, motivated by greed, to steal victims' money," Strauss said in a press release. "Now, these defendants face time in prison for their alleged crimes." If convicted, Shah could face a maximum of 30 years in prison.