RHOSLC Star Jen Shah's Legal Drama & Prison Sentencing, Explained
Shah went to prison on Feb. 17 — and she refused to speak with Bravo or Andy Cohen before then.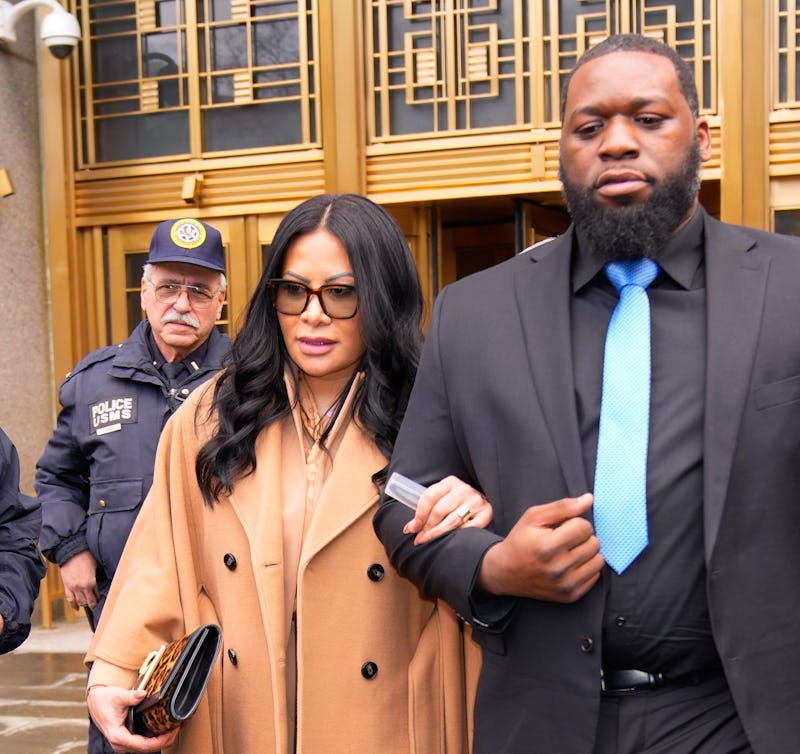 Gotham/GC Images
The Real Housewives of Salt Lake City star Jen Shah was arrested in March 2021 for her alleged role in a long-running telemarketing scheme. Almost two years later, on Jan. 6, 2023, Shah was sentenced to six-and-a-half years in prison for wire fraud and money laundering after apologizing to the court. "I am deeply sorry for what I have done," she said before the sentencing. She reported to prison on Feb. 17, marking the end of one of the most heated and complicated sagas in Real Housewives history.
Federal prosecutors had claimed that she and her assistant Stuart Smith helped to "defraud hundreds of victims," including senior citizens, between 2012 and 2021. In particular, they were accused of compiling lists of potential victims, referred to as "leads," which they allegedly sold to telemarketing companies that would attempt to sell business services to the targeted individuals.
After maintaining her innocence for more than a year, she changed her plea to guilty on July 11, 2022, the day her planned trial was set to begin. At a Manhattan federal court, Shah admitted to the judge that she committed "wire fraud, offering services with little to no value." She added, "We used interstate telephones and emails, I knew many of the purchasers were over the age of 55. I am so sorry," according to Inner City Press. She also reportedly admitted to knowing her actions were "wrong and illegal."
Both Shah and Smith initially plead not guilty to their respective charges. "After investigating for nearly 10 years, and a 12-day trial in which Ms. Shah was never mentioned, the government suddenly lobs this absurd claim," Shah's lawyer Priya Chaudhry said in a July 2021 statement to People. "This is just their latest made-up allegation, and like all others, totally unsupported by evidence." However, Smith changed his plea to guilty on Nov. 19, 2022. According to attorney Ronald Richards, every defendant in the case had pleaded guilty at that time — except for Shah.
While Jen continued to claim innocence throughout RHOSLC Season 3, Bravo's cameras will follow her journey to her eventual guilty plea, but fans may not get to hear what she has to say in the aftermath. Shah was reportedly planning to do a post-sentencing interview with Bravo host Andy Cohen, but now, she only wants to speak out on her own terms. Here's everything you need to know about the case.
What Is Jen Shah's Job?
Shah is the CEO and founder of JXA Fashion, Shah Beauty, and The Real Shah Lashes. She also runs multiple marketing companies. "The marketing companies have been my core business for almost 20 years. We do direct response marketing, which I would say 90% of it right now, in 2020, is all online, but we do a lot of infomercials, direct mail, print, anything that is direct response, that requires a call to action from a consumer," Shah explained to Bustle in November 2020, comparing herself to the Wizard of Oz. "I'm the person behind the curtain that nobody sees, but nobody knows how things are working, that's me."
Why Was Jen Shah Arrested?
Federal authorities arrested Shah on March 30, 2021, charging her with one count of conspiracy to commit wire fraud in connection with telemarketing and one count of conspiracy to commit money laundering. In a press release announcing the arrest, prosecutors claimed Shah and Smith engaged in a "coordinated effort to traffic in lists of potential victims" that they then allegedly sold to telemarketing companies who attempted to sell business services to the targeted individuals. Both Shah and Smith "received as profit a share of the fraudulent revenue per the terms of their agreement with those participants," according to the indictment. Among the reportedly hundreds of people Shah allegedly defrauded, many were over the age of 55.
"Jennifer Shah, who portrays herself as a wealthy and successful businessperson on 'reality' television, and Stuart Smith, who is portrayed as Shah's 'first assistant,' allegedly generated and sold 'lead lists' of innocent individuals for other members of their scheme to repeatedly scam," Manhattan U.S. Attorney Audrey Strauss said in a statement. "In actual reality and as alleged, the so-called business opportunities pushed on the victims by Shah, Smith, and their co-conspirators were just fraudulent schemes, motivated by greed, to steal victims' money. Now, these defendants face time in prison for their alleged crimes."
During an April 2 arraignment, Shah and Smith both pleaded not guilty to what the government described as a $5 million money-laundering scheme (Smith later changed his plea to guilty on Nov. 19). The judge set Shah's bail at $1 million, giving her one week to pay the required $250,000 "to secure that bond in cash or property," noting a "risk of flight."
When Is Jen Shah's Trial?
People confirmed in August 2021 that all of Shah's pre-trial motions, including requests to have her charges dismissed and to suppress her post-arrest statements along with evidence seized in warrants, had been denied in court. U.S. District Judge Sidney H. Stein wrote in an Aug. 5 filing that Shah's motion to dismiss the indictment because there's no proof she "joined the conspiracy willfully and with the specific intent to defraud" didn't survive "even cursory scrutiny." A trial date was originally scheduled for Oct. 18, 2021, but was postponed until March 7, 2022 due to COVID-19 protocols. Later, the trial was again pushed to July 11, 2022.
Though Shah's legal team's attempt was unsuccessful, court documents obtained by People on Nov. 30 showed that Shah's attorneys requested that a judge dismiss her case altogether after the premiere of the Hulu documentary, The Housewife & the Shah Shocker, because it would "poison the jury." The inclusion of two Homeland Security Investigations agents in the documentary, Shah's attorney said, "has destroyed any chance that Ms. Shah will have a fair trial with an impartial jury."
After exhausting her options, Shah pleaded guilty to count one, conspiracy to commit wire fraud in connection with telemarketing, in a Manhattan federal court on July 11, according to legal documents obtained by Page Six. In exchange for her guilty plea, the US attorney reportedly agreed to drop the count two charge, conspiracy to commit money laundering.
Shah's sentencing was originally scheduled for Nov. 28, 2022. But after her attorney Priya Chaudhry successfully appealed for an extension, the sentencing was postponed to Jan. 6.
Will Jen Shah Face Jail Time?
On Jan. 6, Shah was sentenced to 78 months in prison, with five years of supervised release. In court, Shah acknowledged the victims of her crimes and told the court she was "deeply sorry" for her actions. "I want to apologize to all the victims and families and I take full responsibility for the harm I caused and will pay full restitution to all of the victims," she said. "I recognize that some of you lost hundreds and others lost thousands and I promise to repay."
The RHOSLC star initially faced a maximum sentence of 30 years for the wire fraud charges and an additional 20 years for money laundering charges, totaling 50 years behind bars. Court documents listed Shah as a Tier A defendant, noting that the classification reflects alleged "greater culpability" and claiming that many of the senior participants "continued to participate in the Scheme after they became aware of the criminal charges." Four other defendants are also listed as Tier A, according to People, with culprits in the lower tiers receiving anywhere from 366 days to 87 months. While in court for her plea change, Shah told the judge that she understood that she faces a maximum penalty of 30 years in prison and five years of supervised release. Shah's legal team indicated to the judge that they would not appeal Shah's sentence if it's below 11 years in prison.
Were Jen Shah's Legal Issues Shown On RHOSLC?
Yes. Season 2 opened with a scene of Shah receiving a phone call and immediately leaving the van she was waiting in with the RHOSLC cast. Moments later, investigators approach the van looking for Shah, as her co-stars read reports of her alleged crimes in shock.
An extended version of the scene was shown in Episode 9, during which Shah told her co-stars that she had to leave because her husband, Sharrieff Shah Sr., had been hospitalized for internal bleeding. "In the moment, I 100% believed Jen that Sharrieff had internal bleeding and she needed to go," RHOSLC star Lisa Barlow told host Andy Cohen on the Nov. 7 episode of Watch What Happens Live, hinting that viewers would soon see the cast's "most raw emotions." Shah's arrest was a major storyline throughout the season, with arguments coming to a head over Shah's accusations that her co-star Meredith Marks was the one who turned her over to the feds.
During the final installment of the Real Housewives of Salt Lake City Season 2 reunion, which aired on Sunday, March 13, Shah told host Andy Cohen and her castmates why she didn't take the plea deal. "I'm fighting this. I am innocent," she said, according to Page Six. "And I will fight for every person out there that can't fight for themselves because they don't have the resources or the means, so they don't fight." Since the news broke, Shah consistently maintained her innocence. In a Sept. 8 Instagram Live with The Real Housewives of Potomac star Gizelle Bryant, she said, "I think what people don't understand is, here in America, you're innocent until proven guilty. I'm innocent."
Shah's legal issues continue to be a major storyline during RHOSLC Season 3, in which she maintains her innocence and prepares for her impending trial, leading up to the eventual guilty plea. In the Season 3 trailer, she directly blames Smith for her legal troubles. "I got played by Stuart Smith," she said. "I would not be in this thing at all if it wasn't for Stuart." In the season premiere, Shah confirms that her family has downsized homes so they could put money toward her legal fees, while she also throws a birthday party for her husband Coach Shah, fearing that they won't be able to celebrate together again for a very long time.
After her plea, Bravo essentially cut ties with the RHOSLC star beyond the current season, even rescinding her invite to BravoCon. "Once we wrapped [Season 3 and] she pled guilty, I think that was kind of, unfortunately, the end of, you know, the engagement there," Andy Cohen told the BravoCon crowd to explain her absence from the RHOSLC panel.
While Shah claims that she was re-invited to the reunion, she was not in attendance. On Dec. 16, she announced that she would not be present due to a dispute with the network, meaning fans won't hear her side of the legal saga after pleading guilty. "I was clear with Bravo that out of respect for the courts and a standing judicial order, I would not be in a position to discuss anything related to my legal case or sentencing," she said. "Bravo found this unsatisfactory and said they expected to discuss this 'storyline.' That expectation has no regard for me or my family's well-being."
While Shah's change in plea at the courthouse was not filmed by Bravo cameras, they did capture Shah, Gay, and Marks heading to New York together as Shah geared up for trial, before she ended up forgoing the federal trial and pleading guilty.
What Have Jen Shah's RHOSLC Co-Stars Said About Her Arrest?
During a June 2021 interview on the So Bad It's Good With Ryan Bailey podcast, Shah's castmate and friend Heather Gay said that "everything plays out in real-time" in RHOSLC Season 2. "We are in it with her," Gay explained. "We are going through it as friends, as people, who for the first time in their lives, are public figures. And for the first time in their lives, not only have to answer to their family and friends, but a worldwide audience." Gay said that she's "passionate about second chances," and even if Shah is "wrongfully convicted," she can still "make things right" and "redeem herself." Added the Beauty Lab + Laser owner, "I think that good people can do bad things."
While appearing on Watch What Happens Live with Andy Cohen on Sept. 12, Gay admitted that she knew Shah's business was "unsavory," but that she didn't know it was illegal. "I didn't think you'd go to prison for it," she added. "I would've said, 'Babe, don't do this. Your life is worth more than that.'"
When Season 2 premiered, Real Housewives fans saw just how shocked Shah's co-stars really were. "Other than our families, there was seven people that knew we were meeting at Beauty Lab today. I can't imagine anyone here would turn Jen in, but this looks really sus[picious]," Lisa Barlow said in a confessional after Whitney Rose suggested that someone told the authorities where to find Shah.
Rose, for her part, said that she didn't know anything but was very curious about "Jen's lifestyle." "It intrigues me where she gets all of her money and all of her things from," she said. Meredith Marks, on the other hand, wasn't surprised at all. "Too many things didn't add up and I've suspected that something was going on for a while," she said in a FaceTime with the cast. "And now, it's validated that I was right [and] I'm not crazy. That's the bottom line."
Gay defended her friend yet again during the Season 2 reunion after the show wrapped. "I love Jen. I don't care if she's guilty or not," she said. "I believe her, too. And I want the best for her and her family and I'll be in court every day and I will fight for her. She's in the fight of her life." She added, "We got your back. We love you."
As seen in the Best of Bravo Instagram account's screenshot, Marks — who has appeared in several recent social media posts with Shah — wrote the following in her Instagram Stories one day prior to Shah's July 11 plea change: "For those of you who may not know this: I live in the United States of America. In the US, one has a right to trial and is presumed innocent until proven guilty." Speaking to E! in September, Marks admitted that she was "shocked" by the guilty plea but affirmed she was there for her friend. "I think Jen obviously needs support now," she said. "I'm not the judge, I'm not the jury, it is not my job to convict her, it's not my job to sentence her. So yes, I've been in touch and checking in to make sure she's OK. She's been through a lot and it takes its toll."
However, the same can't be said about Rose, who hasn't been in touch with Shah. "I have not spoken to her since she pled guilty," she said on the Sept. 21 episode of the Two Ts in a Pod podcast. "I sent her a text the day after she left to New York for her pretrial stuff, so that was like two days before she changed her plea, and I haven't reached out to her, and she hasn't reached out to me." She did clarify that she felt sympathy for Shah's family and extended a supportive hand if needed. "I'm mostly concerned about [Jen's] kids," she said. "She has a son that is in high school, and can you imagine what his life is like right now?"
What Is Jen Shah Doing Now?
Shah is officially in jail. On Feb. 17, the reality star reported to a prison in Bryan, Texas to begin her 78-month prison sentence. The Federal Bureau of Prisons confirmed her confinement to E!, without giving more specifics. "For privacy, safety, and security reasons, we do not release information on the conditions of confinement for any inmate or group of inmates," they said in a statement. Leading up to the start of her sentence, Shah reposted well-wishes and goodbye messages from fans on her Instagram Story, some just mere hours before she officially reported.
Before heading to prison, Shah showed off two new tattoos on her Instagram Story on Feb. 15. She got the word "Keiki," a Hawaiian term for "baby," tattooed on her left forearm, and the names of her husband, Sharrieff Shah, and two sons, Sharrieff Jr. and Omar, inked on the bottom of her right arm.
Shah initially kept a relatively low profile following her arrest. However, she did make a paid hosting appearance at a strip club in New York City on Oct. 22, 2021. A flyer posted to her Instagram page noted that she would be available for meet and greets, photo ops, and autographs for four hours at Larry Flynt's Hustler Club. Page Six reported the next day that Shah spent the night "dancing, drinking, and hitting the stage" with adult film star Alexis Monroe. A venue rep shared in a press release that the RHOSLC star received a "large sum [of money] in exchange for her appearance, most likely enough to put a dent in her legal bills."
However, her legal issues did not mean she was giving up her Real Housewives gig. Before the Season 2 reunion wrapped on March 13, Cohen asked if she plans on returning to the reunion couch again for Season 3. "Of course," she responded. "I ain't going nowhere." She returned to film RHOSLC Season 3 in March, but after switching her plea, she did not wind up attending the reunion. While she wasn't invited to BravoCon 2022, Shah showed up in New York that weekend anyways, crashing some afterparties with Gay and Housewives from other cities like Tamra Judge.
Despite Cohen stating that Bravo cut ties at BravoCon, he left open the possibility of doing a one-on-one interview. "I hope to sit down with her and talk to her at some point on camera because I have a lot of questions for her," he said. This was reportedly planned for the week of Jan. 16, but three days later, Shah announced she was refusing to sit down with Cohen, claiming that he and Bravo were not willing to "remove contractual provisions that would allow the network to legally make misrepresentations of me and my story," according to an Instagram statement.
"I would rather remain silent and wait until I am able to accurately share my story than continue having complete lies and misrepresentations about me smeared across the headlines," she wrote. However, she is promising to speak out before reporting to prison through an unconfirmed avenue. "I intend to speak and you will hear from me," she said. "I will share my story and this painful part of my life very soon."
Given the extensive prison sentence and her refusal to engage with Bravo after the sentencing, it looks as though Shah is not welcome to return to RHOSLC in the future. But despite her sentence, it seems that Shah is fully intent on keeping her name out there. On Nov. 29, it was announced that she signed with CGEM Talent for representation in all areas, without indicating her plans with the agency. Even from a prison cell, don't expect Shah to fade away just yet.
This post will be updated with new details as they become available.
This article was originally published on