SNL Gave Us A Wednesday Reunion & A Parent Trap Revamp, All In 1 Sketch
Jenna Ortega and Fred Armisen are, like, twins!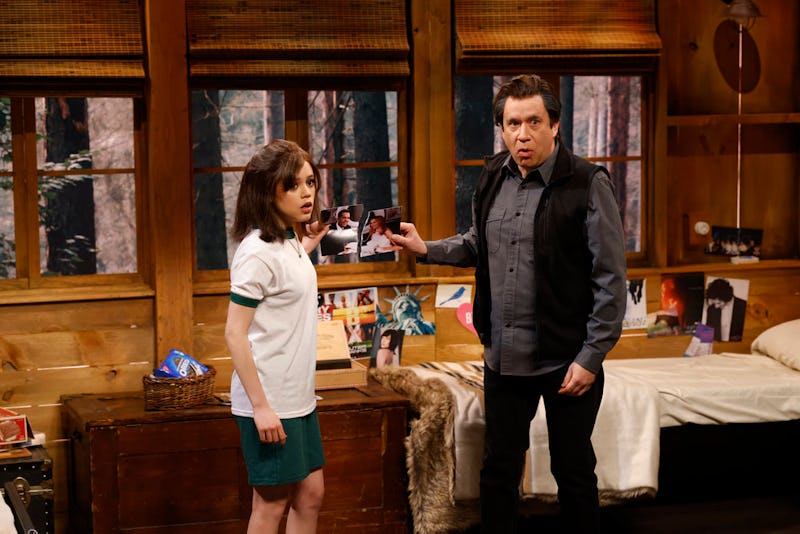 Will Heath/NBC
One episode of playing Addams family members on Wednesday wasn't enough for Jenna Ortega and Fred Armisen. When the breakout star hosted Saturday Night Live for the first time on March 11, her TV uncle not only supported her from the audience, he also joined her in a sketch as another onscreen relative. This time, Armisen — a longtime SNL vet — stood in as Ortega's twin sister as they worked on a "remake" of The Parent Trap.
The hilarious SNL sketch features Ortega as the star of a new Parent Trap by Bowen Yang's director character. Like Hayley Mills and Lindsay Lohan before her, Ortega's character is meant to play both twins. She's ready to go, but her body double is out sick, so they get one of the "crew guys" to read with her. Armisen comes in as the guy in question, Ray, whose recollection of the script is so-so at best. And the changes he makes? Well, they're not so in line with the movie's family-friendly vibe.
"You are so annoying," Ortega tells him as they film a scene in the cabin where the "twins" are battling over whether to turn the lights out for the night or not. Going "off the cuff," he retorts, "And I'm starting to think you're a real b*tch!" From there, Ray's additions only get more inappropriate, like when he says he'd let Lisa Rinna "wreck" him and later gets the wrong idea when Ortega says "whole picture."
Armisen was only in one episode of Wednesday Season 1 as Uncle Fester, so it was nice to see him share another scene with Ortega. On Twitter, a fan joked that the sketch showed Uncle Fester and his niece "in a parallel universe." For other viewers, the SNL sketch helped them finally place the man who played Wednesday's hairless uncle. "THATS [sic] who Uncle Fester was," one tweeted with a face-palm GIF. Another called it "a bit of a shocker" as they "actually didn't recognize him" on the Netflix show.
Fans also appreciated seeing some of the updates SNL made to The Parent Trap. The sketch's version was inspired by the 1998 version starring Lohan, but there were very clear traces of 2023. For example, the twins' cabin wall decor features Olivia Rodrigo, Lizzo, BTS, Harry Styles, Lil Nas X, and more. On top of that, the photo of their parents reveals Leslie Mann and Ed Helms, not Natasha Richardson and Dennis Quaid.
Beyond SNL, it remains to be seen when Ortega and Armisen will work together again. Wednesday Season 2 has been confirmed, but so far the cast hasn't been announced. Here's hoping Uncle Fester returns for his niece's next creepy, kooky adventure.