Jennifer Aniston Accidentally Swore On Live TV & Her Reaction Was Hilarious
The Friends actor even caught her co-star Adam Sandler by surprise.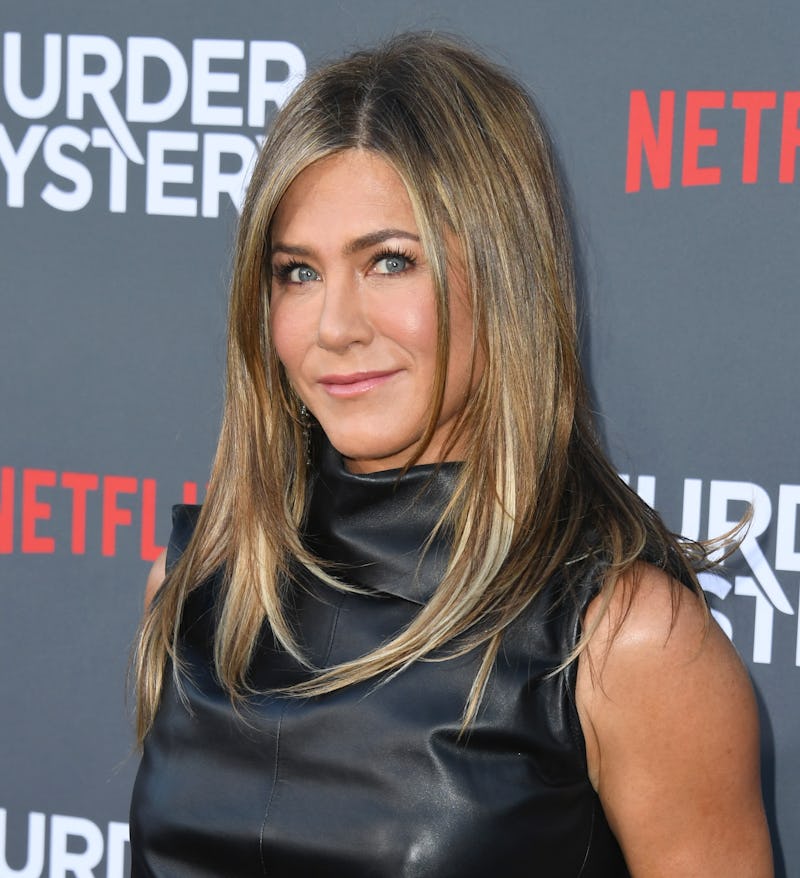 Jon Kopaloff/FilmMagic/Getty Images
Jennifer Aniston and Adam Sandler joined ITV's This Morning show via video link for what should've been a straightforward natter about their forthcoming film Murder Mystery 2. But instead, Friends legend Aniston was left red-faced after she accidentally swore live on air. Aniston and Sandler first appeared as Nick and Audrey — a New York cop and hairdresser who accidentally get caught up in a murder investigation during a holiday to Europe — in 2019's comedy-drama Murder Mystery. In the upcoming sequel, out on Mar. 31, the pair have set up their own detective agency, and much of the action this time around unfolds in Paris.
On This Morning, the actors shared their memories of filming one particular scene on top of the city's iconic Eiffel Tower landmark, which used some CGI special effects, but also required Aniston to do a stunt. "Jennifer was scared to fall off the Eiffel Tower. They called 'action' and she didn't jump and I just snuck up and pushed her. It was fun to see that reaction," Sandler said. "I can imagine, someone pretending to push you off the Eiffel Tower. What fun!'" host Phillip Schofield commented. "Just for sh*ts and giggles," Aniston joined in, before almost immediately realising her mistake and clapping her hand over her mouth in embarrassment.
As Schofield and fellow presenter Holly Willoughby quickly apologised to viewers at home for the blunder, Aniston rapidly attempted to save face."I'm sure you can bleep that," she said. Unfortunately for the actor, the show was airing in real-time. "No, it's live but don't worry we love it," Schofield laughed.
Elsewhere in the chat, Aniston made a witty remark about Murder Mystery 2's trailer giving away too many spoilers. "I don't want to spoil the movie…" Schofield commented at one point, being careful with the way he worded certain aspects of the plot during their interview. "Don't worry, the trailer already did that," she quipped in response.