Jennifer Coolidge Slid Into Ariana Grande's DMs In The Most Iconic Way
Here, we look at the legendary duo's friendship timeline to date.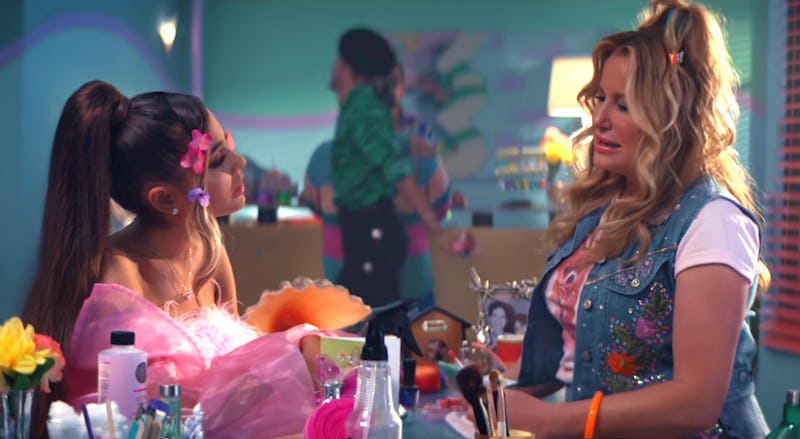 YouTube/ArianaGrande
We're totally here for the Jennifer Coolidge renaissance. A comedy genius with a knack for playing hilarious characters that live rent free in your mind forevermore, the White Lotus actor deserves every last ounce of success that is coming her way right now. She has some of the best lines of dialogue in recent history. Case in point: "Please, these gays are trying to murder me!"
Interestingly, the actor credits her friendship with Ariana Grande for kickstarting this new, critically acclaimed portion of her career, and is full of praise for the pop star. "I love that girl. She has so much cool. She's at the beginning of her life and… she is someone that is such an unusual sort, because she's this very, very old person in a very young body," the actor told ET Canada.
"It's really rare. I sometimes feel like I'm talking to someone ancient. Her take on things [and everything] is so advanced. I don't really know how to explain her. I have never met anyone like her in my life."
Let's look back at their beautiful (and still-blossoming) friendship…
May 2018: Ari's Incredible JC Impression
As Arianators will know already, Grande has a special talent when it comes to impersonating her celebrity peers. In the past, she's sent up everyone from Celine Dion to Britney Spears on The Tonight Show Starring Jimmy Fallon – and when she appeared on the chat show in 2018, the host asked her about her latest impression. Explaining that Best In Show — a hilarious mockumentary starring Coolidge — is one of her favourite films, Grande goes onto do her best impression of the actor.
Coolidge ended up watching Grande's take, and loved it. Recounting her reaction on The Tonight Show in 2022, Coolidge explains that a friend suggested she DM Grande after seeing her spot-on impersonation – something the actor was originally reluctant to do. "The robots answer the DMs!" she remembers protesting. "I did it anyway… and next thing you know I was going to her house getting fit for a wardrobe fitting for "thank u, next."
Nov 2018: That "thank u, next" Cameo
As mentioned, Coolidge soon ended up agreeing to guest star in one of Grande's music videos – revisiting one of her best-known characters in the reference-heavy visual for "thank u, next." In the video, the singer pays homage to classics like Mean Girls, Bring it On, and 13 Going On 30, as well as inviting Coolidge back to reprise her iconic role in Legally Blonde. In the 2001 comedy, she famously played Paulette Bonafonté, a bashful manicurist with a debilitating crush on her postman. In the film, Elle befriends Paulette, helping her to finally pull UPS worker Kyle, and singlehandedly winning back custody of her dog Rufus.
The genius music video recreates the pair rehearsing the ever-seductive bend and snap – which according to Elle has a 98% success rate – and having a fairly surreal conversation about Grande's next ideal partner. "Have you ever gone out with someone that had no teeth at all?" Paulette asks her. Speaking to Grande, Coolidge later revealed that the improvised dialogue was inspired by a conversation she'd had with her Best In Show co-star Patrick Cranshaw.
Coolidge has since said that the cameo – along with an uncanny JC impression Grande did on Fallon – helped to introduce an entire younger generation to her iconic appearances in films like American Pie and Legally Blonde. "You should know it was the beginning of a lot of cool things that happened for me, because I was going through a dead zone and not much was going on," she later told Fallon during her own appearance.
October 2022: An Iconic Halloween Tribute
The pair stayed firm friends after working together on "thank u, next" – but it turned out Grande wasn't finished when it came to reminding her fans of Coolidge's comedy brilliance. For Halloween last year, Ari shared her absolutely meticulous tribute to the hilarious dog competition mockumentary Best In Show (filmed back in May 2022) featuring her finest Sherri Ann Cabot costume. In response, the actor called it "f***ing great," before offering to dress up as Grande's dog Toulouse next year.
Dec. 2022: Their Adorable Joint Interview
At the end of 2022 Coolidge was crowned as one of Entertainment Weekly's Entertainers of the Year, and to mark the occasion, the publication roped in Grande to interview their winner. A dream duo, if ever we saw one, and unsurprisingly, the results are everything.
"I love you so much," Grande told Coolidge, calling her "the queen of all things funny and brilliant" elsewhere. "I think the timing was just so beautiful, and you just deserved the entire world. I'm shy, and I just felt so lucky you did that video. Thank you for doing that, by the way. That was one of the most fun days of my entire life."
"You're the youngest iconic legend I can think of…" JC says, returning the compliment. "You're a superstar, and you know you're a superstar."
The pair also had a hilarious exchange about Coolidge's big break playing Stifler's mom in American Pie, and the way the role "helped my dating life in a way that I can't ever explain." "Do you remember the best d*ck you got from playing Stifler's mom?" Grande asks, before reacting with sheer shock when Coolidge actually goes ahead and answers gamely. "You don't have to answer! I just wanted to make you laugh," she admits. "Don't you want to know?" jokes Coolidge in response.
Thank U, What's Next…?
The pair also used their joint cover feature as an excuse to plan a vegan cheese tasting holiday together to Japan. "I would love that," Coolidge said. "I don't think our country [the USA] has really nailed it with vegan cheese, but I'm told there's some around the world that are really good fakes and you can't tell."
For heaven's sake, somebody go ahead and commission a travel show with these two…