Jennifer Coolidge Hunted For Jewels & Lashes In J.Lo's Hotel Room
"I'm going to be in so much trouble."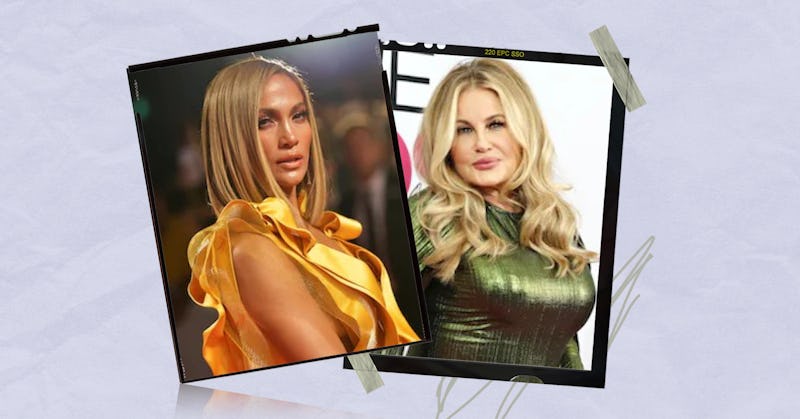 Amy Sussman/SHJ2019/WireImage/Getty Images; Cindy Ord/FilmMagic/Getty Images
It's time for Hollywood to write a buddy comedy for J.Lo and J.Co. Jennifer Coolidge invaded Jennifer Lopez's hotel room in an Instagram video posted to J.Lo's account on Jan. 26, ahead of the premiere of their new movie Shotgun Wedding. Clearly, the singer was surprised by what she discovered. "Found this in my phone..." she wrote, with a crying-laughing emoji. She signed off the caption, calling her and Coolidge "JLo & JCo."
The clip opens with Coolidge realizing where she actually is. "You know, this is so weird, this isn't my hotel room," she says. "This is J.Lo's hotel room. Oh my God, I'm on your phone." The White Lotus star proceeded to politely greet Lopez's fans. "Hey JLovers," she said. "I'm not J.Lo, but I'm loving you JLovers." She then did what anyone with access to J.Lo's hotel room would do, including gawk at her jewels and hunt for her eyelashes. "I'm going to be in so much trouble," she said, before going into a string of bleeped-out swear words. "I wanna find her lashes. She has lashes that are, like, two inches long, but you can't quite tell that they're fake."
The video then cuts to J.Lo and J.Co in front of a green screen, encouraging fans to stream their new movie on Prime Video on Jan. 27, or as Lopez prefers to call it, Jen-uary. "You were supposed to say that part with me," she told Coolidge. "Oh, I thought I was going to come in after you," she responded, laughing. J.Lo then tries to teach J.Co how to pronounce "Jen-uary," which only leads to more chaos and laughter, all but proving that the duo would be excellent Oscars hosts.
Previously, while filming promotional clips for their movie, J.Lo helped J.Co make her TikTok debut. In her first video, Coolidge decided to recite the chorus of Lopez's mega-hit "Jenny From the Block," treating the lyrics like the precious poetry they are. "Don't be fooled by the rocks that I've got," she said. "I'm still Jenny, Jenny, Jenny from the block." She then panned the camera to J.Lo, who was very impressed by her inspired reading. "I like that," she said. "I really do like that."
In Shotgun Wedding, J.Lo plays Darcy, a bride-to-be who assembles her and her fiancé's families together for a destination wedding, including her future mother-in-law, played by Coolidge. But clearly, the duo's Instagram antics prove that they deserve their own comedy.