Jennifer Lopez Calls Ben Affleck "The Most Consistent & Selfless" Dad On Father's Day
"You show up and put them first always."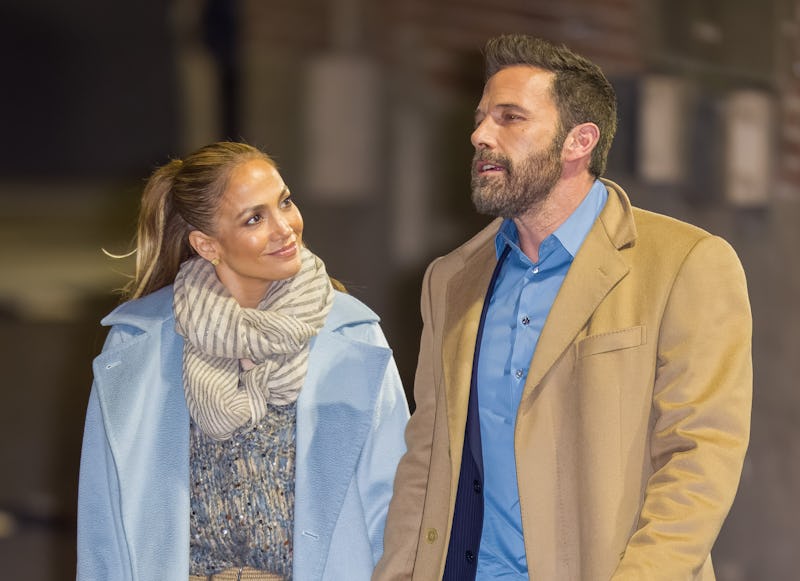 RB/Bauer-Griffin/GC Images/Getty Images
Bennifer are celebrating their first Father's Day together (at least since reuniting in 2021). On June 19, Jennifer Lopez paid tribute to fiancé Ben Affleck on Father's Day, posting a sweet, PDA-filled video of relationship memories to Instagram, including the couple walking red carpets and just laughing at home. "Happy Father's Day to the most caring, loving, affectionate, consistent and selfless Daddy ever," she captioned the post. "#HappyFathersDay my love."
The video, set to Lopez's 2002 love song "Dear Ben," contains a recent interview soundbite from the 52-year-old Marry Me star, where she opens up about building her own blended family with the 49-year-old actor. While they don't have children together, Affleck shares two daughters, Violet and Seraphina, and his son Samuel with ex-wife Jennifer Garner, while Lopez shares twins Max and Emme with ex-husband Marc Anthony.
"This is the best time of my life," she said. "I love my career, but nothing is more fulfilling to me than being able to build a family with someone who I love deeply and who is just as dedicated to family and to each other as we can be. And I'm feeling incredibly blessed."
Lopez kept the tributes going in her "On the JLo" newsletter, sending a family photo with her fiancé, father David, and children Max and Emme. After writing about her own father, the singer went on to praise Affleck, saying she's never seen a "more consistent, loving, and selfless father" to both his own children and her twins after a year of observing him as a dad.
"You show up and put them first always," she wrote. "You are affectionate and engaged in every moment they are with you and it's honestly one of the most beautiful things I have ever seen. Thank you for all you do for all of us. We appreciate and love you beyond measure." To prove her point, Lopez shared a video of her child Emme and Affleck advocating to adopt a Devon Rex cat. Needless to say, they won, with J.Lo also sharing photos of the family's newest addition, Hendrix.
"Happy Father's Day to all the daddy's out there," she concluded her letter to fans. "It's your day... we need you and we appreciate you ... yayyyyy... celebrate!"