J.Lo Uses They/Them Pronouns To Introduce Her Child Emme For A Special Duet
"They're my favorite duet partner of all time."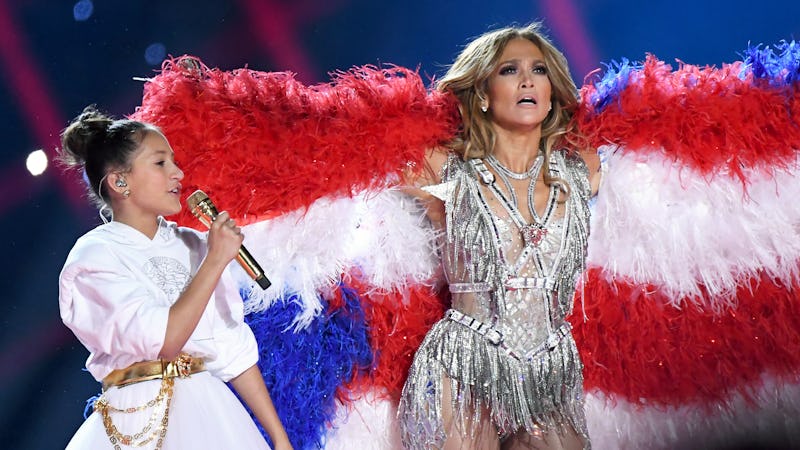 Jeff Kravitz/FilmMagic, Inc/Getty Images
J.Lo is honoring her child's journey in a very subtle way. On June 16, Jennifer Lopez used they/them pronouns to introduce her child Emme for a special duet. The Marry Me star performed a private show at the Los Angeles Dodgers Foundation's Blue Diamond Gala at Dodgers' Stadium in Los Angeles, where the duo performed a cover of Christina Perri's "A Thousand Years." Lopez shares 14-year-old twins Emme and Max with her ex-husband Marc Anthony.
"The last time we performed together was in a big stadium like this," Lopez said in a TikTok video, referring to when Emme joined her onstage at the 2020 Super Bowl Halftime Show in Miami. "I ask them to sing with me all the time and they won't. So this is a very special occasion. They are very, very busy. Booked. And pricey. They cost me when they come out. But they're worth every single penny because they're my favorite duet partner of all time." Emme then came out to sing the 2011 hit from The Twilight Saga: Breaking Dawn — Part 1, complete with a bedazzled rainbow microphone to mark Pride Month.
Fans took to the comments section to praise J.Lo's respect for her child's gender-neutral pronouns and subtle way of announcing it to the world. "Awww JLo respecting the pronouns," one fan wrote, with another commenting, "I love how us Mothers will support our children no matter what! I love this, go Emme."
After performing the duet, Emme reprised their Super Bowl performance, singing the first verse of their mom's "Let's Get Loud" and a snippet of Bruce Springsteen's "Born in the USA" before J.Lo came back to finish the rest of her 2009 hit. Lopez originally crafted the performance concept for her Halftime Show finale with Shakira, where Emme started the song by sitting in a cage, in protest of Donald Trump's controversial immigration policies. But as fans recently learned, the number was this close to being called off.
As seen in her new Netflix documentary Halftime, Lopez learned just a day before the Super Bowl that NFL executives wanted to pull the kids in cages from the show, with her manager Benny Medina explaining that the orders came from "the highest authority." However, the singer refused to budge on her vision. "I don't care what you have to do, we're not changing the show," she told him. Thankfully, they stood their ground, and the show went on as planned, leading to the most-streamed Super Bowl Halftime Show of all time and a historic, symbolic moment.