Everything We Know About Jerry Seinfeld's Pop-Tart Movie
Melissa McCarthy, Jim Gaffigan, Amy Schumer, Hugh Grant, and James Marsden have joined the cast of Unfrosted.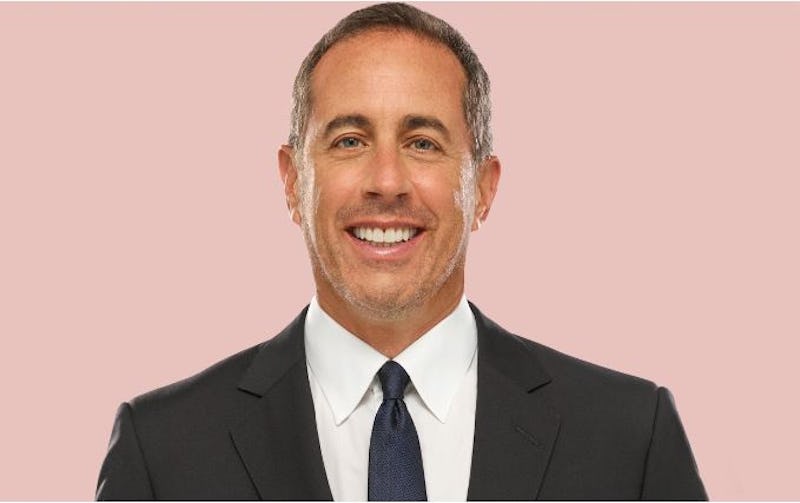 Mark Seliger
Hollywood is never afraid to give us movies with origin stories we never asked for — that's how we got the Jennifer Lawrence vehicle Joy about the creation of the mop, or Ben Affleck's newly announced movie about Nike's marketing team. Up next is a story about the creation of the Pop-Tart titled Unfrosted: The Pop-Tart Story, helmed by legendary comedian Jerry Seinfeld who will co-write, direct, produce, and star in the film. Announced in the summer of 2021 by Deadline, film is being produced by Netflix at a reported $70 million budget and now boasts a cast full of A-List stars. Here's everything we know about Seinfeld's project so far.
Unfrosted Plot
In 1963, two rival Michigan cereal companies, Kellogg and Post, race to create a new pastry that "will change the face of breakfast forever." The film is described as "a tale of ambition, betrayal, sugar, and menacing milkmen" in the press release, promising a hearty dose of comedy throughout the film — after all, it's inspired by Seinfeld's 2020 Beacon Theatre standup special 23 in which he waxes philosophic about his love for Pop-Tarts, which he deconstructed for The New York Times last year (below).
Seinfeld co-wrote the film with Seinfeld alum Spike Feresten and comedian Barry Marder, and told Deadline, "Stuck at home watching endless sad faces on TV, I thought this would be a good time to make something based on pure silliness. So we took my Pop-Tart stand-up bit from my last Netflix special and exploded it into a giant, crazy comedy movie."
Unfrosted Cast
The cast is stacked with a who's-who of our favorite funny people. Alongside Seinfeld, Melissa McCarthy, Jim Gaffigan, Amy Schumer, Hugh Grant, and James Marsden are attached to headline the film, though their exact roles have not been announced.
Rounding out the cast in supporting roles are 30 Rock's Jack McBrayer, New Girl's Max Greenfield, SNL's Bobby Moynihan, Mr. Robot's Christian Slater, Stumptown's Adrian Martinez, Reno 911!'s Thomas Lennon and Sarah Cooper: Everything's Fine's Sarah Cooper.
Unfrosted Potential Release Date
Production is believed to start later this year, meaning we can expect to see the film on the streamer sometime in 2023. No trailer or teasers have been released at this time.
This post will be updated with more information about Unfrosted as it is released.