Jimin Set Himself Free & Instantly Made History
The 27-year-old star's "Like Crazy" is the first song from any BTS member or South Korean soloist to hit No. 1 on the Billboard Hot 100.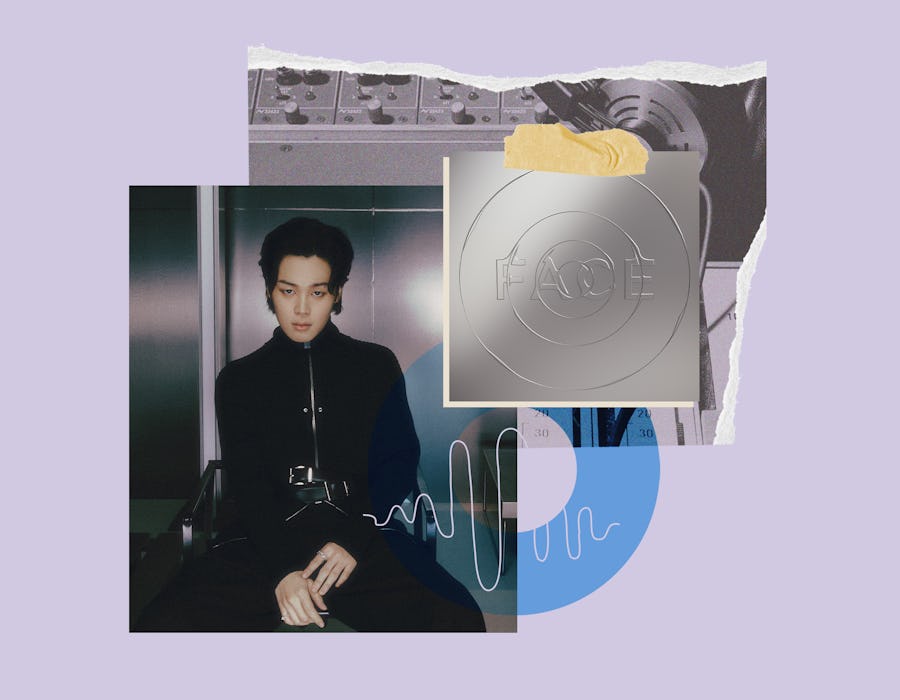 Photos courtesy of Jimin.
Jimin can't imagine himself happier with any job title other than musician. "I think I would have found a way to be BTS no matter what," Jimin tells Bustle. As one-seventh of boy band BTS for more than a decade, Jimin captured hearts of the group's fans, collectively known as ARMY, with his falsetto, dance moves, and silly antics on the band's reality shows.
Now, like his fellow BTS members who have released solo projects in recent months, the 27-year-old is exploring his individual sound on his debut album FACE. It's already climbing the charts, debuting at No. 2 on the Billboard 200 albums chart; the project's main track, "Like Crazy," peaked at No. 1 on the Hot 100 in April, marking the first time any individual BTS member or South Korean solo artist has topped the singles chart.
Over the course of seven tracks on the physical album, Jimin chronicles his innermost feelings. "Alone" is a pop ballad about loneliness and isolation, while "Set Me Free Pt.2" is a bass-heavy hip-hop track incorporating a backup choir to emphasize his resolve to break free. The latter song's darker lyrics feature a curse word so uncharacteristic of his previous solo music it shook Twitter to the core. It's also a song where Jimin raps for the first time on a solo track.
Despite this being a solo endeavor, BTS stayed involved in the making of FACE. "I remember RM told me to pour all my emotions into each song. It was very helpful in making this album," Jimin recalls of the advice he got from the BTS leader, who's credited as a songwriter on three tracks. Jimin also enlisted Jung Kook to sing trills and ad libs on "Letter," a track included on the physical release.
Below, Jimin discusses making FACE, being inspired by j-hope, and buying his idols' vinyls.
On Creating FACE & Being Anxious About What ARMY Will Think
What was the most difficult or surprising part about making a solo album?
I realized once again that I've been counting on our members more than I thought and how much I appreciate them. In addition, songwriting wasn't easy, but I enjoyed it so much that I'm grateful to them again for giving me motivation to work on this album.
What's the lyric you love the most?
"I wanna stay in this dream" from my main track, "Like Crazy."
You're known to burst into laughter whenever you rap. And now with "Set Me Free Pt.2," you intentionally wrote a track with a rap part. How are you feeling about fans hearing you rap on the track?
I tried to show various aspects of myself as an artist. I feel a bit shy and wonder how they would feel listening to my rap.
What song are you most proud of on FACE and why?
I'm proud of each and every song on FACE. To pick one, however, I do feel special attachment to "Set Me Free Pt.2" the most. I loved every step of making the song. For instance, I went to the States to record the choir and it was wonderful to hear them and see the whole process. I believe my fans would think this song best represents what BTS' Jimin does best.
When you think about your fans listening to FACE, what do you imagine them feeling?
I feel anxious just thinking about it. [The] ARMY that I know would be all ears trying to find out how I would have felt or what I would have thought while singing each song.
On Referencing A BTS Song & Fellow BTS Members' Support
"Set Me Free Pt.2" feels like the next phase after "ON" — there's even a similar line about "going insane to stay sane." Was it a conscious decision to reference that song?
That's one of my favorite lines from BTS' songs. I did reference "ON" in "Set Me Free Pt.2" as I was inspired by the line.
You're known for being supportive of your fellow BTS members' solo projects. You even went to Chicago to support j-hope at Lollapalooza. Who has been the most supportive BTS member so far and in what way?
Actually it was the members who motivated me to start working on this album. I shared the experiences and feelings I was going through during the pandemic and they suggested that I put it all into an album. I'm really thankful that they listened to me and supported me.
j-hope's Lollapalooza stage was just perfect! I was working on my album at that time, and seeing his passion and energy that fills up the stage was very inspiring.
Whose reaction after listening to the album meant the most to you?
One of them said that he hopes this album would be a new starting point for me to grow further as an artist. It meant a lot and I will keep doing my best to achieve that.
You're known to be vulnerable in lyrics and concerts, but this album feels a lot more open. Is there any fear of fans knowing you on this deeper level?
The album does portray feelings and thoughts hidden deep inside that I've never shown before, so I'm curious how ARMY would think about the album.
On Listening To Westlife & His Musical Idols
What's the song you grew up listening to that you still know all the words to?
"My Love" by Westlife.
What's your go-to karaoke song?
"An Old Love" by Lee Moon-sae.
Who's your current musical idol?
Taeyang and Michael Jackson. I actually bought some vinyl records for the first time only recently from a vintage vinyl store. I got vinyls of Michael Jackson and The Beatles.
What comes first, the melody or the words?
I like writing melodies, so melody comes first.
What's the moment you really felt like a musician?
Whenever I'm onstage feeling the happiest.
This interview has been edited and condensed for clarity.