Joe Exotic's Complicated Family History, Explained
His niece called him "evil" and claimed he took advantage of their family.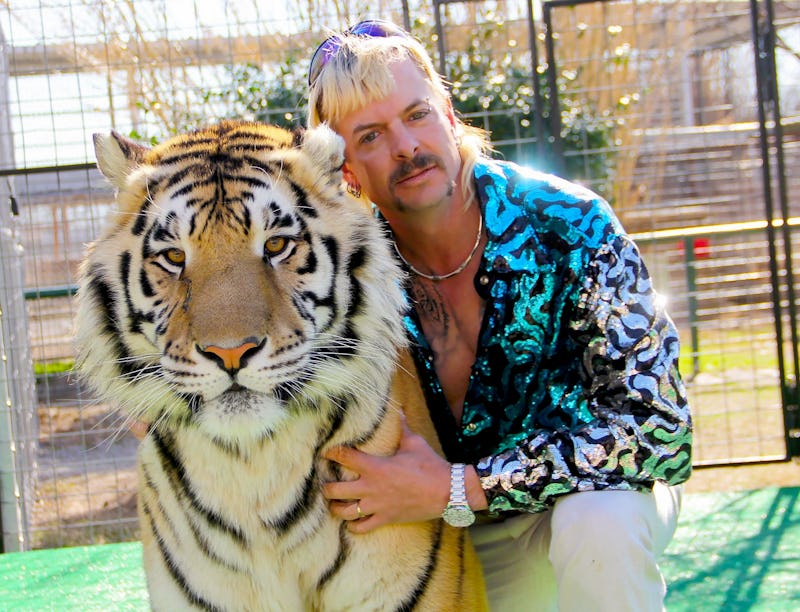 Netflix
Long before he rose to worldwide notoriety, Tiger King's Joe Exotic was simply Joe Schreibvogel, one of five children born to a pair of Kansas farmers. According to New York Magazine, Exotic grew up as the middle child of four siblings — two brothers and two sisters. It was through their family farm that he was introduced to the animal world. Though they kept all the standard farm animals like cows, chickens, horses, dogs, and cats, he and his siblings also brought home wild animals like porcupines, raccoons, and baby antelope.
Exotic shared his passion for animals with his brother Garold Schreibvogel, who also loved exotic creatures and wanted to see big cats in Africa, per Texas Monthly. In 1986, the two opened a pet store together, where they started selling fish and snakes as well as more interesting animals like armadillos and opossums. But in 1997, Garold was hit by a drunk driver and killed. A devastated Joe dedicated his life's work to Garold: He used the settlement money from the accident to open his roadside zoo, naming it the Garold Wayne Exotic Animal Memorial Park.
This relationship was much different than the one Exotic had with the rest of his siblings. Per Texas Monthly, he's no longer close with any of them. That could perhaps be because one of them allegedly outed Joe to his father after high school, leading Joe to attempt suicide, according to Texas Monthly.
Joe Exotic's other brother, Yarri Schreibvogel, appeared in Tiger King 2 and shed some light on the family's dynamic — and, yep, there still doesn't seem to be much love there. He uses a drawing of his brother for target practice and reveals that they haven't seen each other in 20 years. According to Yarri, Joe would dress up as different characters and always managed to get out of chores, which caused fighting within the family. Joe and his brother also talked about the physical abuse they endured by their father.
Yarri's appearance in Tiger King 2 came months after another doc, Shooting Joe Exotic, explored the family's past. As Screen Rant reports, Joe claimed in a 2020 letter that he'd been molested by Yarri at a young age, though Yarri denied this.
Although it's not clear where either of Joe's sisters are now, his younger sister Shirley had a daughter named Chealsi Putnam — and she has plenty to say about her uncle, who she called "evil" in a 2020 interview with The Daily Mail. Putnam says she was raised by Joe's parents (her grandparents) and spent her childhood watching him take advantage of their financial generosity. "I don't think he ever really cared for them. He saw them as pawns in his game... Most of the bills, policies, and loans for the zoo were in his parents' name," she told Daily Mail.
Additionally, Putnam actually worked at Joe's zoo on and off between 1999 and 2017, and has accused him of being involved in all sorts of illegal activity, including freezing tiger cubs and baby monkeys so he could sell them to taxidermists. She says that Tiger King only showed a small part of her uncle's true character, claiming "the real-life Joe is 100 times worse." In fact, Putnam actually helped the FBI capture Exotic when he was on the run in Florida after plotting to kill Carole Baskin. Based on all of that, it certainly doesn't seem like the family will be reuniting any time soon.
If you or someone you know are experiencing suicidal thoughts, call 911, or call the National Suicide Prevention Hotline at 1-800-273-8255 or text HOME to the Crisis Text Line at 741741. If you or someone you know has been sexually assaulted, you can call the National Sexual Assault Telephone Hotline at 800-656-HOPE (4673) or visit hotline.rainn.org.
This article was originally published on