Joe Jonas Seemingly Addresses Sophie Turner Divorce Rumors After A "Crazy Week"
"If you don't hear it from these lips, don't believe it."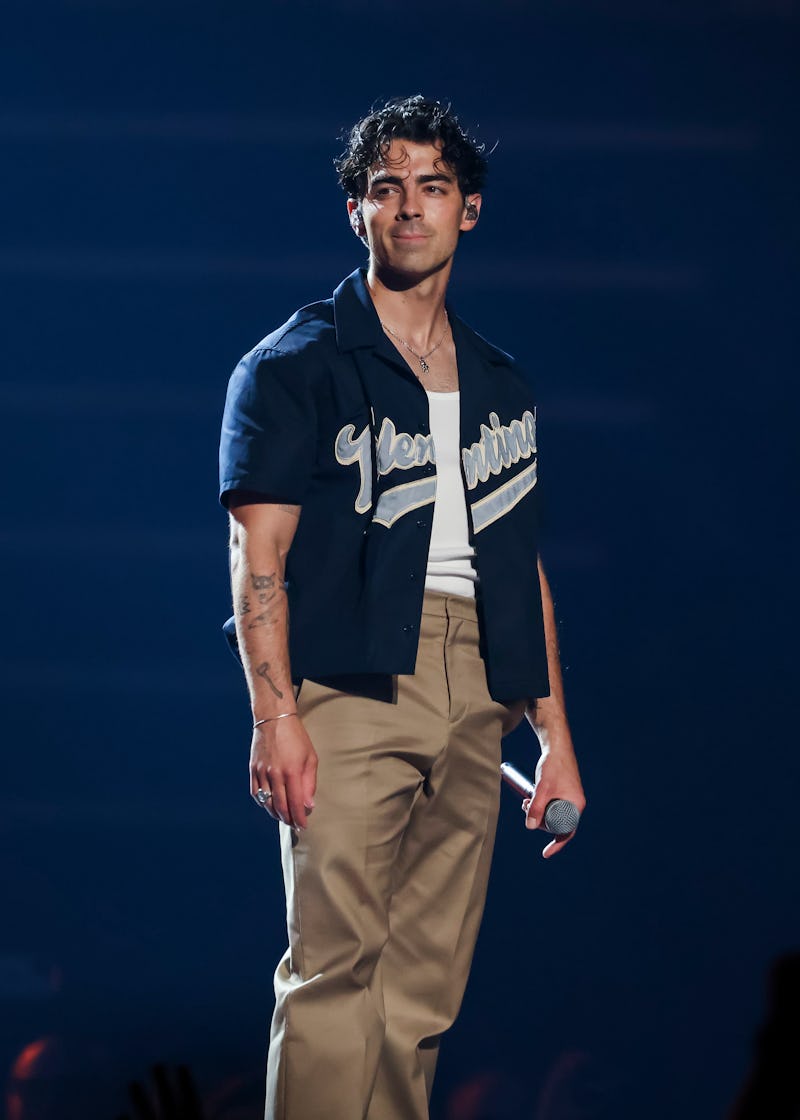 Scott Legato/Getty Images Entertainment/Getty Images
After a self-described "crazy week," Joe Jonas addressed the elephant in Dodger Stadium. Between songs during the Jonas Brothers' tour stop in Los Angeles on Sept. 9, the singer's divorce from Sophie Turner seemed to take center stage when he went off script with concertgoers. "I just want to say, look, if you don't hear it from these lips, don't believe it, OK?" the musician — who was not wearing his wedding ring — told the cheering crowd, as seen in fan videos posted to social media. "Thank you, everyone, for the love and support to me and my family. I love you guys."
Though he didn't explicitly mention his split — or the rumors about what supposedly caused the breakup — Jonas and Turner jointly confirmed reports of their pending divorce just days earlier, on Sept. 6. "After four wonderful years of marriage we have mutually decided to amicably end our marriage," the parents, who share two daughters, posted via Instagram. "There are many speculative narratives as to why, but truly this is a united decision and we sincerely hope that everyone can respect our wishes for privacy for us and our children." According to court documents filed in Florida's Miami-Dade County, the musician said the marriage was "irretrievably broken" as grounds for dissolution.
Immediately following his mid-concert comments, Jonas launched into a performance of "Hesitate," a song that his Game of Thrones ex famously inspired. While promoting their 2019 album, Happiness Begins, Nick Jonas described the track as his brother Joe's love letter to Turner, per Billboard. When the full project dropped that June, the middle JoBro described how "important" the song was to him, explaining in the Editor's Notes section, "I wrote it for my significant other, Sophie, and it's one of those love letters you write to your partner saying, 'I'll be there no matter what.'"
Jonas didn't stop there, either. "It's like my vows before I wrote my vows," he further explained of his "promise to Sophie" in the 2020 Jonas Brothers documentary, Chasing Happiness. "For me, it takes me to a whole other universe. I'm seeing her walk down the aisle again every time I close my eyes."
So, naturally, "Hesitate" took on an entirely new meaning when he sang the track on tour, especially on the same day the estranged couple announced their divorce. When the Jonas Brothers took the stage in Phoenix, Arizona, on Sept. 6, discerning fans noticed a lyric change that quickly went viral on TikTok and X (formerly Twitter), too. Whereas the original line was, "Don't be scared 'cause I'm on your side," Jonas reportedly replaced "your" with "her," leaving his supporters feeling emotional.
Even the most fervent "Hesitate" stans gave the band permission to wipe the track from their 2023 tour set list, though the brothers have yet to take them up on the merciful offer.