John Corbett & Bo Derek's Relationship Timeline: She Loves SATC But Was Team Big
"I think I was [Team] Big for [Carrie] — not for me. ... I just didn't think [Aidan] was right for her."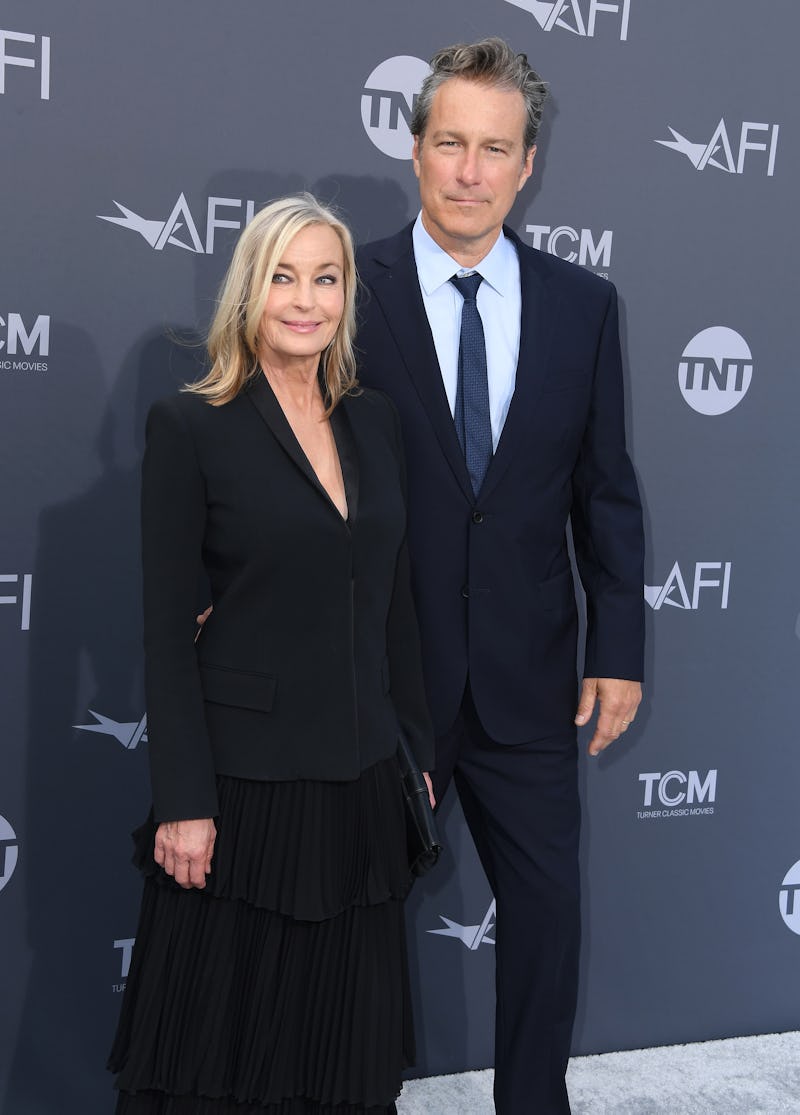 Steve Granitz/FilmMagic/Getty Images
John Corbett is about to have a stellar year. He's starring in the second season of How I Met Your Father as Hilary Duff's new on-screen beau; there's a My Big Fat Greek Wedding 3 in the works (release date TBD); and he was announced as part of And Just Like That's Season 2, reviving die-hard #TeamAidan stans.
But in real life, the actor has been in a relationship since his Sex and the City Aidan Shaw — and even his MBFGW Ian Miller — days with actor Bo Derek (Bolero, Ghosts Can't Do It). The couple's relationship timeline is hefty: the pair met in 2002 and have been together since. But despite being together for over two decades, the couple is notoriously private.
In a 2020 interview with Entertainment Tonight, Derek shared the key to a long-term partnership. "You have to be in love: really, deeply, in love," she told the outlet. "We were such opposites in so many ways when we started out that we took this relationship one day at a time and it just happens to be 19 years later, we're still together and we're gonna go for one more day!"
The pair initially didn't intend to get married. Corbett has never been married while Derek was the widower of director John Derek, who passed in 1998. In 2016, Corbett shared advice with Huffington Post, saying, "Don't get married. I have a lot of friends that get divorces. It becomes this whole thing."
But it seems like the pair changed their minds. After 18 years together, they secretly tied the knot "around Christmastime" of 2020. As the new Mr. and Mrs. head into their third year of marriage (and 21st overall) together, here's everything to know about John Corbett and Bo Derek's relationship timeline.
2002: The Couple Is Set Up By Corbett's Agent
Fans have Corbett's agent Norby Walters to thank for setting the couple up. After admitting Corbett had no date to the Oscars party Walters was throwing, the agent took matters into his own hands. "'I'll get you a date, Corbett!' And he set me up with Bo," the To All The Boys I've Loved Before star shared in a 2015 interview with Today. He also revealed he was "very intimidated" by his new date.
Derek, meanwhile, recalled in the same interview that she had no intention of dating again after her husband of 22 years died. But she just couldn't help "instantly" liking Corbett. "I kept saying to my friends, 'I'll wait until all the sparks and all that get going.' And it finally happened."
In 2020, Derek told Entertainment Tonight that she was already a fan of Corbett's SATC at the time of their meeting. But when asked whether she was Team Aidan or Team Big, she said, "I think I was [Team] Big for her [Carrie Bradshaw]. Not for me. For her ... I just didn't think [Aidan] was right for her."
Prior to meeting Derek, Corbett has already been linked to several women including Natalie Cox, Vanna White, Jill Demling, and Brittany Daniel. He even went on a "romantic" dinner date with SATC creator Candace Bushnell right before going out with Derek. "I did go to dinner with John Corbett," Bushnell told ET in August 2020. "Then he goes back to L.A. and then like two days later it's like, 'Oh, he's dating Bo Derek.' You cannot compete with Bo Derek, forget it."
2016: Derek Supports Corbett's My Big Fat Greek Wedding Premiere
After 14 years of dating, the duo proves that couples who support each other's premieres stay together. During the New York premiere of Corbett's My Big Fat Greek Wedding 2, Derek walked the carpet hand-in-hand with her man.
2017: They Have Fun On The Red Carpet
The long-term couple still acts silly with each other. Derek, who is the only one with a public Instagram account between them, rarely shares photos of Corbett. But in 2017, she shared a clip of them goofing around during a red carpet appearance for the Golden Nymph Nominees Party. In the video posted on Instagram, the country singer even gave photographers a snippet of his singing chops and dancing skills. Only Derek has social media and she rarely posts about Corbett.
2018: They Adopt A Puppy, Luka
Derek and Corbett add another member to their growing (furry) family: a German Shepherd named Luka. Derek made the announcement on Instagram, writing, "His name is Luka! Thank you for all your name suggestions...this one stuck. Special thanks to Denise. Luka is settling in like a Champ. Smokey and Chico accepted him to the pack from the first moment. And we are now a happy family of eight." The couple famously has horses and other dogs.
December 2020: Corbett & Derek Tie The Knot
"Bo and I got married!" Corbett revealed months after the fact during a guest appearance on The Talk in August 2021. "We're pretty private people, we didn't make an announcement. All our friends and family knew but this is the first time either one of us has said anything publicly about it because really we haven't had an opportunity."
The legal union was apparently spurred by the lockdown. "We didn't want 2020 to be that thing that everybody looks back at and hated. We thought, 'Well, let's get one nice thing out of it.'"
November 2022: Derek Celebrates Her Birthday Watching Football
In November, the married couple watched the LA Chargers play football for Derek's birthday and Derek got a special birthday greeting. The moment was captured on the big screen, with Corbett seen capturing Derek's shoutout on his phone.