John Legend Didn't Get Chrissy Teigen's Anniversary Joke Involving A Viral Ad
"We come to this place for magic!!!"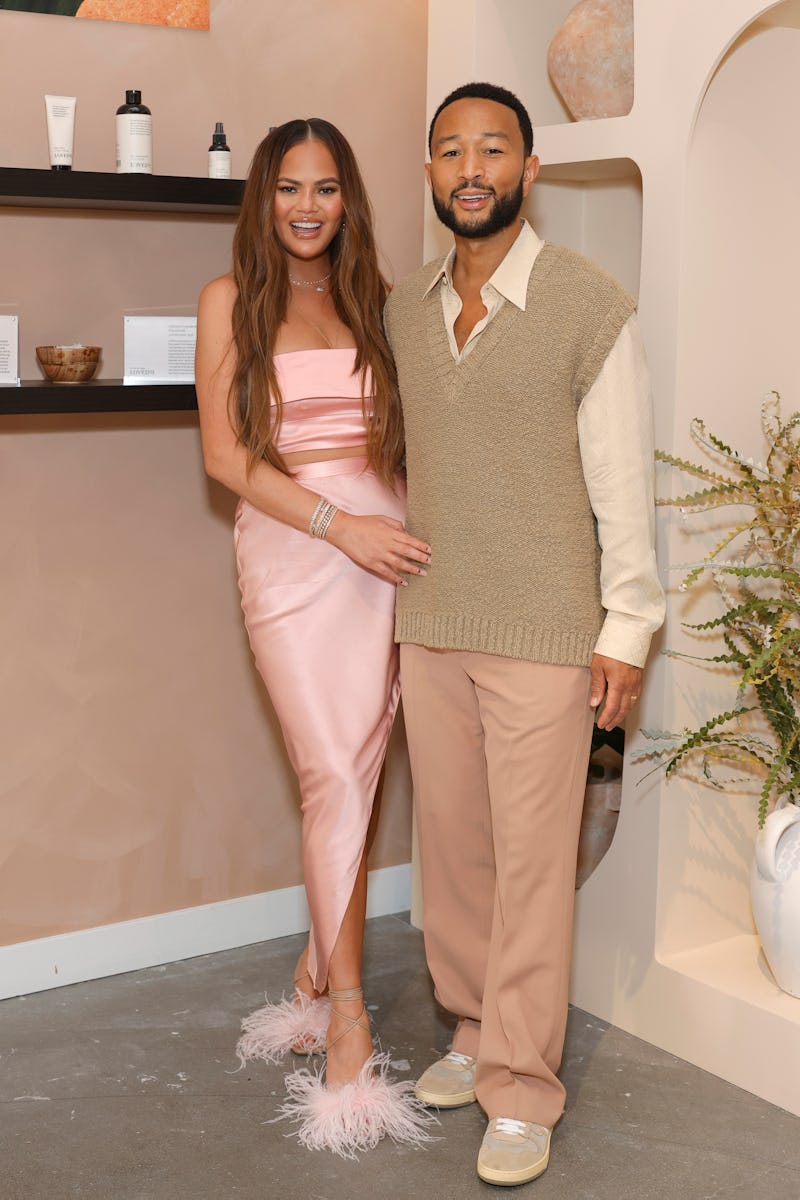 Stefanie Keenan/Getty Images Entertainment/Getty Images
After 10 years of marriage, Chrissy Teigen and John Legend must be on the same page about a lot of things. They've survived living in the spotlight and parenting four kids together, not to mention weathered controversies as a united front. Yet, when it comes to Nicole Kidman's viral AMC commercial, they're clearly out of sync.
The unexpected issue came to light when the model chose a quote from the ad to caption her Sept. 16 Instagram post about their beautiful anniversary celebration in Lake Como, Italy. Posting several photos of herself in a silver and blue Georges Hobeika dress, Teigen wrote, "we come to this place for magic!!!" Shortly thereafter, she commented, "John did not get my amc theater caption so I want to change it because now I sound weird."
Though her husband was left confused by the joke, multiple commenters let Teigen know that they got the reference. The commercial has a devoted fan base after all, to the point that there are shirts with another quote from it: "Somehow… heartbreak feels good in a place like this." It also inspired a tradition of standing up and saluting in AMC theaters before movies begin and a hilarious SNL sketch.
Teigen's joke might not have hit the mark with Legend this time, but her sense of humor was one of the reasons the couple got together in the first place. He spoke about their love story's beginning during an Entertainment Tonight interview in 2016 and shared how she won him over. "We were texting a lot, and I started to see her sense of humor," the 12-time Grammy winner said. "We would talk on the phone, and I started to fall in love with how engaging and witty and funny she is."
As for the magic of Lake Como for the duo, that's undeniable, AMC reference notwithstanding. The couple filmed Legend's "All of Me" music video there in 2013, and they went on to get married there that fall. They've been back multiple times since then, so Lake Como was a perfect location for Legend and Teigen to mark their 10-year anniversary.
The couple's romantic milestone is a big deal, but whether or not the event counted as a vow renewal or not is still up for debate. Teigen's post also featured a screenshot of a text message exchange between her and fellow model Brooklyn Decker, and it showed the confusion. "Oh my gosh you are saying new vows to each other tonight?!" Decker asked, adding a pleading-face emoji. Teigen tried to deny it, responding, "Not realllllly!!?" and explained that they "do NOT want a [vow] renewal" because "it's so corny," but then she conceded, "that's what it's sounding like isn't it LOL." Decker confirmed it, saying, "It's 100% a vow renewal."
Either way, it looks like they got the magic they came for.