John Reynolds Is In His Dickish Dude Era
With a buzzy new role on Yellowjackets, the former Search Party star is trading hapless hipsters for villains and foils.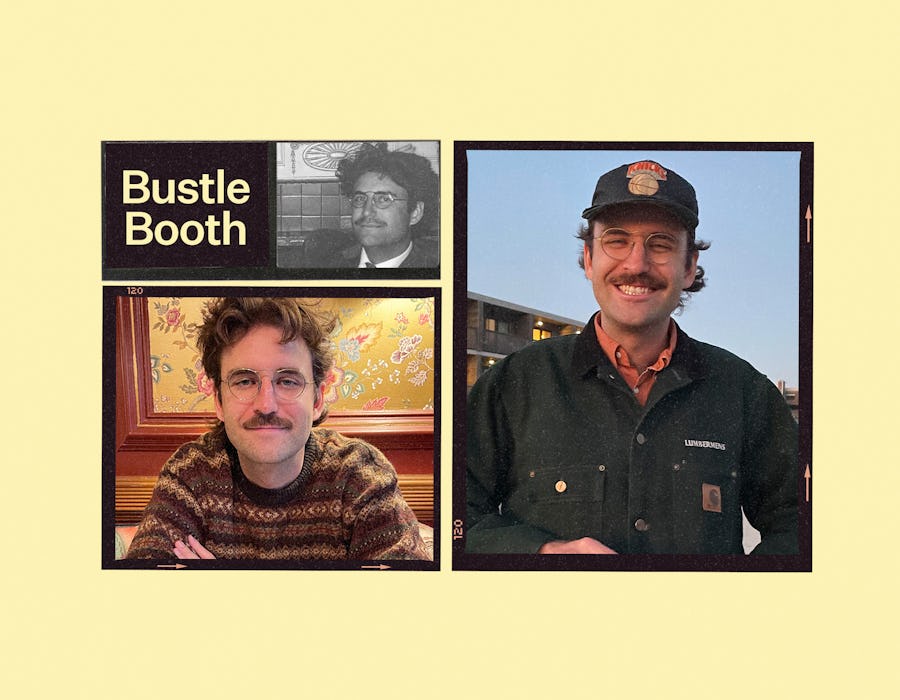 Growing up in Madison, Wisconsin, John Reynolds was surrounded by what he refers to as "insane male figures." There was the basketball coach who went to jail; the football coach who was known for his inappropriate commentary. "In high school it was just stressful. But once you get out of it, you start to realize how insane it really was. Like, 'Oh yeah, my basketball coach stole money from me,'" the Yellowjackets star and sketch comic tells Bustle. But these experiences have also fueled Reynolds' independent projects — in particular, his latest short film, Modern Man, which explores the startling and strange corners of a lonely thirty-something's psyche. "When I started making comedy, it was a lot of 'write what you know' and then... [these figures] would come up."
Yet the characters that Reynolds cut his teeth playing were anything but the derelicts and petty criminals of his past. Instead, the actor carved out a niche playing hapless hipsters like the lovesick Latin teacher Duffy in Mindy Kaling's Four Weddings and a Funeral and Drew, Dory's (Alia Shawkat) sociopathically devoted boyfriend throughout all five seasons of HBO Max's Search Party. While Reynolds had fun with both roles, he also concedes, "Sometimes it gets pretty tedious if you are the sweet, affable boyfriend all the time." So when Search Party went off the air in 2022, Reynolds found himself drawn to a new archetype: the dickish dude. "I was dying to play a villain. It's fun to be bad, and it's fun to be gross," he says.
While he first began exploring his more malevolent side in cameos on shows like the musical comedy Up Here and another Kaling project, The Sex Lives of College Girls — playing a rich jerk and a comedian who hooks up with much younger girls, respectively — it's on Yellowjackets that Reynolds is able to fully embrace his inner asshole. Co-starring as the overzealous Detective Matt Saracusa, Reynolds enters the sophomore season as a foil to Shauna (Melanie Lynskey), ingratiating himself into her world in order to get to the bottom of what really happened to her murdered lover, Adam (Peter Gadiot).
"It's really fun to get to go from being the supporting, great guy to [the guy who's like], 'I'm going to take up space with my being an asshole,'" Reynolds says, before admitting that it took him two tries to watch the show's first season because the first episode's plane crash stressed him out too much. "I'm just enjoying [the experience]. I feel like it's a good time to be a villain."
In real life, Reynolds' temperament rests somewhere between Drew Gardner's and his Yellowjackets character's. "I live in New York, so I feel like I can lean misanthropic at times just because people are so on top of you all the time. Sometimes my inner monologue is pretty rude, but I would never say those things to people in real life," he says. Especially since his fascination with the modern male condition has him constantly examining his own behaviors and the way he exists in the world. "It's been helpful for me to see, 'Okay, I need to be more thoughtful or listen more.' I think [these projects have] helped me realize things I don't want to be."
Get to know more about Reynolds — including his love of Jackie Chan — in his Bustle Booth questionnaire below.
In The Bustle Booth
What's your coffee order?
Small coffee with oat
What are the saved weather locations on your phone?
New York, Chicago, Madison
What's your sign?
Leo sun & Gemini moon
Favorite overused movie quote?
Matthew Lillard in Scream when he's dying and says, "I think I'm dyin' here man!"
What was your favorite cartoon as a kid?
The Simpsons
What's one movie or TV show you're currently obsessed with?
Sugarland Express
Who is your celeb idol?
Jackie Chan
If you had to be on a reality TV show, what would it be?
The Great British Baking Show
Go-to karaoke song?
"Crying" by Roy Orbison or "Silly Love Songs" by Wings
What's something that's inspiring you lately?
Pictures From Home by Larry Sultan
What is something you would want people to say about you?
I'm a weird, great friend.