The Jonas Brothers Just Announced Their Sixth Studio Album
The Album, dropping on May 5, is inspired by the '70s and the Bee Gees.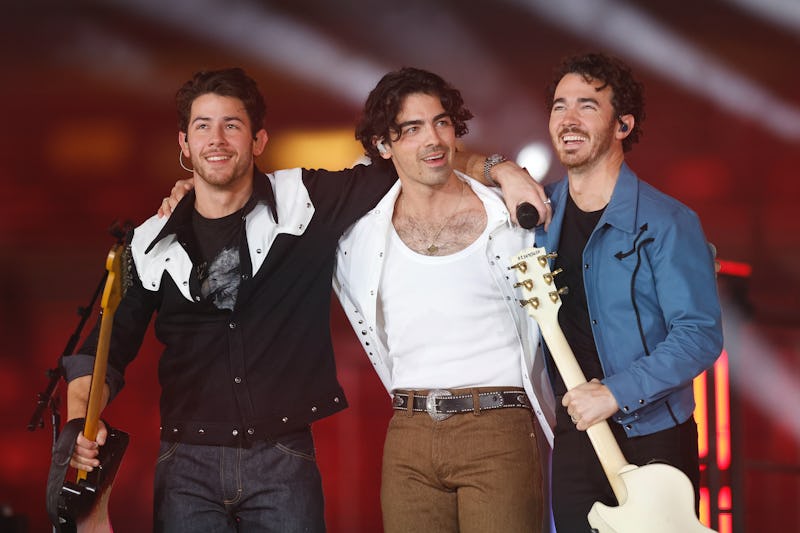 Photo by Wesley Hitt/Getty Images
It's been nearly 20 years since siblings Joe, Nick, and Kevin came together to form The Jonas Brothers in 2005. The trio quickly became Disney royalty (remember Camp Rock?) and pop royalty. In 2011, the band infamously took a hiatus to focus on their solo careers and finally decided to reunite in 2019. That same year, they launched their fifth studio album, Happiness Begins, and were met with the warmest welcome (back). Their single "Sucker" — which featured their IRL partners — even debuted at number 1 on the Billboard Hot 100. And according to the JoBros, another album is dropping soon.
The brothers marked another milestone on Jan. 30, when they received their own Hollywood Walk of Fame star — the boulevard's 2,745th. During the ceremony, the brothers thanked their fans, parents, and brother Frankie, and gave sweet tributes to the women in their lives.
First, Kevin thanked his wife, Danielle Jonas, and his two daughters Alena and Valentina. Joe took the stage next and gave a shoutout to his two daughters at home and, as expected, made quippy comments about his wife, Game of Thrones star Sophie Turner. "Sophie, what up, homie? ... You have any plans after this?" He added that he strives "to be as cool as" his "partner-in-crime."
Meanwhile, Nick, who went last, thanked his "beautiful wife" Priyanka Chopra. "I love being married to you and I love being a parent with you," he said, before speaking to his one-year-old daughter directly. "Malti Marie, I can't wait to come back here with you in 15 years and embarrass you in front of your friends."
Nick also referenced the day they reunited, saying, "I'm glad that day that we decided not to do this anymore, that we changed our minds together."
The "Jealous" singer then made the important announcement. "We are excited to announce today that our new album, The Album, will be coming out May 5," the Camp Rock star said to a screaming audience. "And we can't wait to see you all on tour later this year."
Joe took to Instagram to share a snippet of their new sound as well as a call to action to pre-save the album on Apple Music and Spotify. On Jan. 30, he wrote, "THE ALBUM. May 5th. Pre-save now at jonasbrothers.com."
The brothers spoke about their forthcoming sixth studio album, produced by Jon Bellion, in an interview with Variety. Acknowledging that their fans span generations, Nick said, "How do we make an album that speaks to all those different walks of life and ages? … We wanted to find a way to tell stories that are universal but also ultra-personal."
They landed on an album that is '70s-inspired and draws the biggest inspiration from the Bee Gees. "They were a huge influence in our lives, growing up and listening to them with our father," Kevin said. "And obviously, as we grew up being three brothers in a band, we definitely understood similarities."
But don't expect this album to sound too much like their previous works — at least not lyrically. "The direction of the lyrics, the stories we're telling … It has changed a lot," Joe said. After all, the brothers are all married with kids so their content will be more mature.
They even shared some songs to expect in the album including what they love and why. For Kevin, his favorite is "Vacation Eyes," because it's "how my relationship started with my wife. We met on vacation — and continuing that love story every single day is how I want to live my life."
For Joe, "Wings" and "Montana Sky" are his picks, with the latter tapping "into a bunch of different influences."
Meanwhile, Nick is "torn" between "Little Bird" and "Waffle House." The former is about "parenthood that will affect people in different ways" while the latter "encapsulates a moment in time for us." He added, "Musically, it taps into some of my favorites: Doobie Brothers and Bee Gees, and others from that era. It's a really, really, fun song. We can't wait to play it live."