The Jonas Brothers Roll Deep
Across many time zones, famous wives, and five daughters in tow, Kevin, Joe, and Nick are more in sync than ever.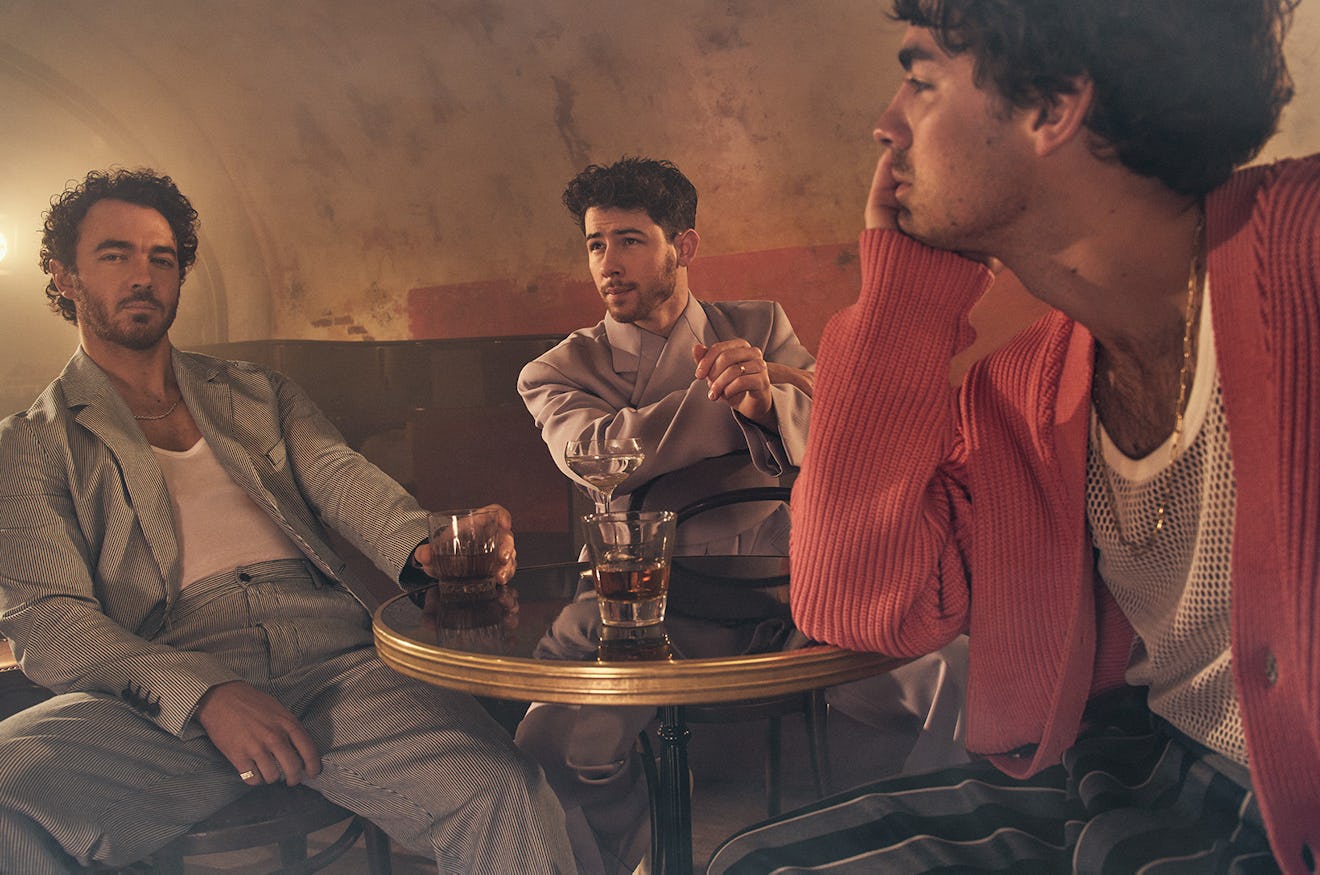 Time waits for no boy band. Pop stars grow up, and so do the little girls who paste them on their bedroom walls and sing along. That's usually where the narrative ends: not with a bang but a whimper, and a few sad postscripts on Wikipedia. It feels something like a small miracle, then, to see where the Jonas Brothers have landed in the year of our Lord 2023 — these onetime darlings of the Disney set still delivering candy-heart hits, but also whole, healthy, and thriving in both their personal and professional lives. And the little girls who once pledged their undying devotion on LiveJournal and Myspace? They're big girls now, with big jobs, but the dedication remains.
"I love seeing fans that tag us on stuff," Joe Jonas, now 33, marvels, nestled in the dim, velvety screening room of The Roxy Hotel in downtown Manhattan on an unseasonably warm April afternoon. "And if you go to their profile, they're CEOs of companies and editor-in-chiefs of magazines, and you're like, 'Hell yeah!'"
"A lot of doctors and dentists too," says eldest brother Kevin, 35. "Like I went to a parent-teacher night and our daughter's teacher stopped us to say, 'Look, I'm going to be super professional, but I just had to get it off my chest and say it: You were my first concert.'"
"Ohhh, we're gonna get her in trouble now," teases Nick, the youngest member at 30 (though not the baby of the family; that's 22-year-old Frankie, an aspiring musician and recent Columbia University undergrad).
Versace sweater and pants, Ami tank top, David Yurman necklace and ring (right hand), talent's own ring (left hand), Falke socks, G.H. Bass shoes
To the faithful, it's not news that the band Rolling Stone once dubbed the "clean teen machine" have settled into their grown-man era, following a tumultuous 2013 breakup and various forays into their own solo pursuits (acting, home improvement, PG-13 R&B). Or that they are arguably as famous now as they've ever been: The group's 2019 comeback Happiness Begins yielded the biggest single of their career to date, the No. 1 smash "Sucker," and two of the three brothers have paired off with actors already extremely well-known in their own right — Nick wed Citadel star Priyanka Chopra in late 2018, and Joe tied the knot five months later with Game of Thrones alum Sophie Turner. (Fans of the 2012 E! reality show Married to Jonas will recall Kevin's early path to matrimony; he celebrates his 14th anniversary with wife Danielle this December.)
Still, the trio seemed to unlock new levels of pop-cultural synergy when they cast White Lotus star Haley Lu Richardson in the music video for "Wings," the effervescent lead single for their new sixth record, simply called The Album. Even in her post-Lotus glow, the actor is still reeling from being cold-called by Joe for the job of a lifetime: "I fully became my 12-year-old self, and she was literally living her dream," the 28-year-old actor says of being on set with the guys she had long idolized. "For my mom, it was maybe the coolest thing for her to see me do, 'cause she was the one taking me to all those concerts and helping me send off all the fan mail. When I got the link to the video before it was released, we were in Milan together. It was like 1 a.m. but we stayed up for hours celebrating and watching it over and over. It was such a surreal full-circle moment."
The brothers themselves hardly appear in the clip, aside from a brief winky cameo; a sign, perhaps, of their innate confidence in the music (and Haley Lu). In person though, it's hard to ignore the collective impact of three Jonases in a room: Amid a photo-shoot swirl of stylists, publicists, and sundry hangers-on, the trio maintain their own sweetly focused chemistry, a semi-closed circuit of whispered in-jokes and shared glances. It almost seems like there should be a collective noun for these lightly stubbled siblings with their die-cut jawlines, whimsically tattooed biceps, and dark-chocolate curls. A bedazzlement of brothers? A jubilee of Jonai?
They often speak in overlapping sentences when answering a reporter's questions and sprinkle their observations with the occasional un-Disney F-bomb, but they also consistently seem, for lack of a better phrase, well-raised: polite, thoughtful, prone to the kindest and most generous interpretation of things. There's a new dad-gravitas to them too, now that all three have become fathers: Kevin and Danielle have two daughters; so do Joe and Sophie. Three years after their splashy 2019 wedding, Nick and Priyanka Chopra welcomed baby Malti via surrogate. ("My mom is very happy, and dad too," Kevin jokes, of the family's sudden feminine surge in the gene pool. "They said they tried four times to have a girl and we've given them many, which is great.")
Bringing that caravan on the road is something they've had to consider a lot lately: After selling out a five-night residency on Broadway in March, the band announced a major concert event at Yankee Stadium this August that quickly had to add a second date; in between, they knocked out several shows at London's historic Royal Albert Hall, played SNL for the third time, and shot a video for the already TikTok-famous Album track "Waffle House." "We've been talking a lot lately about how we're going to get places," Joe says, with a laugh, of touring with a full cohort of Jonas offspring in tow. Indeed, when he calls several weeks later for a follow-up interview, he's in London; Nick dials in from Rome, where he's accompanying Chopra on a promo tour; and Kevin connects from his home in New Jersey. Somewhere in the Zoom squares, an infant wails. "Just the logistical side of things, it is very different," Nick confesses. "We're still figuring that out."
What's never really wavered is how gracefully the band has embraced their tween-star past and the very public growing pains that came with it: Their current set lists are stacked with more recent material, but also intentionally woven in with the stuff they know so many of their fans grew up with. "I think the instinct of most people would be, 'Oh, that's gotta be so embarrassing,'" says Nick of their well-trod origin story (the purity rings, the Camp Rock singalongs, the Teen Choice Male Hottie trophies). "The reality for us is that it shaped who we became. It was our high school years, our middle school years. Naturally there's going be some moments that are a little bumpy along the way, but if you can't celebrate what got you to where you are now, you're just going to look back at things and be frustrated, so we lean in."
Some strenuously mid-aughts fashion decisions, they grant, might best be forgotten, but they gladly own those too. "There were definitely some choices made, especially by myself," Kevin laughs. "I look back now and of course I cringe at times, but I was happy, so why not? We were living in the moment… We would go see bands in New Jersey in these small little dirty rock-and-roll clubs and be like, 'They're in the tightest jeans with studded belts and yeah, let's do it!'" Nick recalls a particular fondness for cheetah-print pants and patent leather boots; Joe, the far-out hair experiments inspired by the improbably coiffed German band Tokio Hotel ("I looked like an anime character," he says cheerfully).
Now, of course, they sit front row at Valentino and Louis Vuitton, often joined by their stylish spouses — and are no longer compelled to wear, as Joe wryly puts it, "whatever free sh*t someone would throw at us." But there's another kind of aesthetic evolution, and a new sense of purpose, that surfaces on The Album, which was largely recorded live in the studio with a full band rather than piecemeal in order to capture the brothers' update on a certain Laurel-Canyon adjacent classic-rock sound. (Think Daisy Jones & the Six with no Daisy, and a lot more hot-funk falsetto.)
"There's something so, like, easy and barbecue and also rich and deep in America's culture that these songs feel super rooted in," says the record's 32-year-old producer, Jon Bellion (Justin Bieber, Katy Perry, Maroon 5). "Being fathers and getting to a more mature place in their lives, I think they're comfortable with themselves enough to be like, 'You know what? We're phenomenal musicians, we want to take some risks and be polarizing.' ... It was actually shocking to me how well-adjusted they are. Usually when I'm in the studio with an artist, they can tend to be manic or all over the place. This was families, little kids running around. They seem like they're in a place in their lives where they're just really enjoying the ride."
The fans who were paying attention, of course, have always known what the brothers are capable of musically. Still, Nick remembers, "People were often surprised when they came to the show and saw that it was a full band setup and not your typical, you know, boy-band singing and dancing." As always, he says with a wry grin, "We leave the dancing to the professionals. But we wanted to really lean in harder on the organic elements and some of the influences our dad raised us on — the Bee Gees, the Eagles."
"Pre-band breakup," Nick says, "I think we would have said we wanted to do this forever and probably not meant it a hundred percent for various reasons."
Sprinkled amid buoyant radio-ready numbers like the intergalactic opener "Miracle" and the sunny road-trip boogie "Americana" are less expected tracks, including the delicate heart-struck ballad "Little Bird" — which was inspired by tattoos Kevin has of birds dedicated to his daughters. The song also has unique relevance for Nick, whose daughter Malti survived a harrowing spell in the NICU after being born prematurely. "It's about all our little birds, I think," Nick says. "Obviously I connect with it in a big way after the journey that my wife and I went on with our daughter. But I think what's so special about that song is that it transcends our individual journeys, and hopefully it's going to be an anthem for a lot of parents out there."
The low-slung bedroom jam "Summer In the Hamptons" might offer a little bit of insight into how all those next-gen Jonas babies got here, judging by the spelled-out metaphor in the chorus (as in "sex with you is like…") and undulating refrain of "champagne ocean, sky wide open, raw emotion." For Kevin, "It's just natural to speak about your life and where you're at. Like, that's my wife and partner in crime of 13 years, you know?"
Still, Nick is quick to interject, "We're always conscious that we're three brothers singing on stage together. So when we speak about sex specifically, it's gotta be kind of a nuanced thing, otherwise it can be a little strange." ("Obviously we're not duetting those songs," Joe adds, arching a well-groomed eyebrow. "Very individual singing in that.") Indeed, while the brothers have veered into more explicit territory on their own time — particularly Joe on the cheeky 2016 smash "Cake by the Ocean" with his dance-rock side project DNCE, and Nick on his sinuous solo effort Last Year Was Complicated that same year — they seem happy to converge on the more collective emotions of The Album.
Even the jaunty, anthemic "Waffle House" puts the brothers' past interpersonal clashes on blast, with endearing honesty: "We never knew how to fake it/We always knew how to break sh--/Couple nights, threw gasoline on the fire." If chain-restaurant bacon and pancakes sometimes stood in for more formal kinds of conflict resolution, they're open about the fact that it also took real work to find their way back to each other, via regular group check-ins and individual therapy. Now, says Nick, "We've gotten pretty used to needing to solve disputes or frustrations in environments where there's tons of people around, because there's always tons of people around. And most times it's as simple as stepping into a different room so the three of us can just take a second to work it out. But honestly you know, we don't fight that much. I think the older we get, the more exhausting it becomes to argue," he concludes with a laugh. "So we just kind of concede."
These days, too, they know there's another kind of built-in support system to turn to. "Soph has a good ear, so I trust her opinion," Joe says, when asked what else their better halves contribute to the Jonas professional universe. "All our wives helped us select 'Sucker' as the first single on the last round, which was a pretty essential decision," adds Nick. That they've become frequent co-stars in the music videos, too, feels like part of that intimacy — making monogamy sexy again, you might say, and owning their private relationships in a public way that wasn't necessarily encouraged back when they were pressed to play the role of eternally available tween pinups.
"I think they're all connected ecosystems," says Kevin of integrating their wives into their work lives. "They're our best friends and our sounding boards." Though, he adds with a laugh, "I actually don't show Danielle our tour staging before we go, because she likes to be surprised. I tried to tell her [some details] the other night and she was just like, 'Nope.'"
The brothers also still sustain friendships with the Disney crew they came up with, any long-ago feuds and romances long passed into the mists by now. It's not hard to miss the love (and occasional Hannah Montana floral arrangement) that still volleys between them and peers like Demi Lovato and Miley Cyrus on Instagram. "Awards shows are like our high-school reunion every year," says Joe. "Whether it's the Grammys or Billboards or Golden Globes or whatever, you see a lot of familiar faces, and it's nice especially to see the class of '08, '09… The happiness and success that they're finding, that's kind of all we hoped for."
As for their own future plans, "I just want to be able to continue to do this. I know that sounds kind of bare minimum," Kevin admits. ("Well, you can!" Joe interjects, with a tender knee pat.) "But at a time, I didn't think I could," he goes on. "So it's an amazing thing to be able to continue to play shows with the guys that I love and my best friends."
"Pre-band breakup," Nick acknowledges, "I think we would have said we wanted to do this forever and probably not meant it a hundred percent for various reasons, but the biggest is because we weren't evolving musically and creatively and pushing ourselves. So that time away and coming back, I think now we actually have a more sustainable foundation to really do this because we love doing it. But also because we want to get better and be doing this as long as possible, as long as the foundation is family first."
So what if that means we all get old enough one day to witness a lady president who grew up a Jonas Brothers fan? The three of them laugh; it could happen, they concede. "That sounds — yes," Joe breaks off, beaming. "We'll take four more years of that."
Top Image Credit: From left to right: On Kevin: Officine Générale suit, Calvin Klein tank top, Audemars Piguet watch, talent's own necklace and ring; On Nick: Louis Vuitton Men's clothing, talent's own jewelry, Giuseppe Zanotti boots; On Joe: Versace sweater and pants, Ami tank top, David Yurman necklace
Photographs by Beau Grealy
Styling by EJ Briones and Sydney Lopez
Grooming: Kumi Craig
Talent Bookings: Special Projects
Video: Lauren Sofair, Gabe Harden
Associate Creative Director, Video: Samuel Schultz
Photo Director: Alex Pollack
SVP Fashion: Tiffany Reid
SVP Creative: Karen Hibbert