Joshua Jackson Is In His "Husband Phase"
To play his latest married man, the actor's biggest challenge could be his own good-guy affability.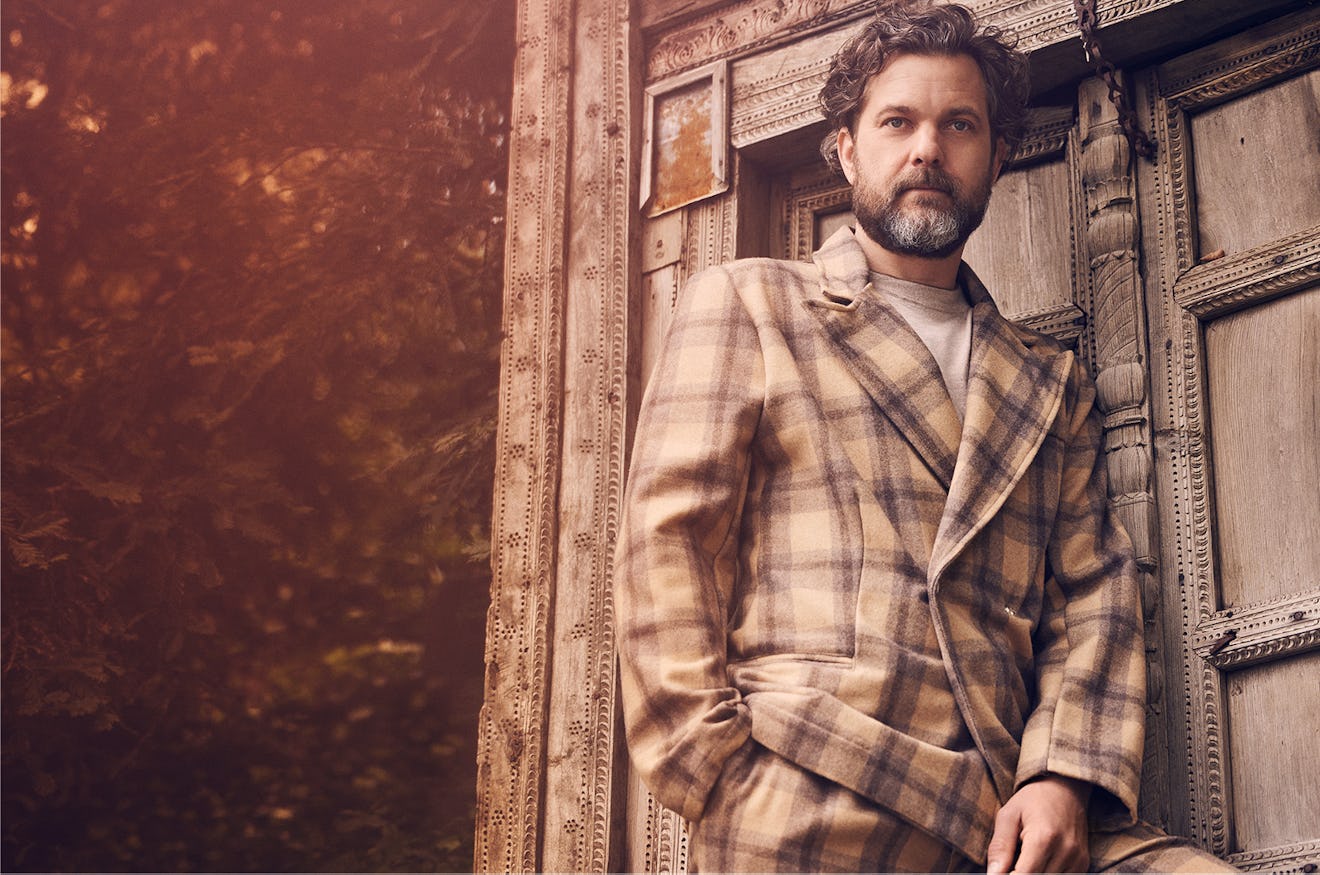 It takes guts to step into a property that's stirred up as much controversy as Fatal Attraction has since its 1987 release. The movie, frequently brandished as a misogynistic affront, made a hero out of a cheating husband for surviving an affair with a mentally unstable woman. "There's a high barrier to entry for this idea," says Joshua Jackson, who'll play Dan Gallagher in the Paramount+ adaptation of Adrian Lyne's hotly debated erotic thriller. But yes, he's aware of our skepticism. He promises the eight-episode series, which begins streaming April 30, comes at the story from a more sensitive angle: "The series does not present Dan as an innocent bystander for whom a crazy person is trying to wreck his life. He is way more culpable."
There's an earnestness to Jackson that makes it easy to trust him, and just as easy to see how he brings the necessary appeal to a modern-day Dan, played in the original film by Michael Douglas. The Vancouver native is polite and thoughtful, and if he's fatigued after a long photo shoot, he doesn't show it. This is also the danger of his casting: In order for Jackson to be the bad guy, his biggest obstacle is his own affability.
Roam the Halls suit, John Varvatos sweater, Talent's own rings
Jackson doesn't get nearly enough credit for launching what was perhaps the most powerful charm offensive in teen drama history. Fans of Dawson's Creek will know what I'm talking about, but for the uninitiated: The WB show, which ran from 1998 to 2003, was supposed to be about an overeager guy named Dawson (James Van Der Beek) and his gorgeous, grumpy gal pal Joey (Katie Holmes). Creator Kevin Williamson clearly intended for Van Der Beek and Holmes to have a When Harry Met Sally dynamic, but then along came Jackson. Or, rather, Pacey. As Pacey, Jackson was irresistible: a rascally but devoted boyfriend, funny but kind, edgy yet vulnerable — almost so entirely fictitious that fan sites have lamented the ways in which he ruined high school dating in real life. (It didn't hurt that Jackson and Holmes were an item for a few years and had genuine onscreen chemistry.) So, yeah, by the series' end, the second banana stole the show and the girl.
"People still call me Pacey all the time," says Jackson, who, at 44, is now the same age as most of the actors who played parents on the series. He's not visibly irritated by the subject of Dawson's, and has even leaned into his legacy on occasion. But Jackson says he was never able to enjoy his heartthrob status. "Mostly, my experience of that time in my life was a huge amount of impostor syndrome," he says. "I was a 20-year-old trying to figure it out. I didn't feel I was a role model for anybody. Suddenly, every month, I'm making more than any of my friends' parents were making in a year. And you get the sense of I don't deserve any of this. That all felt very unreal to me, very dissociative, if I'm being honest."
He's relieved that, unlike many of his co-stars, he didn't immediately settle down and start a family. "The idea of me being married at 24 and having found the person with whom I'm going to go through all the phases that I was about to go through is just… I would not have wished that on any woman."
Jackson is much more comfortable now, in what he calls "the husband phase of my career." In the past decade, he starred in The Affair as the fan-favorite, cuckolded partner to Ruth Wilson's leading lady, and in Little Fires Everywhere, as the supportive hubby to Reese Witherspoon's troublemaking alpha mom. With the exception of Dr. Death, in which he played a real-life surgeon who deliberately injured patients, his characters tend to be relatively decent spouses who love their wives and make mistakes. Even Dan is adoring and faithful, until he isn't. "It's not so much that I think that they're all trying to be good husbands, they're just humans," Jackson counters. "They're trying but failing to live up to their own ideal of themselves." In general, he finds toxic masculinity to be a problem, both on and off screen: "We need to take some time to figure out what the f*ck is going on with men."
If Jackson is hard on his characters, it's because he's not just in the husband phase of his career, but also of his life. In 2019, he married Jodie Turner-Smith (Queen & Slim, White Noise) and a year later they welcomed a daughter. Now he's learning what life is like for most working parents, each in service of their own ambition. "The idea of being away from my family for three or four months at a time is not acceptable," he says. Last year, when Turner-Smith relocated from their Topanga Canyon house in California to London for several months to film the new Star Wars series The Acolyte, Jackson and his daughter tagged along. Likewise, his family will join him in North Carolina from now until September as he headlines a new television series for Starz.
We need to take some time to figure out what the f*ck is going on with men.
"[Jodie and I] try not to take long-term jobs at the same time," he says. "It's hard, but the opposite would be harder." Nor does he want Turner-Smith to be sidelined from her professional opportunities to be the primary caregiver. "I'm deeply invested in Jodie's career. Altruistically, because I want to see her shine and achieve the things that she's worked so hard for. But also, selfishly, I think that makes her a happier wife, a happier mom, and just a more fulfilled person."
Roam the Halls suit, John Varvatos sweater, Talent's own ring
Few movies could be more radically at odds with Jackson's approach to partnership and fatherhood than Fatal Attraction. In the film's original ending, Dan's lover, Alex Forrest (played by Glenn Close), kills herself and frames Dan for her murder. But at test screenings, wow, did the '80s-era audiences hate it. They wanted to see Alex punished instead, so Lyne had her shot in the last act — a decision about which Close has been famously critical. Much like Close, Jackson doesn't see Alex as the boogeyman (played by Lizzy Caplan in this iteration). Rather, he's motivated by disgust for his own character. "Dan is kind of a monster," he says. "He can never see past his own ego to the damage that he's eventually going to do to his wife, [and] ultimately, to his daughter. It means more to me now as a father, even more than as a husband."
Jackson speaks aspirationally and with such sincerity that I wonder what a good guy does for a good time? Surprisingly, it's a question he kind of dodges, perhaps in part because he's intensely private, but also, he's worked at least six months out of every year for the past three decades, so he doesn't have the most reliable schedule. His preferred escape is "in the water or on the mountain," although he laughs at the memory of several failed boys trips, including one to Alaska for whitewater rafting, and another to Japan for a ski tour, which he tried to plan a couple of years ago: "I'm super gung-ho, I rallied, like, eight guys, here's where we're going, everybody's in. Six weeks out, a couple of guys drop out. Then a couple more guys drop out. So I had the most unbelievable solo tour through Japan's backcountry."
It's not a parabolic trajectory, right? It doesn't just go up. I continue to find joy in the thing itself. This business spends a lot of time trying to distract you with pretty shiny things.
It's an experience that might have been a huge bummer for anybody else, but Jackson recounts it with awe and gratitude, which seems to be his de facto approach to… everything. Years ago, when he was in what he calls the "post-Dawson's wilderness" and starring in low-budget horror flicks, he auditioned to play Batman in Christopher Nolan's The Dark Knight trilogy. When he lost the role to Christian Bale, his only regret was that he never took a photo in the batsuit — for posterity.
"It's not a parabolic trajectory, right?" he asks, rhetorically. "It doesn't just go up. I continue to find joy in the thing itself. This business spends a lot of time trying to distract you with pretty shiny things." He opens his palms. "The point of the game, as I see it now, is to survive the ebbs and flows."
The day after we speak in mid-March, Jackson is returning to Wilmington, North Carolina, where Dawson's Creek was filmed, for a new series that reunites him with Lauren Ridloff, his co-star in Broadway's 2018 production of Children of a Lesser God. Jackson brought the idea for the romantic drama to director Ava DuVernay, with whom he worked on the 2019 miniseries When They See Us. (Jackson played a lawyer — and a husband.) "I have never been involved in a project from the very beginning," he says proudly. He's rather honest, rather vulnerable, maybe even reminiscent of a certain beloved character when he admits, "I'm super nervous."
Top Image Credits: Roam the Halls suit, John Varvatos sweater
Photographs by Ramona Rosales
Styling by Adam Ballheim
Grooming: Diana Schmidtke
Talent Bookings: Special Projects
Photo Director: Alex Pollack
SVP Fashion: Tiffany Reid
SVP Creative: Karen Hibbert