Jujubee Humbly Reminds You What Pride Is About
"Pride is a protest for the safety and existence of our community."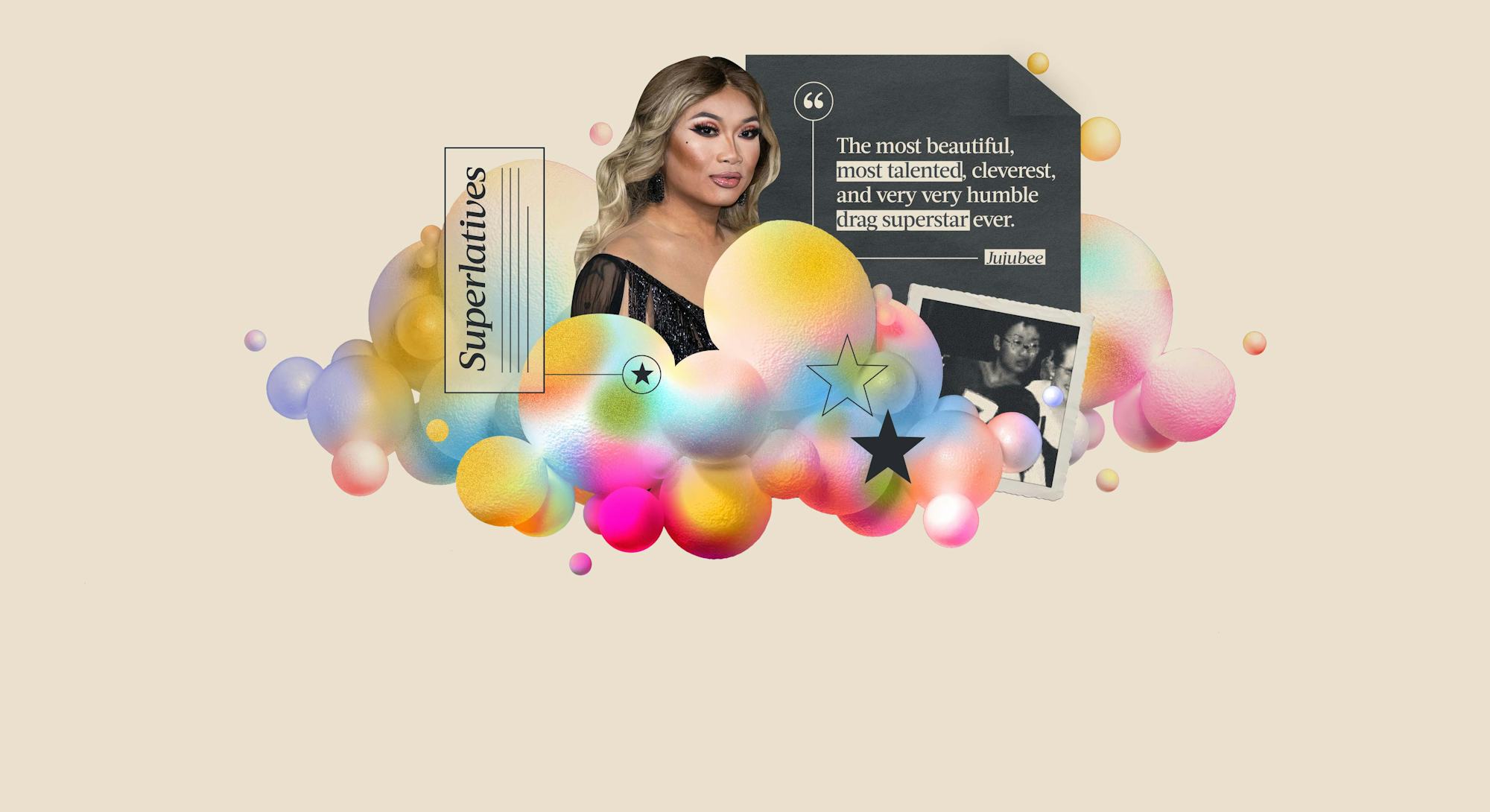 Jeff Spicer/Getty
Airline Inthyrath self-identifies as a "fabulous ass gay man" — and he's not wrong. Raised in Boston, the 38-year-old is best known as Jujubee, one of the world's most celebrated drag queens. As RuPaul's Drag Race viewers well know, fan-favorite Jujubee is quite the franchise veteran. She has appeared in five iterations of the groundbreaking reality competition show, most recently RuPaul's Drag Race UK vs The World and All Stars 5. Recall, if you will, Jujubee's "sensible" Eartha Kitt impersonation for the show's Snatch Game challenge as a standout moment.
As a singer, songwriter, makeup artist, and comedian, Jujubee's talents stretch far beyond the Drag Race universe. The multifaceted performer previously starred in the hit TLC makeover series Dragnificent!; competed in the first season of Paramount +'s Queen of the Universe; has released two EPs; and is now the host of the blind dating podcast Queen of Hearts, on which she helps heartbroken strangers find love again.
For Jujubee, being able to share her "true self with people" on the world stage is something she's most proud of as a member of the LGBTQ+ community. "I'm at the intersection of being a gay, brown, Laotian American who performs in drag and I'm so grateful to share all the facets of myself. Representation is so important," she tells Bustle.
With Pride month upon us, the Drag Race alum is ready to celebrate the LGBTQ+ community with "friends from around the world." But she is most excited to let her presence be known at NYC Pride 2022. "I'll be appearing on the Amazon Float celebrating PRIDE OUT LOUD!" Although Pride festivals are indeed a celebration, Jujubee doesn't want people to "lose sight" of their original meaning. "Pride is a protest for the safety and existence of our community," she explains.
Below, Jujubee reflects on her most important role models, offers some of her go-to self-care tips, and shares her thoughts on discrimination against trans people.
Jujubee On Trans Rights & Meditating As Self-Care
How do you feel about trans rights and discrimination against trans students?
Trans rights are very important to me. The ongoing discrimination against transgender students is appalling, and for anyone discouraged, we must stand as ONE. We are stronger together and won't let them silence the LGBTQIA+ community.
What superlative would you give yourself for the the 2022 Pride Yearbook?
The most beautiful, most talented, cleverest, and very very humble drag superstar ever!
What were some of your go-to songs or artists in high school? How about today?
My go-to artists in high school were Britney Spears and Christina Aguilera. Today, I'm still listening to them along with Jesse Ware and Megan Thee Stallion.
Who is an important role model in your life, and what has that person taught you?
My friend Kevin is an important role model in my life. They've taught me patience.
Tell us about your self-care routine and mental health tips.
Meditation is an important part of my life. Even if it's closing my eyes and counting my breath for 10 minutes. I believe it's helpful to remain centered.