The Justine Skye Renaissance Is Here
A decade into her career, she's got a surprise hit single, a budding acting career, and a new philosophy: don't read the comments.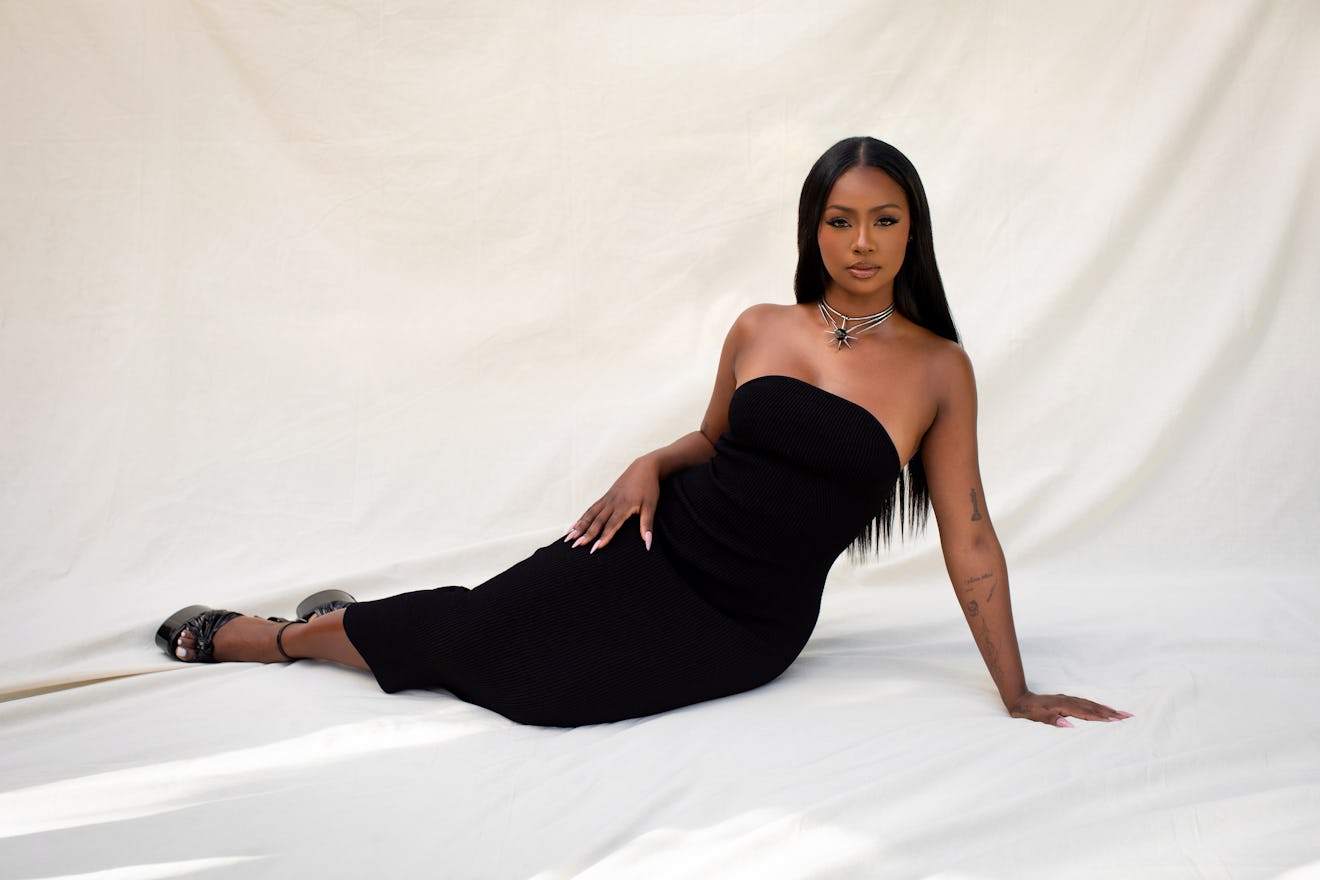 Justine Skye is golden. At least according to the Recording Industry Association of America, which recently awarded the singer her first gold certification for selling 500,000 equivalent units of her song "Collide." She learned about it while filming for the final season of ABC's Grown-ish and shared the news with her fans the day before we meet on a rainy day at Los Angeles' Holloway House. But while plenty of artists would kill for such a milestone, Skye admits to having mixed feelings. "You know how we sometimes feel like we should be further ahead in our lives?" she says. "I'm very hard on myself, like 'I should've had this already.'" Don't get her wrong — she's excited and grateful. "But this isn't where I want to stop."
At 27 years old, Skye has already spent a decade in the industry, having broken out on Tumblr under the moniker The Purple Unicorn before signing her first record deal at 17. In the past few years, however, she's hit a creative groove, whether it's going independent and teaming up with iconic producer Timbaland for 2021's Space & Time, or leveling up her acting career on Grown-ish as Annika, an ambitious and fashionable freshman somewhere between Election's Tracy Flick and Fresh Prince's Hilary Banks. "I'm not just a singer, I'm a renaissance woman," Skye says in her low, smoky voice.
With 4 million (and counting) Instagram followers and high-profile friendships with Hailey Bieber and Kendall Jenner, Skye is used to being seen, if not always understood. "I've seen so many pictures of her over the course of my life, but I had no idea what to expect," says her Grown-ish costar and friend Tara Raani. "It was just like, 'You're a cool ass b*tch, and I'm a cool ass b*tch,' and that was beautiful." The two regularly take lunch together in their trailers, gabbing about "our family lives, feminism, and our experiences working," as well as their shared astrological signs. "Virgo [suns] are very detail oriented, and with the Scorpio rising, that means you have this mysterious but really intense energy," Raani adds. "People are often intimidated by both of us individually, but we're not intimidated by each other."
In person, Skye is the antithesis of a R&B diva. Dressed in sweats and an oversize dad hat, she swats away my handshake to bring me in for a hug and is overly apologetic for running a little late. "I used to be a lot more closed off than I was, which I guess [was] perceived as me being a b*tch," she says. Now, she's more interested in letting the world in: "I just don't have anything to hide. I feel like I'm me everywhere I go."'
The success of "Collide" has been years in the making. She released the track, a slow and sexy bedroom jam featuring Tyga, back in 2014, but it got a second wind when a sped-up version of the song soundtracked a viral TikTok challenge, causing it to creep "back on the charts again like a sneaky ex," as Skye put it on Instagram. The song, included on her 2023 compilation project Dark Side, holds a special place in her heart. "The first time I heard myself on the radio, it was 'Collide,'" she says. Now, nine years after its release, the excitement hasn't gone away. "I'll be sitting at a table, and my friends are scrolling through TikTok, and I'm like, 'Wait, go back. That's my song!'" she says. "Every time I hear my song and I'm not playing it myself, I get so excited. It's like, 'Wow, people are enjoying this?'"
Skye does this a lot: Appear genuinely touched by any engagement with her work, whether it's a Pitchfork review of her last album ("I got a six, but I was like, 'Oh my God, they listened to it!'" she says, laughing) or making it onto a Twitter roundup of Black actors to watch ("I always see people doing these threads and, I'm like, 'Oh my God, I'm finally a part of this!'"). Hollywood has taught her not to get her hopes up. "I don't like to get too excited about things," she says. "Not that I'm sad or depressed walking around the world all the time. But when you're too excited about something, I feel like it just leaves room for such great disappointment."
"If people want to believe things online, that has really nothing to do with me. I know who I am. I know what I did. I know what I've said."
Vettese dress, Miaou corset, Susana Vega earrings, Giuseppe Zanotti shoes
When she first entered the industry as a teen, Skye says she was "sheltered" by her mom, an entertainment lawyer who still helps guide her career. "But as I got older and started to experience things on my own, I realized it's a lot harder for a Black woman in this world to get their point across, because we're the last to be heard, the last to receive recognition. We have to work 5 million times harder to even be seen."
Starting her acting career was particularly eye-opening. "I've definitely gotten a lot of auditions where I'm just like, 'I don't think this role is for a Black girl,' especially being a dark-skinned Black girl," she says. "I've been the one [to tell] my agents, 'I'm not going to waste my time auditioning; they're not going to choose me for this role aesthetically.'"
"It sucks to even feel like that," she adds, but she wasn't wrong: "I look at the show on TV, and [they've cast] a white woman, and I'm like, I told you."
She used to find it discouraging. But now? "It's very motivating," Skye says. "I'm not accepting that for me. I don't care what you, you, or you say — the story of Justine Skye and my career continues."
A few weeks before we meet, Skye became the casualty of some TikTok drama. It didn't have anything to do with her, really — people thought Hailey Bieber and Kylie Jenner were mocking Selena Gomez, and it turned into a whole thing — but Skye's friendship with Bieber and Jenner made her a target for all sorts of nasty comments about being a "professional Black friend" who merely decorates the lives of her white friends. Skye doesn't address the drama by name, but when I ask how she handles those comments, she says she's felt pressure to "prove" her Blackness throughout her career. "It's absurd, honestly, and it's really offensive," she says. "I don't have to prove to anyone where I'm from, or how Black I am. What does that do for me? I've stopped trying to make sense of it because it doesn't make sense."
"We're all a little bit insane, and once we accept that and just live in our truth, we'll just enter a space of happiness and freedom."
Those comments might have bothered her more a few years ago. But during the pandemic, Skye says she "did a lot of work on myself," including getting serious about therapy and changing her relationship with social media. She's stopped searching her name on Twitter to see what people were saying about her Grown-ish performances. "My goal right now isn't to try to defend myself; I'm just focused on my career," she says. "If people want to believe things online, that has really nothing to do with me. One of the most important things that I learned when I just took time for myself and went deep into therapy is that it's not my problem. I know who I am. I know what I did. I know what I've said."
Khaite dress c/o Saks Fifth Avenue, Vintage choker c/o Tab Vintage, Giuseppe Zanotti shoes
I ask if there are any misconceptions about her that she finds amusing. "That I'm stupid rich?" she says. "I'm from Brooklyn," she adds in a doesn't-that-say-it-all tone. It doesn't totally — lots of privileged people live in Brooklyn — but Skye says there have been plenty of sacrifices and "low moments" in her life and career. "Do I show that? No. Do you not mess with me because I haven't shown that? I don't know." Her Instagram feed is a glossy highlight reel: behind-the-scenes stills from glamorous photoshoots, vacations with famous friends, screenshots of career milestones, selfies at the gym or recording studio with impeccably done face makeup. That carefully curated approach may be out of step in the photodump era, but Skye says it's all a conscious choice to "just share the good moments, the positive things."
"We can sit here for hours and hours and hours," she says, and try to respond to every headline. "At the end of the day, I'm healthy. My family's healthy. I have friends who love me. I have my family who loves me. I have a career. I'm making money. I'm good. If that upsets you, and if other things that you want to believe upset you, it has nothing to do with me."
Skye tells me about a recent obsession with Paulo Coehlo's Veronika Decides to Die, a novel about a beautiful young woman who seemingly has it all but lands herself in a psychiatric facility after a failed suicide attempt. ("I just started getting into reading," she says.) The book reminded her of one her favorite movies, 1999's Girl, Interrupted. But it also spoke to an interest she has in the idea of facades, people trying to prove they are one thing when others believe they're another. "We're all a little bit insane, and once we accept that, and stop trying to be this normal person, or be this perfect thing, and just live in our truth, we'll just enter a space of happiness, and freedom."
It's an idea she's bringing into the studio as she records her next album between filming Grown-ish. "Since I have all these eyes and ears on me now, it's really important that this one sticks," she says. "I've been putting out music since I was 17, and 10 years later, I feel like I'm just starting. This in itself will be my debut since so many people are now discovering who I am for the first time" — including, perhaps, Skye herself.
Top Image Credits: Khaite dress c/o Saks Fifth Avenue, Vintage choker c/o Tab Vintage, Giuseppe Zanotti shoes
Photographs by Shanelle Infante
Styling by Yael Quint
Hair: Ricardo Roberts
Makeup: Nayari Navas
Talent Bookings: Special Projects
Photo Director: Alex Pollack
SVP Fashion: Tiffany Reid
SVP Creative: Karen Hibbert