Katy Perry Invites Lizzo To Join American Idol Judging Panel
And fans are here for it.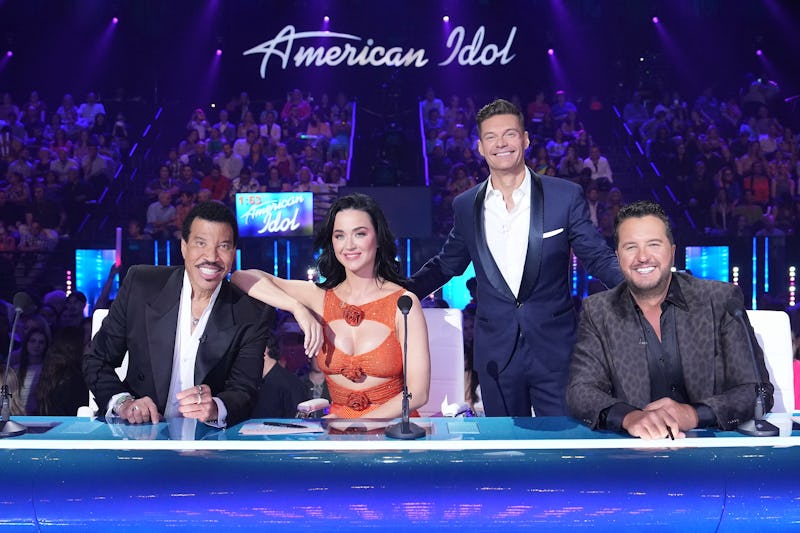 Eric McCandless/Disney General Entertainment Content/Getty Images
Following the nail-biting conclusion of American Idol Season 21 on May 21, judge Katy Perry is already pondering the show's future, revealing which Grammy winer she wants to join the star-studded judging panel. Speaking to Buzzfeed, the "Firework" hitmaker said she feels outnumbered by the panel's "testosterone" and put a call out for Lizzo to join her alongside current judges Luke Bryan and Lionel Richie.
"I would like Lizzo to come and join American Idol," Perry told the outlet. "This is an invitation from me, Katy Perry, and Lizzo, I'm asking you to join the panel. I'm feeling a little outnumbered on the testosterone. I could really use some bold, honest, hot takes."
As of writing, the "About Damn Time" singer is yet to respond to Perry's invitation. However, many American Idol fans have already expressed excitement over the prospect of Lizzo joining the long-running series. "This is the only way to get me to watch American Idol for the first time in years," one fan said of Perry's Lizzo pitch, while another wrote that Lizzo and Perry would have "amazing chemistry together."
"This would be everything. Lizzo's personality would work so well," one fan also commented. "Her personality would complement Katy's perfectly, it would be so entertaining," another wrote on Twitter.
Tthe grand finale of American Idol Season 21 aired on Sunday, during which Iam Tongi was crowned this year's winner. The 18-year-old beat out fellow competitors Megan Danielle and Colin Stough, who finished in second and third place, respectively.
Speaking to PEOPLE ahead of the season finale, Perry heaped praise on the show's three finalists. However, the "Dark Horse" singer said eventual winner Tongi had the "it factor."
"The sound in the room when Iam comes on is undeniable," Perry added. "He's an undeniable character. He's just kind of got this incredible magic. You almost can't explain it. It's an it factor. It's like you're born to do this, and it's undeniable."