Dumb Money's Keith Gill Faced Lawsuits After His GameStop Profit
His $53,000 investment once soared to $48 million.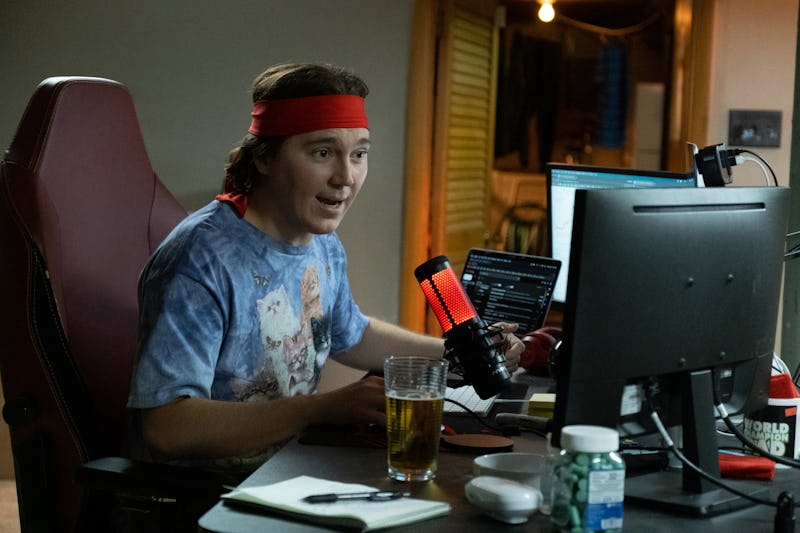 Sony Pictures Entertainment
Billed as the "ultimate David vs. Goliath tale," Dumb Money is based on the true story of everyday people who flipped the script on Wall Street and got rich by turning GameStop into the world's hottest company, per the studio's official synopsis. The "regular guy" at the center of the action is Keith Gill (Paul Dano), who invested his life savings into stock in the struggling mall video game store in 2019 and used social media to turn his "meme stock" tip into a moneymaking movement for everyday traders —and billions in losses for hedge funds — in early 2021. However, his triumph was short-lived, and now, Gill avoids the spotlight.
That was hardly the case at the time, though. Known as "Roaring Kitty" on YouTube and "DeepF*ckingValue" on Reddit's WallStreetBets forum, Gill's posts successfully rallied the masses in pushing GameStop's price to surge 1600% from under $3 to as high as $483 in late January 2021. The then-34-year-old financial educator for a Massachusetts insurance firm posted a photo on Reddit the same month showing that his initial $53,000 investment had turned into $48 million. Brokers subsequently restricted investors from purchasing the stocks, and the highly publicized GameStop craze prompted regulatory scrutiny on the state and federal levels.
In February 2021, a Washington state resident who purchased GameStop stock options filed a lawsuit against Gill, claiming he had violated securities laws against manipulating the market by inciting the "Reddit rally," for personal profit. Gill countered that he used publicly available information to determine GameStop was undervalued and shared this view with a "tiny" social media following. The court dismissed the lawsuit in April.
Meanwhile, Gill's former employer, Massachusetts Mutual Life Insurance Co., was also named in a lawsuit, and in September 2021, the company agreed to pay a $4 million fine as part of a settlement for allegedly failing to supervise Gill's trading activities adequately. (He resigned from MassMutual on January 28, 2021.) The insurer neither admitted nor denied the accusations, but agreed to the payment as well as an independent compliance review and other measures, per The New York Times.
Gill was also the subject of an investigation by Massachusetts financial regulators, and he testified before Congress at a House Financial Services Committee hearing in February 2021. "A few things I am not: I am not a cat. I am not an institutional investor. Nor am I a hedge fund," he said, calling the idea that he manipulated the market preposterous. "My posts did not cause the movement of billions of dollars into GameStop shares. It is tragic that some people lost money, and my heart goes out to them."
Gill denied accusations that he used social media to profit by promoting GameStop to unwitting investors. "I was abundantly clear that my channel was for educational purposes only, and that my aggressive style of investing was unlikely to be suitable for most folks," he added while testifying before such political figures as Maxine Waters and Alexandra Ocasio Cortez. Gill also famously used the memed phrase, "I like the stock."
Shortly afterward, he shared his final posts on Reddit and YouTube in April 2021. The most recent post from his The Roaring Kitty handle on X (formerly Twitter) — a video montage of cats — is from June 2021. The Dumb Money filmmakers attempted to reach Gill but ultimately respected his privacy and had no direct contact with him, according to the Associated Press. Meanwhile, Reuters cited public records in reporting that Gill, who is still believed to be living in Massachusetts with his wife and daughter, had no new business ventures as of February 2022, and he did not respond to their comment requests.
Though the exact amount of money Gill made from his fluctuating GameStop gamble remains unverified, the final update he provided on Reddit in April 2021 claimed that his profit stood at nearly $20 million.