Watch Kelly Clarkson Sing A Taylor Swift Breakup Song About A Toxic Relationship
"Better Man" was released as part of the 2021 album Red (Taylor's Version).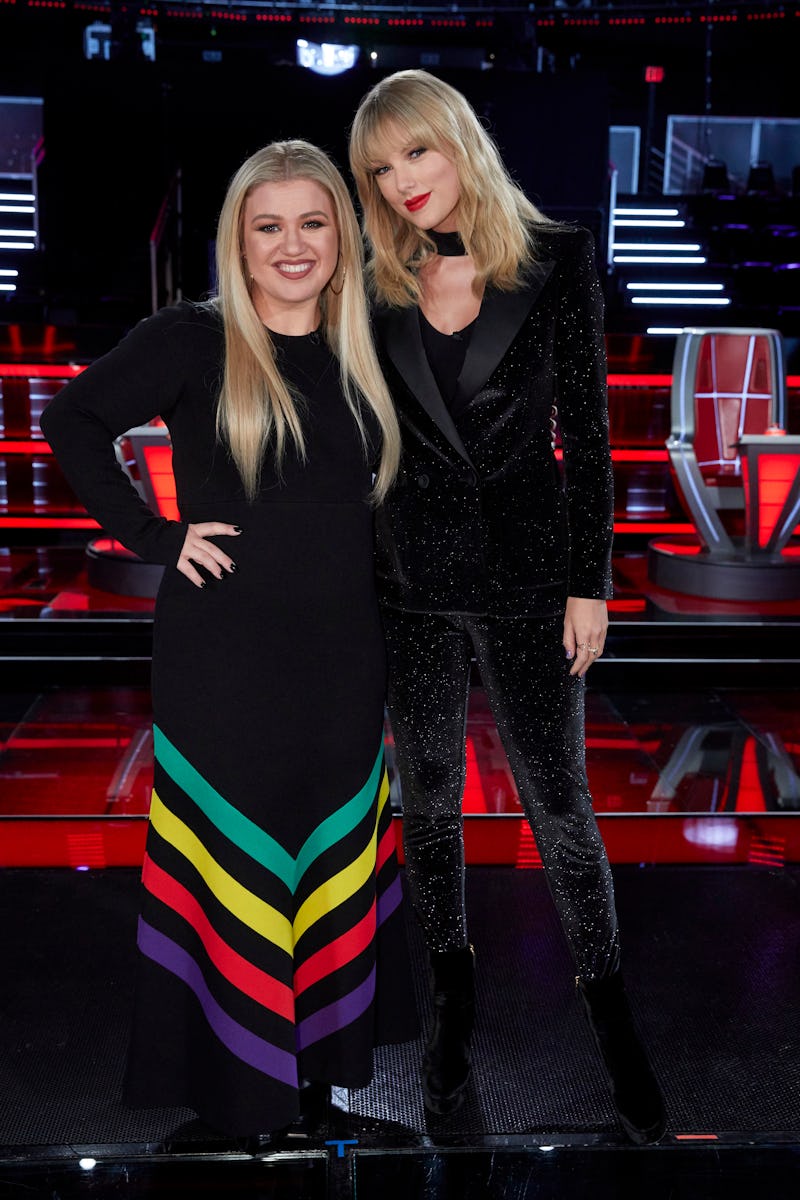 NBC/NBCUniversal/Getty Images
While American Idol alum Kelly Clarkson has given us singularly amazing hits — "A Moment Like This" and "Since U Been Gone" are prime examples — she is also the queen of covers. On The Kelly Clarkson Show, she's covered the best artists from Whitney Houston to Adele. And now, she's covering Taylor Swift.
During the show's Jan. 23 episode, the three-time Grammy winner chose one of Swift's songs to perform in her Kellyoke series: "Better Man (Taylor's Version)." As expected, Clarkson wowed audiences with her country-rock take on the track from Swift's 2021 Red (Taylor's Version), one of her re-recorded albums.
The track is one of Swift's songs "From the Vault," meaning it was penned and recorded for album release but eventually put on the back burner. And since it didn't make her 2012 album Red as intended, she gave "Better Man" to the Alabama quartet Little Big Town. The group released it as The Breaker's lead single in 2017, and it earned Swift a Grammy songwriting nom for Best Country Song and a Country Music Award for Song of the Year.
The "Anti-Hero" singer famously started re-recording her own albums following her falling out with manager Scott Borchetta in 2019. He sold the rights to Swift's masters for a reported $300 million to Scooter Braun, whom Swift wasn't on good terms with.
During a November 2021 appearance on Late Night with Seth Meyers to promote Red (Taylor's Version), Swift explained the reason behind the move. "I've always wanted to own my own music. You probably don't know this but most of your favorite artists do not own their work," she began. She also alluded to her label's saga saying, "I made it very clear I wanted to be able to buy my music. That opportunity was not given to me and it was sold to somebody else. And so I just figured, I was the one who made this music first, I can just make it again. So when something says '(Taylor's Version)' next to it, that means I own it, which is exciting."
Clarkson's cover feels like a full circle moment, especially since it was Clarkson who first publicly suggested that Swift re-record her songs in response to her management's drama. "@taylorswift13 just a thought, U should go in & re-record all the songs that U don't own the masters on exactly how U did them but put brand new art & some kind of incentive so fans will no longer buy the old versions," Clarkson tweeted Swift in July 2019. She even added, "I'd buy all of the new versions just to prove a point."
Clarkson explained the tweet during a September 2019 appearance on The Tonight Show Starring Jimmy Fallon. "Reba [McEntire] told me she did that ... She wanted to own her masters, and I was like, 'Well, if it's that important to you, like, find a way.' And she re-cut all her music," the "Because of You" singer said. "That's where I got the idea."
She also explained why she figured it was important for Swift to act similarly. "[Taylor's] been writing since she was a little girl, right? So it's, like, kind of her diary. I don't really care about owning my masters. I'm just like, 'Whatever. I'm going to sing until I'm dead.' I write like half, you know, a little more than half my stuff, and hers is 100% of it, so it's hers."
Like Clarkson promised in her earlier tweet, she didn't just buy the new versions, she covered them on her show.