The Kenan & Kel Reunion On SNL Took A Dramatic Turn, Thanks To Keke Palmer
She was "gunning for an Emmy" by working her real-life pregnancy into a hilariously "gritty" reboot.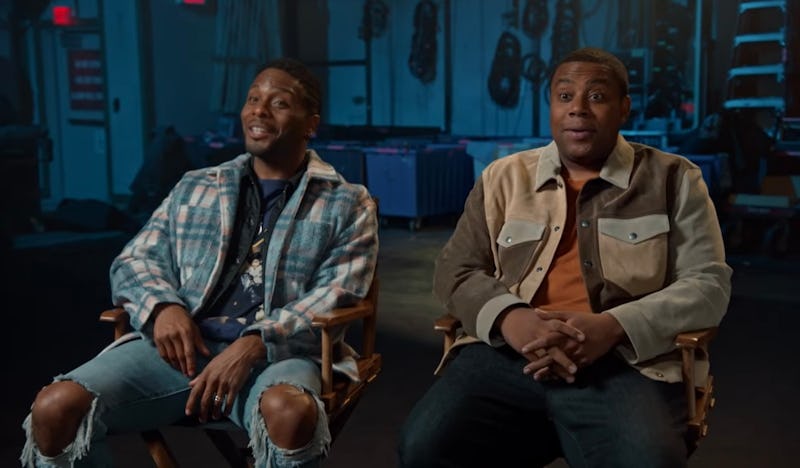 NBC/screenshot
Aw, here it goes! Kenan Thompson and Kel Mitchell reunited on Saturday Night Live's Dec. 3 episode, but it wasn't in the Rigby's you'll remember. The sketch kicked off with host Keke Palmer approaching Thompson with her "idea for a reboot" of classic '90s Nickelodeon sitcom Kenan & Kel, swapping herself into the latter role as "Kelly." Only — surprise! — she'd already sold the show under the guise that they'd written it together. Much like Mitchell's character, Kelly wreaked havoc in the fictional convenience store to hilarious effect, but things took a dramatic turn when she revealed she was pregnant with Kenan's baby.
"Keke was gunning for an Emmy award, so she wanted gritty, dramatic moments, and I thought, 'That won't work' — and I was right," Thompson deadpanned in a fake confessional, as Palmer really played it up for the cameras on set, taking full advantage of her newly announced real-life pregnancy. Fast-forward to a hilariously over-the-top monologue about her rough "Chiraq" upbringing, and Thompson thought Kenan & Kelly might already have a "tone issue."
Enter SNL Season 48 newcomer Devon Walker, trying out his best impression of Mitchell's Good Burger character, Ed. "Thank you, Devon, but I think we already found someone," Thompson replied, before the OG himself walked through the doors — bypassing everyone to grab a bottle of orange soda, of course.
But since this was Palmer's iteration, the lighthearted nostalgia didn't last for long: A robber rushed into Rigby's and shot Kel in the chest. And, yep, Palmer's Kelly added yet another plot twist, revealing that Kel was actually her baby's father. "The show is not good," Thompson said. The good news? "Jordan Peele called us," added the longest-running SNL cast member, before the camera panned out to reveal Mitchell, who continued, "He wants us to do a sequel to Nope," appropriately titled, Yep.
Of course, this wasn't the first time the duo reunited this year. When Thompson hosted the 2022 Emmys in September, for example, Mitchell made a surprise cameo. Playing a passed-out guest at the ceremony's onstage bar, where Kumail Nanjiani served as honorary bartender, Mitchell awoke for the stars to ask for his drink order. "You know what, can I get a Good Burger?" he asked, giving the audience the perfect helping of '90s nostalgia. Responded Thompson, "Let's make it two Good Burgers."
After the show, Mitchell explained to The Hollywood Reporter that producers took extra caution to keep the surprise under wraps. "They had to hide me the whole time while I was here," he told the outlet. "I was ready to walk the carpet and everything but they were like, 'No, let's hide you.' That way it could be a big moment. But, yeah, man, it was really fun. We knew the audience would like that."
It wasn't exactly a true reunion for the longtime friends, though. Of Thompson, the All That alum summed up, "He's always awesome. We hang out all the time and call each other all the time, so it's always a great moment for us that we can share with our fans."