Khloé Kardashian Revives This Britney Spears Pepsi Interview On TikTok
"My favorite kind of Pepsi? Pepsi's Pepsi."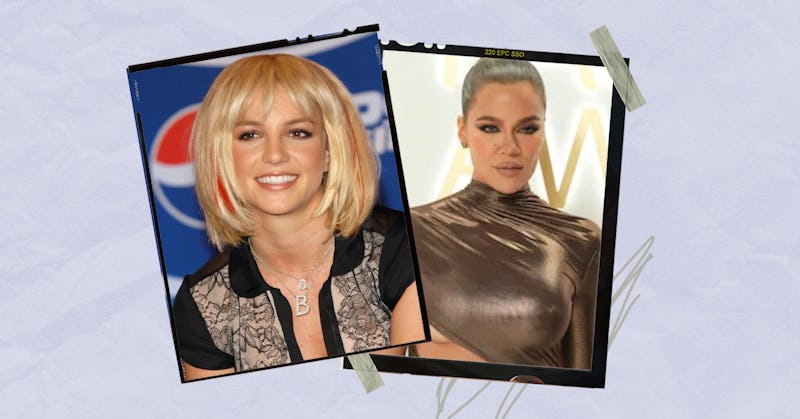 KMazur/WireImage/Getty Images; Sean Zanni/Patrick McMullan/Getty Images
Pepsi remains an iconic drink among the stars, even 20 years later. On Sept. 17, Khloé Kardashian gave her best Britney Spears impression, recreating one of the singer's most iconic interview moments. In a TikTok video, the Good American founder donned a blonde bob wig and chewed gum to mimic Spears' 2003 interview on CNN, in which she enthusiastically professed her love of Pepsi.
In the interview, Spears was asked how often she actually drank Pepsi, with whom she was in a sponsorship deal at the time. "I really do like Pepsi, I really do," she responded. In fact, she balked when asked what her favorite flavor was. "My favorite kind of Pepsi? Pepsi's Pepsi," she said, before clarifying that she doesn't drink Diet Pepsi. Kardashian imitated Spears' mannerisms perfectly in her TikTok, flipping her wig and lip-syncing the hilarious lines alongside her makeup artist Ash K. Holm and hairstylist Andrew Fitzsimons.
Spears has yet to respond to the video, but the two do have a small history. Spears was a judge on the The X Factor in 2012, the same season where Kardashian co-hosted with Mario Lopez, and they've shared love with each other on social media before.
In November 2022, in a now-deleted tweet, Spears shared a photo of Kardashian sporting long, crimped blonde hair at Beyoncé's 41st birthday party a couple of months prior, explaining that the reality star was her new hair inspiration. "She's the reason I crimp my hair now !!!" she wrote. "How f'n hot is that … but I don't see how hers is more puffy !!! I'm working on it … she's beautiful !!!"
Kardashian replied to show love back to Spears and explain how her hair was actually done. "You are so sweet!!! I wish I could say I did this myself but I Did not. Ha!" she wrote. "I believe it was done with a curling iron, then we combed it out, sort of backcombed it for volume and used texturing spray. sounds like a lot lol You're beautiful!" Her sister Kim also responded to Spears in support of Khloé, writing, "She sure is!"