Khloé Kardashian Writes Touching Instagram Tribute To Tristan Thompson's Mother
"I am lucky to have had someone that makes saying goodbye so incredibly difficult."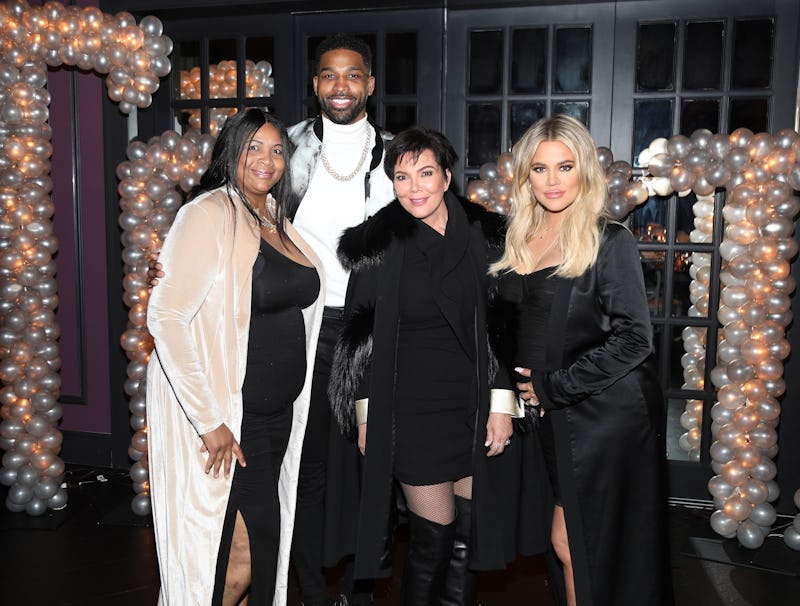 Jerritt Clark/Getty Images Entertainment/Getty Images
Though Khloé Kardashian and ex-husband Tristan Thompson have faced their fair share of scandals, the KUWTK star rushed to his side following the death of his mother, Andrea Brooks. After a reportedly fatal heart attack on Jan. 5, Khloé immediately flew with the NBA star to Toronto. She also attended Andrea's funeral on Jan. 14 with her mom Kris Jenner and sister Kim.
Per an Entertainment Tonight report, Khloé was "very close" to Andrea. On Jan. 24, Khloé took to Instagram to share her pained tribute to her former mother-in-law and grandmother of her and Tristan's two kids: four-year-old True and their 5-month-old son.
Sharing a slideshow of Andrea's photos with her, True, and the rest of the family, she wrote, "I have been avoiding this…. Avoiding accepting this is real." Adding that she has "so many emotions" but still feels "numb," she continues, "Life can be brutally unfair at times and This has been one of the toughest times in so many of our lives. But at the same time, I feel blessed that I am lucky to have had someone that makes saying goodbye so incredibly difficult. So difficult that I'm choosing not to say goodbye for good because that is something I cannot fathom."
The Good American founder continued, "Goodbyes for good are something I don't believe in. I KNOW I will see you again. I know I will hear your sweet voice and infectious laugh again. I know I'll get to feel that embrace of yours."
Adding that she knows Andrea is "rejoicing up there," "dancing and singing," with "our Lord and Savior," Khloé also promised that they will look after and protect her son Amari, who suffers from epilepsy. "I know you never wanted to leave your boys. They are your entire world ... Just know, I promise you, Amari will be perfectly ok. We will all look after him, help him and protect him. Your boys will be ok," she said.
"Until I see you again in Heaven, I miss you and I will continue to miss you more and more every single day," she continued, before ending the post with, "I love you I love you I love you."️
In the slideshow, Khloé included a sweet video snippet from a family gathering for True, showing just how deep her bond with Andrea was. After Khloé pointed out that True is Andrea's first granddaughter, Kris handed a mic to Tristan's mom for her to give a few words. "I am so happy and excited for my daughter," Andrea said about Khloé. "I don't have a daughter but when I'm texting Khloé I always put, 'To my daughter.'"
It seems like it wasn't just Khloé Andrea was close to. She also had a bond with the famed momager. On Jan. 6, Kris also penned an Instagram tribute. "I am so heartbroken by the sudden passing of Tristan's mom, Andrea," she began. "You were the most amazing, dedicated, devoted, and selfless mom and such a loving, kind, and fabulous grandmother. What a blessing you were to your family!!!"
Tristan was also very close to his late mother and he even revealed in a 2016 interview with NBA that he talked to her every day. "Even though I don't live at home and I'm four hours away from home, I talk to my mom every day – ask how the kids are doing, ask how she's doing, too," he said.
Likewise, Andrea also spoke about their relationship in a tribute she penned for the Toronto Sun in 2011. "I drive a school bus. We work hard. In life you have to work hard to receive your blessing, everybody knows that ... I didn't have to tell Tristan anything to empower him," she wrote for the Toronto Sun. "I just support my son. He always tells me he just needs me to be his mom, so I'm just there to give him a pillow to lay his head on."
Andrea is survived by her four sons, Tristan, Dishawn, Daniel, and Amari.