Khloe Kardashian Finally Reveals The Name Of Her Baby Boy
"Naming a human is really hard."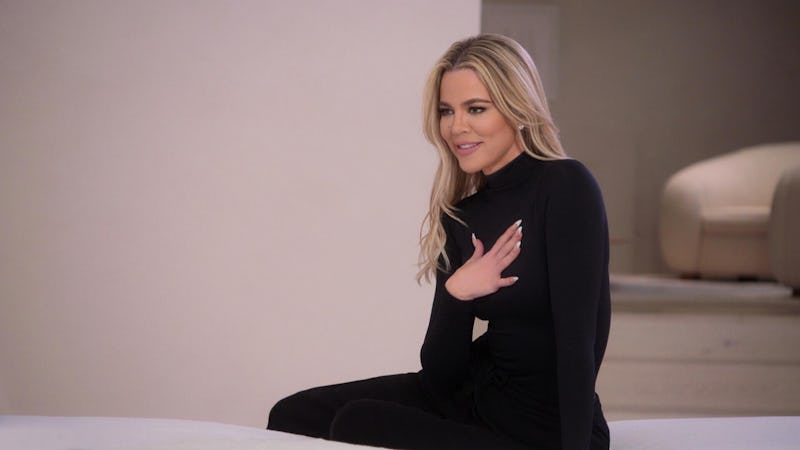 Hulu
Almost a year after she welcome her second child with her ex Tristan Thompson, Khloe Kardashian has finally revealed the name of her baby boy. The reality star shared the moniker during the season three premiere of The Kardashians on May 25, confirming that her young son is named Tatum.
Kardashian and Thompson welcomed their second child back in August 2022 via surrogate. Appearing on The Jennifer Hudson Show in April 2023, Kardashian disclosed that she had already named her second child at that point, but was waiting for the premiere of The Kardashians Season 3 to officially announce it. Meanwhile, Khloe also shared that she wanted to "feel him out a little bit" before she landed on a name.
"He was delivered via surrogate, or the stork I like to say, and at first, I did not know what I was going to name him," she explained. "I wanted to meet him and feel him out a little bit, and so at first he didn't have a name." Speaking to host Jennifer Hudson, Kardashian also confirmed at the time that her baby's name would "start with a T" following their family's new tradition, and described the youngster as a "quiet baby." She continued: "He's a happy baby, which is amazing. My daughter was the same, so I've been lucky twice."
Meanwhile, speaking in The Kardashians Series 3 premiere, the reality star pointed out that "naming a human is really hard" and described the surrogacy process with baby Tatum as a "mind f***," adding: "It's really the weirdest thing."
Kardashian's baby name announcement comes after the moniker was accidentally spoiled by her close friend Malika Haqq on Instagram. After Kardashian posted two photos with her 10-month-old son on May 19, Haqq responded in the comments: "Go Tate," seemingly addressing Kardashian's son.