Malika Haqq May Have Spoiled Khloé Kardashian's Name Reveal For Her Son
Haqq raised eyebrows with an Instagram comment.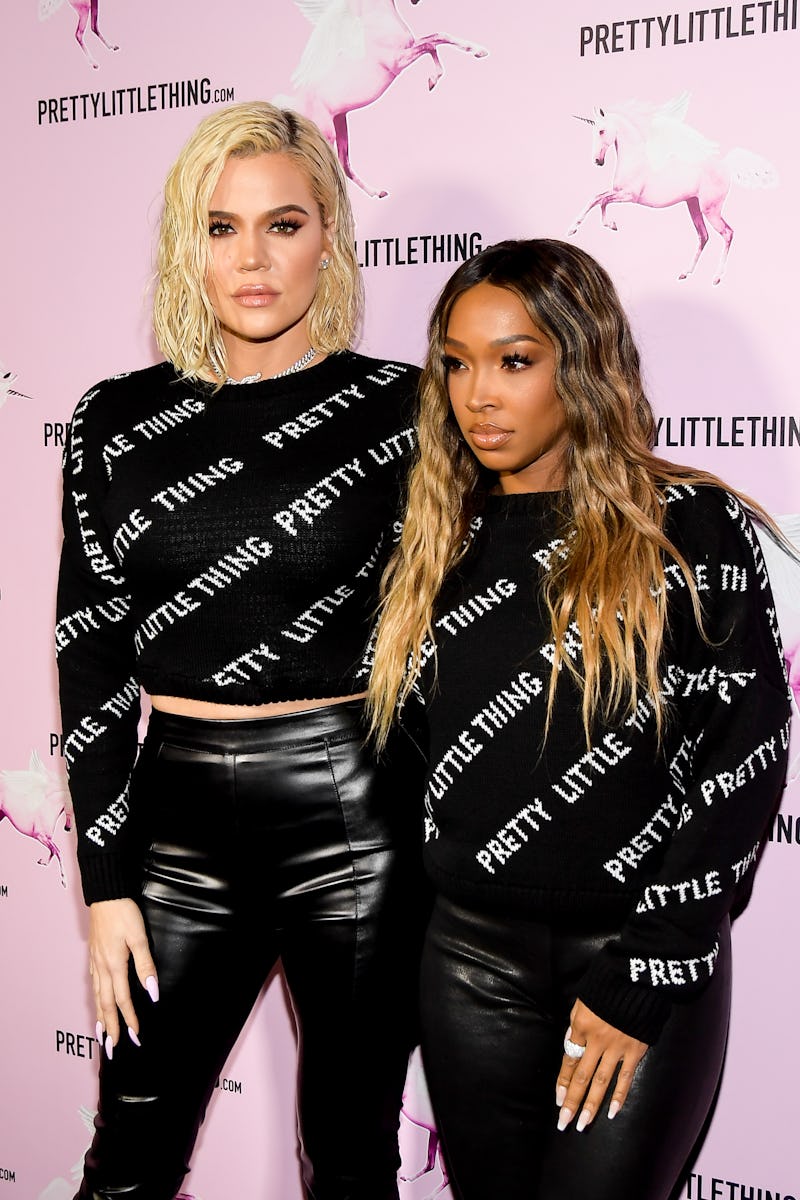 Matt Winkelmeyer/Getty Images Entertainment/Getty Images
Only a few weeks ago, Khloé Kardashian was worried her 5-year-old daughter, True Thompson, might accidentally reveal her 10-month-old son's name. It now seems the Kardashians star should have been worried about her close friend Malika Haqq instead. After Kardashian posted two photos with her son on Friday, May 19, Haqq responded in the comments with what fans suspect is confirmation of the baby's reported name.
"Go Tate!" Haqq wrote, seemingly addressing Kardashian's son. Fans quickly responded to her comment, suggesting she'd made a mistake by publicly using the baby's moniker. "@malika haha oops," one wrote, "@khloekardashian time to make it official!!" Another added, "Tate?? Name spoiler."
In fairness to Haqq, there were already reports that Kardashian had chosen to name her son Tatum Robert Thompson weeks before her apparent slip-up. On May 4, a report in The U.S. Sun cited a source who leaked that name, explaining it was a tribute to the Good American founder's late father, Robert Kardashian, while being "a name that was kind of unusual but not too out there and also keeping with the T theme."
Still, many fans remembered that Kardashian planned to keep her son's name under wraps until the Kardashians Season 3 premiere on May 25, as she explained on the Jennifer Hudson Show in early April. "At first I really did not know what I was going to name him," the proud mom told Hudson. "I wanted to meet him and… feel him out a little bit. And so at first he didn't have a name. Then, he's been named, but I've been waiting for the premiere of our show."
Kardashian noted that she didn't know the premiere would be "this far out," and so she was worried about True's secret-keeping skills. "Now I'm just like, if my daughter outs me, I'm screwed," she said.
At least one fan who recalled Kardashian's interview made light of the irony of it being Haqq, not True, with the loose lips. "And here this whole time @khloekardashian thought it was going to be True who screwed her and dropped the name," they wrote in response to Haqq's comment, adding a face-with-tears-of-joy emoji.
Also during her Jennifer Hudson Show appearance, Kardashian confirmed that she'd use another T name for her son, as she'd done with True, in honor of multiple family members. "It will start with a T," she said.
As for the little boy himself, Kardashian showed his face to her followers for the first time in March while wishing his father (her "baby daddy," as she put it) a happy birthday on Instagram. In mere days, The Kardashians Season 3 will bring more of the family, plus — officially — her son's name.