Khloé Kardashian Is Done With Tristan Thompson For Good
On the finale of The Kardashians, Khloé said, "It's time to walk away, and I don't feel guilty about it."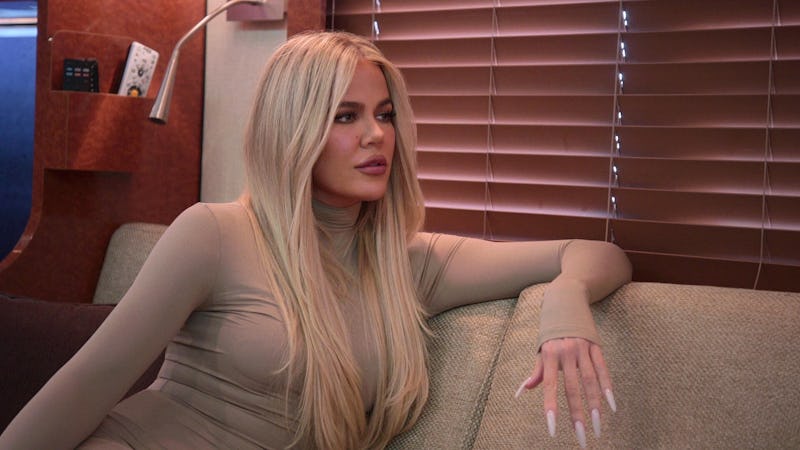 Hulu
Khloé Kardashian is done with Tristan Thompson and his antics. On the Season 1 finale of Hulu's The Kardashians, Khloé said she has no guilt about splitting from her ex-boyfriend after his third cheating scandal, declaring that she "tried so hard." In December 2021, it was revealed that the NBA player admitted to sleeping with Maralee Nichols in March, when he was dating Khloé, in response to a paternity lawsuit. DNA test results later confirmed he was the father of Nichols' son.
During the finale, Khloé revealed that she found out about Tristan's paternity lawsuit when it was reported to the public. "A courtesy would be not doing it, but fine, if you do it, you're not even gonna give me a f*cking heads-up before the rest of the world?" she said in a confessional. "It's just an additional slap in my face. It's humiliating. I'm embarrassed. I'm replaying every event, every grand gesture... it was all a lie." But thanks to his previous scandals, like the one involving her sister Kylie Jenner's former BFF Jordyn Woods, Khloé knows how to deal with it. "When things happen to you a couple times, you do kind of become immune to them, which is really sad," she admitted.
Khloé said she doesn't think Tristan would have confessed if he weren't caught. "Did Tristan have every opportunity to tell me? Yes," she said. "Was Tristan going to tell me if there wasn't a baby involved? Absolutely not, and that shows a lot about his character. The entire thing is despicable." Speaking to her sister Kendall Jenner, she also speculated that Tristan may have been unfaithful even more than they had realized. "If you cheated and you admitted that, I would respect you a little bit more," she said. "If you cheated, lied, and were hiding it for months, thinking I would never know, you know what that tells me? There's a dozen others that just haven't outed him."
In a separate conversation with her sister Kim, Khloé revealed that she attempted to talk to Tristan about the ordeal, which didn't go well. "It was more me yelling, and him talking, trying to plead his case," she reported. But in the end, she actually felt "vindicated" by the scandal, as she was feeling like something was wrong. "I kept saying, 'Something's not right here,' and everyone kept saying, 'No, it's because you're so damaged from before'," she explained. Kim agreed, pointing out that Khloé didn't let Tristan split the costs of her new home, wanting to build it for herself. "One day, I will have the fairy tale that I hope to have," she concluded.