Khloé Details "Scary" Skin Cancer Surgery On The Kardashians Season 3 Premiere
On the May 25 episode, she revealed she had melanoma after thinking it was just a zit on her face.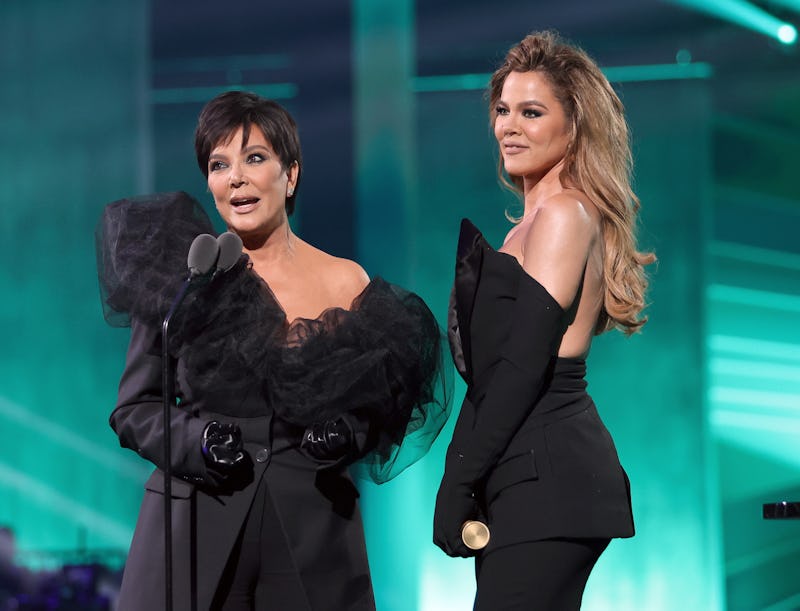 Rich Polk/E! Entertainment/NBC/NBCUniversal/Getty Images
As the great poet Khloé Kardashian once said, "When it rains, it pours," as proven by the health scare she suffered after dealing with Tristan Thompson's cheating scandal. On the Season 3 premiere of The Kardashians on May 25, the Good American founder opened up about her skin cancer scare, revealing that she had been diagnosed with melanoma after "seven or eight months" of thinking she just had a stubborn zit on her face.
At the start of the episode (titled "Everyone Get Their Shit Together?"), Khloé revealed that she had just had a biopsy done to determine what the bump on her face could be. Later on, she finds out that it was identified as melanoma, which is considered "the most serious type" of skin cancer by the Mayo Clinic. While the cancerous bump was removed, her doctors wanted to perform a surgery requiring a major cheek incision to see if the cancer had spread anywhere else.
"For my age, it's incredibly rare, which I love this term because everything that happens to me is 'incredibly rare,' except for winning the f*cking lottery," Khloé, now 38 in 2023, said. "But it's so rare that they have to go in more to see if it's spread, and so at this point, it does feel a little scary."
Ever the concerned momager, Kris Jenner relays this information to her youngest daughter Kylie, who immediately runs to her sister while they're all at Kendall Jenner's 818 Tequila party. "I remember I'd go to her house and she'd have this little bump," she said in a confessional. "She tried to remove it and she's like, 'It just won't go away.' To find out that it was melanoma is just obviously really scary, and I just hope that everything's gonna be OK." Kourtney Kardashian also shared her concerns. "Khloe's been through so much," she said. "It's scary to hear that she could have skin cancer, and I am worried for her."
Khloé has been open about her experiences with cancer in the past, sharing in 2019 that she had once developed melanoma on her back after having multiple moles biopsied. "I had eight inches of skin removed," she wrote. In fact, she revealed her most recent surgery with an Instagram selfie by responding to a troll who commented, "What the heck is on your cheek?" ""A bandage," she replied. "I had a tumor removed from my face but I'm totally OK. Thank you for asking."
At the party, Khloé seemed to find the most optimistic outlook about her impending surgery and the scar it could leave behind, quipping, "I like this side of my face better anyway."