Kim Kardashian & Kylie Jenner Squabble Over Skims On Instagram
"I had to steal this from moms house and now you want me to promote ?!!!!"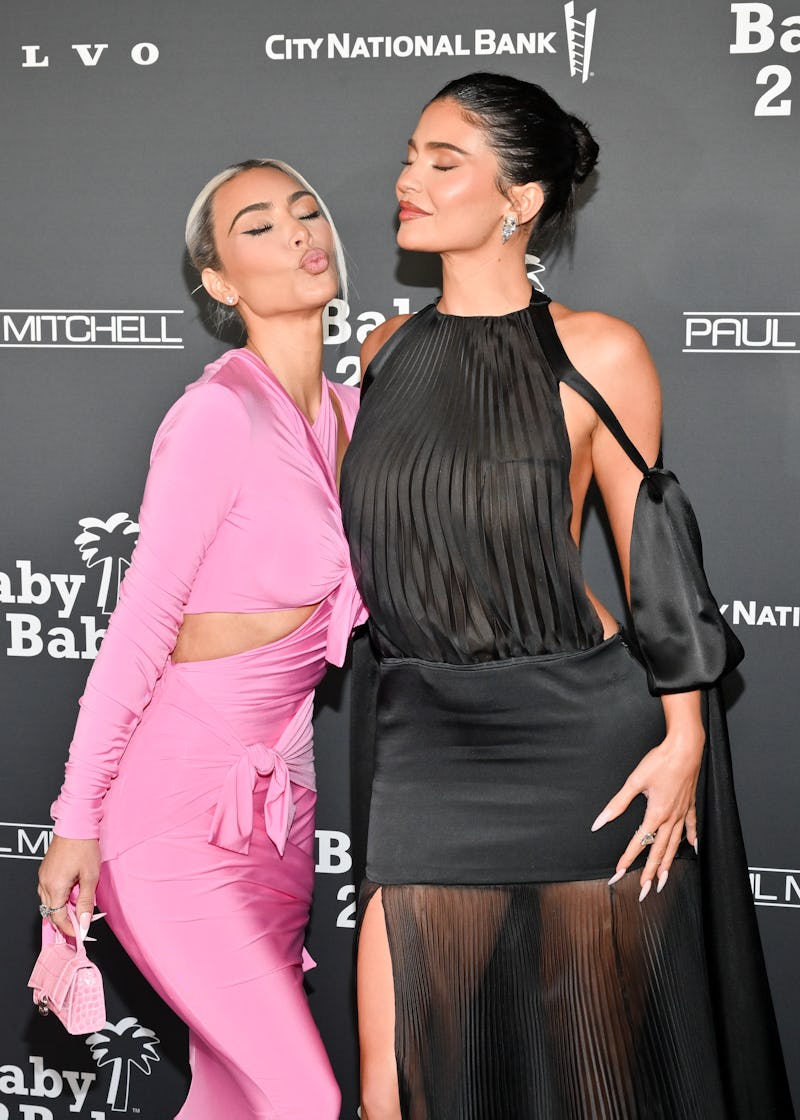 Michael Buckner/Variety/Getty Images
Sisters support sisters. Or at the very least, Kim Kardashian expects them to. Having leveraged her 341 million Instagram followers into deals and successful business ventures, the KKW Beauty and Skims founder knows the value of social media mileage. And it seems like she won't miss an opportunity to help grow her brands' engagement.
On Jan. 16, Kim's little sis Kylie Jenner shared photos on Instagram wearing a onesie with the caption "kyventures." Kim immediately noticed that Kylie was wearing merchandise from her shapewear brand Skims — but didn't tag the brand's Instagram account. With 378 million Instagram followers, the Kylie Cosmetics beauty mogul has an even bigger reach than her older sister and is the number one most-followed woman on the platform, trailing behind football players Cristiano Ronaldo and Lionel Messi. So Kim took to Kylie's comments section and brazenly called her sister out for the missed opportunity. "Can u tag @skims please LOL," Kim wrote.
Kylie had the perfect response to her sister's request. She wrote back, "@kimkardashian i had to steal this from moms house and now you want me to promote ?!!!! wow @skims."
The comments section loved the cheeky banter between the two. One Instagram follower replied, "howling," while another poked fun at sibling behavior writing, "@kimkardashian it be your own sister."
Despite the light Instagram squabble, the Kardashians have been known to be supportive of each other's many endeavors throughout the years. Kylie had previously modeled for the shapewear line, joining her sisters Kim and Kendall Jenner for the brand's Valentine's Day campaign in 2021. She even shared BTS clips and photos from the shoot on her Instagram, writing, "@skims sexiest collection yet."
Vice versa, Kim also supports her little sister's beauty brand, even if she has her own. And despite Kylie recently failing to give Skims an Instagram shoutout, Kim proved there's no bad blood between the two.
On Jan. 17, Kim took to her Instagram Stories to share Kylie Cosmetics' drops of its Glow Balm cream blush. She wrote, "OMG MY FAVORITE CREAM BLUSH." Of course, she tagged both Kylie and Kylie Cosmetics.