Kim K Manifested Her 2023 Harvard Lecture With Her 2019 Legally Blonde Costume
Film crews were seen at the school for the SKIMS founder's presentation.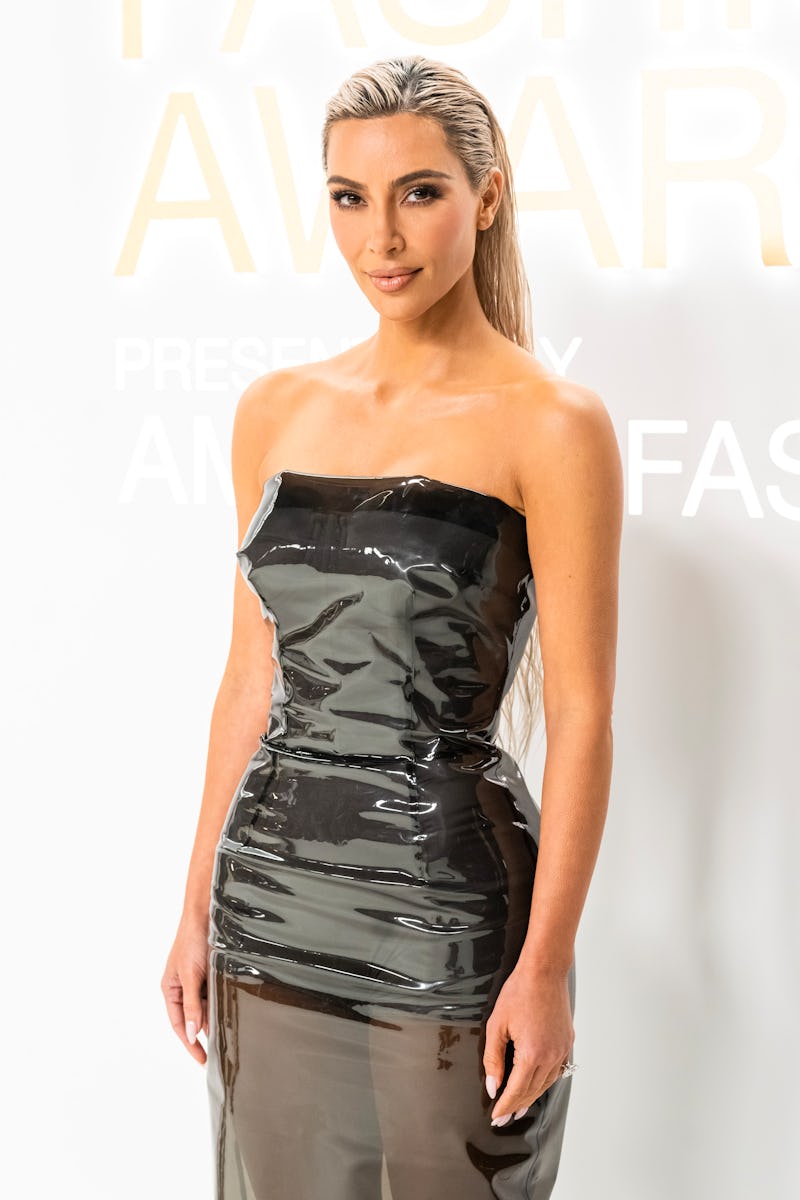 Gotham/Getty Images Entertainment/Getty Images
Kim Kardashian's shapewear label Skims cemented the reality star's status as a business whiz. It's social-media approved with at least one TikTok-viral item and a million-person waitlist. It's welcomed by the fashion industry — luxury conglomerate Fendi collaborated with the label in November 2021 and, a year later, it received the Amazon Innovation Award from the Council of Fashion Designers of America (CFDA). And the numbers don't lie. Per Forbes, it was valued at $3.2 billion as of January 2022, and by March it was included in Time's "100 Most Influential Companies of 2022."
Now it seems like Kim's brand has gotten the ultimate stamp of approval: being studied at Harvard. On Jan. 20, Harvard Business School invited the KKW Beauty founder to give a lecture for one class's direct-to-consumer session and the experience was apparently a "bucket list dream" for the star. Kim founded Skims in 2019 with Jens and Emma Grede, co-founder and CEO of sis Khloé's denim brand Good American, and it boasts a wide range of products from sizes XXS through XXXXXL at affordable price points.
Like many who visit the Boston-based Ivy, the 42-year-old stopped to pose in front of the Harvard Business School sign and took to Instagram the following day to share photos from the occasion. "I spoke At Harvard Business School yesterday for a class called HBS Moving Beyond DTC," she wrote.
Talking about the contents of her lecture, she continued, "The class's assignment was to learn about @skims, so my partner Jens and I spoke about our marketing, our challenges and our greatest wins. I'm so proud of Skims and the thought that it is a course being studied at Harvard is just crazy!!! #BucketListDream." She also included a photo with the entire class. She even snagged Harvard merch during her trip and snapped a selfie with a Harvard Business Analytics Program cap.
Per NBC Boston, a film crew was following the reality star which could mean the public will get to see more details of her Harvard lecture in an upcoming episode of The Kardashians on Hulu.
After Kim shared her pictures, one fan recalled that this isn't the first time Kim alluded to wanting to be at Harvard — albeit cheekily. For Halloween 2019, Kim dressed up as the most famous Harvard alum, Elle Woods, and recreated her iconic Harvard application video essay. The fan took to Twitter to post a side-by-side of the two events and wrote, "How it started VS. How it ended." Kim retweeted the post with a laughing emoji and double hearts.
It's called *manifestation.*