King Charles III's Coronation Plans Reportedly Include George, Charlotte, & Louis
Plus, everything else you need to know about the landmark royal event.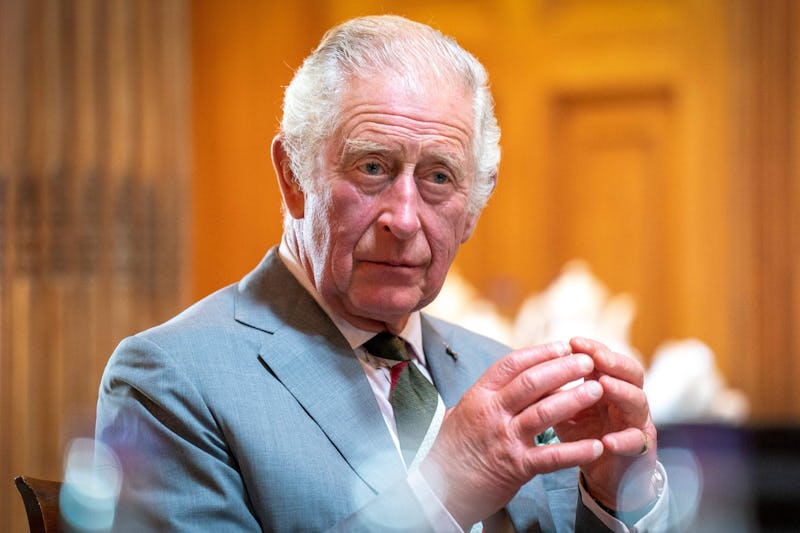 JANE BARLOW/POOL/AFP via Getty Images
Following the announcement that Britain's longest-reigning monarch, Queen Elizabeth II, had died on Sept. 8, 2022, her first-born child, Prince Charles, became King Charles III. He did so under the old common law Rex nunquam moritur, a Latin phrase which translates to "the king never dies." On Sept. 10, Charles was formally proclaimed king during a ceremony at St. James' Palace. The next step in Charles' ascension to the throne will be the coronation ceremony. But when will that prestigious event take place and what will it involve? Read on for everything we know so far.
When Is King Charles III's Coronation?
On Oct. 11, it was announced that King Charles III's coronation will take place on Saturday, May 6, 2023 at Westminster Abbey. The ceremony will be conducted by the Archbishop of Canterbury. "The Ceremony will see His Majesty King Charles III crowned alongside The Queen Consort," a statement from Buckingham Palace reads. "The Coronation will reflect the monarch's role today and look towards the future, while being rooted in longstanding traditions and pageantry."
This follows earlier reports that Charles is eager for a scaled-back celebration. A source is quoting as telling the Mirror that His Majesty is "very aware of the struggles felt by modern Britons," who are dealing with a cost of living crisis.
How Will King Charles III's Coronation Compare To Queen Elizabeth II's?
Queen Elizabeth II's procession reportedly included 16,000 participants whilst Charles' gathering is expected to be smaller in scale, with an estimated 2,000 people in attendance. When the King and Camilla, the Queen Consort return from Westminster Abbey, they will be joined by other members of the royal family. However, the palace is yet to reveal which members will appear alongside them on the balcony.
Per BBC, King Charles himself selected the music for the ceremony, which includes 12 newly-commissioned pieces with an anthem by Andrew Lloyd Webber, the composer of Cats. A gospel choir will also reportedly perform at the event and Greek orthodox music will be played in memory of Prince Philip's heritage. Additionally, the palace is looking to recruit thousands of bell ringers to ring the bell in every church across the UK to mark the occasion.
The ceremony itself includes multiple stages, including the recognition, the oath, the anointing, the investiture, and the final enthronement and homage. King Charles III will be crowned with St Edward's solid gold crown from the 17th century. The coronation of the Queen took place in June 1953 — 16 months after the death of her father, King George VI. Her coronation was delayed for over a year to preserve the royal tradition of ensuring "an appropriate length of mourning time" has taken place.
Will Camilla, Queen Consort Be Coronated Alongside King Charles III?
Camilla will be crowned Queen, as confirmed by Queen Elizabeth II during the Platinum Jubilee. After King Charles' coronation, Camilla's ceremony will take place following the same steps of the oath, anointing, and investiture. The Queen Consort will be crowned with Queen Mary's Crown, which is being resized ahead of the ceremony, per BBC.
Camilla will be the first consort to be crowned since 1937. Prince Philip wasn't entitled, as a male consort to the crown.
Will Harry And Meghan Attend King Charles III's Coronation?
Prince William will play an instrumental role in the planning and execution of King Charles' coronation, per The Telegraph. However, it is still not confirmed whether Prince Harry and Meghan Markle will attend the event. A spokesperson for the couple revealed that they received an official invite but as of March 5, "an immediate decision on whether the Duke and Duchess of Sussex will attend will not be disclosed at this time."
Interestingly, May 6 is a special day for the royal family all round, as it's Harry and Meghan's son Archie's fourth birthday. Perhaps this could also influence their attendance at the ceremony.
Which Royal Family Members Will Have Roles In King Charles III's Coronation?
Prince William isn't just helping with planning his father's coronation. The future king and his wife, Catherine, Princess of Wales, are expected to be part of the procession from Westminster Abbey to Buckingham Palace, according to the Times, based on leaked rehearsal plans. Their three children — Prince George, Princess Charlotte, and Prince Louis — will reportedly ride along with them in a carriage behind Charles and Camilla's. It's a welcome update considering that Louis' funny faces were a highlight of the Platinum Jubilee.
Whether or not Harry and Meghan attend the coronation, it seems they will not be part of Charles' streamlined post-coronation procession. Only working royals will be involved, so additional participants may include Princess Anne, Prince Edward, Sophie, Countess of Wessex, Prince Richard, and Brigitte, Duchess of Gloucester. That list doesn't include Prince Andrew and daughters Princess Beatrice and Princess Eugenie.
Will King Charles III's Coronation Be A Bank Holiday?
Although May 1 is a public holiday, the nation will have an extra day off on May 8, to mark King Charles III's coronation. Since the ceremony itself falls on a Saturday, the bank holiday was pushed to the following Monday, the 8th. Buckingham Palace also announced a series of events throughout the weekend that will celebrate the coronation.
On May 7, a laser light show and concert will be held at Windsor Castle. Whilst the concert promises to feature global stars, it's yet to be confirmed who will perform at the event. Per various reports, Elton John, Harry Styles, Adele, Ed Sheeran, Spice Girls, Kylie Minogue, and Robbie Williams are among the performers who have turned down the event due to scheduling issues.
Additionally, all clubs and bars across the UK are allowed to remain open for two extra hours on the Friday and Saturday (May 5 and 6) of the coronation. The palace also encourages people to host street parties and to participate in community activities as part of the Big Help Out initiative. The project hopes to unite local communities in creating a volunteering legacy on the coronation bank holiday.
The coronation ceremony is expected to be broadcast live as was the case with Queen Elizabeth II's. It will also likely be live-streamed.
What Is The Accession Council Ceremony?
Charles was formally declared king during the Accession Council ceremony on Sept. 10. The ceremony was televised for the first time in history and was conducted by a group known as the Privy Council, which is the formal body of advisors to the British monarch. The Privy Council is made up of 700 members, according to ITV News. However, only 200 were present for the formal proclamation of Charles as the new British monarch.
Among the attendees were William, Prince of Wales, Camilla, Queen Consort, then-newly-appointed Prime Minister Liz Truss, and six former British Prime Ministers: John Major, Tony Blair, Gordon Brown, David Cameron, Theresa May, and Boris Johnson.
During the historical ceremony, King Charles said that the death of his mother was an "irreparable loss," and paid tribute to her "selfless service." The monarch added: "My mother's reign was unequalled in its duration, its dedication, and its devotion."
This article was originally published on