Kourtney Kardashian Outed The Members Of The "Not Kourtney" Group Chat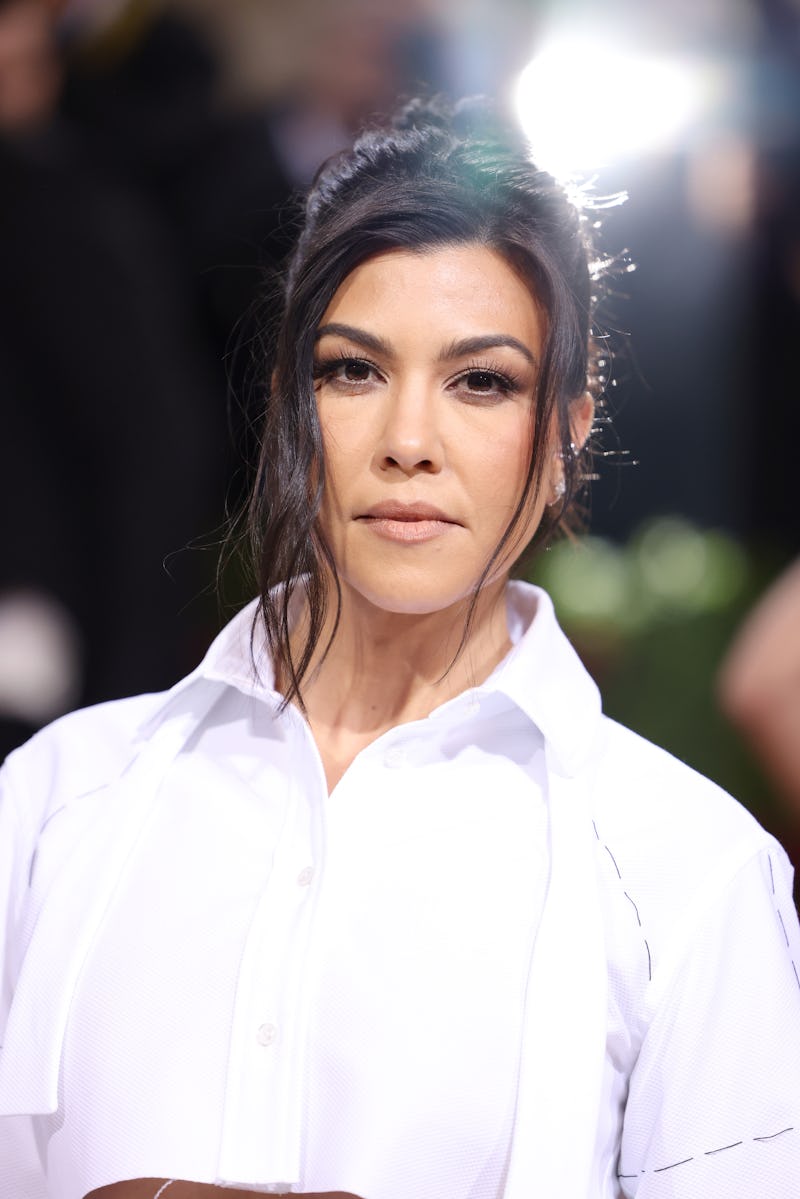 John Shearer/Getty Images Entertainment/Getty Images
Tensions between Kourtney and Kim Kardashian were back at an uncomfortable high during The Kardashians' Season 4 premiere. The two sisters got into a massive fight over the phone, and as they had it out, Kim told Kourtney that there's a "Not Kourtney" side chat to discuss her. Naturally, fans immediately wanted the names of its members — and Kourtney didn't make them wait long.
The brutal argument started as a rehash of their Season 3 drama surrounding Kim's collaboration with Dolce & Gabbana right after Kourtney's wedding designed by the brand. Both were upset by footage they saw while approving edits for the season. As Kourtney argued to Kim that she wasn't happy for her during her Italian wedding to now-husband Travis Barker, Kim accused her sister of hating her and being a different person. "All of your friends call us complaining … so we're all confused and we're on a group chat that's actually labeled 'Not Kourtney,'" she said, per the Daily Mail.
The comment about Kourtney's friends made numerous fans think they were in the group chat with Kim, but Kourtney cleared some of their names by posting an Instagram story showing texts with Simon Huck, his husband, Phil Riportella, and Allie Rizzo Sartiano. In them, Rizzo Sartiano joked about soft-launching a "YASS Kourtney group chat" and how they have "anxiety about meaningless endless chit chat." Huck, who said he'd been getting DMs from "trolls … accusing [him] of being on the other chat," added, "Kim threw us all under the bus when there was not one actual friend on the chat." He later reshared the screenshot, adding, in part, "ily tho @kimkardashian."
Of course, knowing who is not part of the "Not Kourtney" group chat is different than knowing who is. Kourtney decided to share her insight on that matter in the Instagram comments of her Sept. 29 Instagram post about her baby shower. After one of her followers wrote, "Are those friends on the 'not Kourtney groupchat … cause if so we don't need them there," the Poosh founder responded: "No the members of that chat are namely Kim, Khloe, Kendall and Kylie. Case closed."
After all the Episode 1 drama, many of her followers were quick to note that her sisters didn't appear in the baby shower photos she uploaded. "Not a sister in sight," one person commented. Others weighed in with their own opinions about whether Kourtney or Kim was in the right. "Now Kim guna [sic] do a deal with Disney and Mickey Mouse lolol," one joked about the Disney-themed shower.
Fans will see how the discord between the sisters unfolds in the remaining nine episodes of Season 4, but their fight is far from the only drama coming. Trailers so far have teased more questions about Khloe Kardashian and Tristan Thompson's relationship, Kendall Jenner's latest dating chapter, and more.