Kylie Jenner Slyly Confirmed She & Jordyn Woods Are Friends Again On TikTok
"The old era is coming back???!"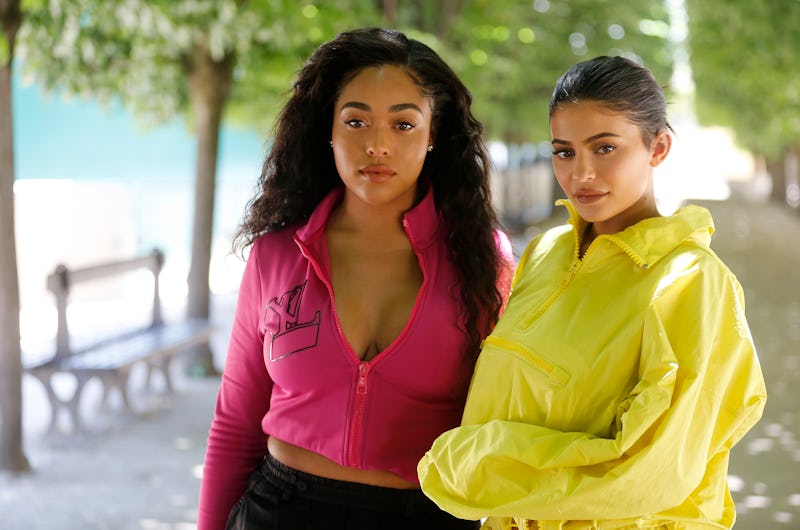 Chesnot/WireImage/Getty Images
Kylie Jenner's latest makeup reveal had nothing to do with a lip kit. Just under two months after Jenner and former best friend Jordyn Woods stepped out in public for the first time since their 2019 falling out, the Kyle Cosmetics founder slyly confirmed their reconciliation in a Sept. 9 TikTok. Documenting a visit to an Acne Studios store to view her latest collaboration during New York Fashion Week, Jenner's video montage featured Woods multiple times, including when the smiling pair posed together for a selfie.
Within hours, the TikTok's comments section was filled with eagle-eyed fans celebrating seeing the onetime BFFs having fun together again. "I KNOW I JUST SAW JORDYN," one user commented, while another added, "JORDYN?! the old era is coming back???!"
As fans might recall, Jenner and Woods' high-profile friendship breakup dates back to 2019 when the latter admitted to kissing Khloé Kardashian's on-and-off boyfriend Tristan Thompson at a house party. After the cheating scandal blew up, Woods shared her side of the story with Jada Pinkett Smith on Red Table Talk, claiming that Thompson kissed her but nothing further happened between them. Regardless, the once-inseparable pair's friendship suffered, and their frequent public outings abruptly came to a halt.
That all changed in July 2023, however, when The Daily Mail published photos of Jenner and Woods happily heading to a sushi dinner in Los Angeles. Still, the pair didn't officially offer any further friendship update, though fans noticed that Jenner liked one of Woods' Instagram vacation photos from Greece on July 25, giving many of them hope that they'd mended fences.
After the sushi outing, a source told People that Woods is the one who extended the olive branch. "Jordyn reached out to Kylie to apologize for how everything went down and let her know that she loves her," the insider claimed, at the time. Meanwhile, a second source told the magazine that the July dinner date was hardly their first reunion, but previous ones had taken place in private while they worked on their friendship away from cameras over the past year. What's more, the second insider added, Kardashian reportedly has no issues with her younger sister reuniting with Woods.
After all, the Good American founder, who shares children True, 5, and Tatum, 1, with Thompson, has publicly made clear that she's moved past the painful situation, for years. "I don't hold any negative or hateful feelings towards ANYONE! I mean that. Life is short! We are all humans trying to figure out this thing called life. Who am I to condemn anyone else?" Kardashian wrote in a lengthy December 2019 Instagram stories post. "Yes, I'm allowed to feel hurt and pain. It would be unnatural for me to pretend as if I don't. Personally, I don't want to be carrying around a hateful heart. I crave peace in my life. Me holding onto hate is only going to hurt me in the end. ... Forgiveness is a strength and not a weakness."