Lenny Hochstein's "Boob God" Reputation Bolsters His Multimillion-Dollar Net Worth
The plastic surgeon's divorce from RHOM's Lisa Hochstein could put a dent in his fortune.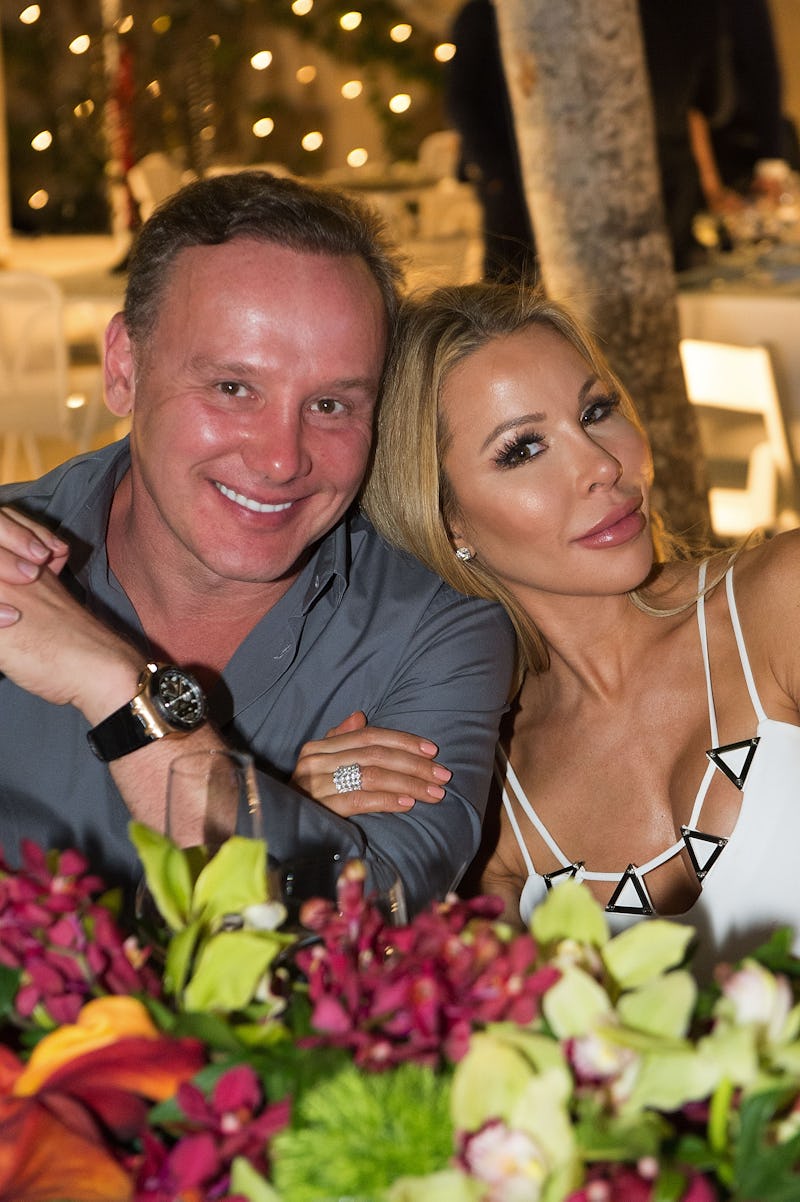 Romain Maurice/Getty Images Entertainment/Getty Images
Rumors about Lisa and Lenny Hochstein's finances were already swirling when The Real Housewives of Miami's Season 5 premiered in December. Fellow cast member Larsa Pippen called out Lisa's claim that she and her husband didn't have a mortgage on their Star Island mansion, also insinuating that the couple was renting out their home for weekend film, TV, and music video shoots due to money troubles. Later recounting the argument to Lenny over dinner, the Miami plastic surgeon scoffed at the mortgage claim, saying that it's "pretty embarrassing" for Larsa not to know "what a home equity line of credit is."
In real time, Lenny filed for divorce after 13 years of marriage, citing irreconcilable differences, in May 2022, and the estranged couple's finances have since become more public than ever. Lenny clarified in a December email to Page Six that he did in fact have a $4 million mortgage loan — on "the land" and not "on the home" — and took out an additional $4 million home equity line of credit amid their ongoing divorce. "I have maintained that loan because the interest rate on it is far below the market, and it makes no sense to pay it off," he explained. Page Six confirmed via real estate documents that Lenny took out a loan in September 2022, and the balance is due in 2052.
That was only the tip of the iceberg in the contentious months that followed their split though. In court documents obtained by Page Six on Jan. 12, Lenny accused Lisa of wanting "excessive temporary support" money, even though he "supports the family." The doctor also revealed that Lisa has "refused" to leave and is still living in their Star Island mansion and "drives luxury vehicles including a Range Rover and a Rolls-Royce." Lenny's assertion that he'd allegedly already spent $455,000 on household expenses for Lisa and their two children, Logan, 7, and Elle, 3, arrived amid the reality star's claim that she could no longer afford to buy diapers or food because her estranged husband cut off her credit cards. Lenny, for his part, countered by revealing that Lisa makes $30,000 per episode of RHOM, in addition to a monthly allowance he still gives her.
As the exes continue to hash things out in court, here's everything to know about Lenny's net worth and what assets might be at stake in their divorce.
3 Ways Lenny Makes His Money
1. His Medical Practice
The owner of Miami's Hochstein MedSpa, Lenny's bio touts his nickname, "The Boob God," explaining that he'd earned the moniker due to the number of breast procedures he's performed over the course of his 20-year career as a board-certified plastic surgeon. He estimates that number to be upward of 27,000 surgeries, describing his specialty as primary and revision breast augmentation procedures. As such, Money Inc. ranked Lenny fourth on its 2017 list of the "20 Richest Plastic Surgeons in the World."
2. Real Estate
Lenny and Lisa paid $4.5 million for an estate, known as "Palacio del Eden," on Miami Beach's Sunset Islands in 2004 before listing the 9,944 square foot home for $10.75 million eight years later. According to Miami-Dade County records, the Hochsteins eventually sold the mansion for $10.1 million in 2012. In the meantime, they purchased the 42 Star Island Drive property for $7.6 million and after a legal battle with preservationists, demolished the existing home and built their current home, which is reportedly valued at $52 million.
Though Lisa previously shared that Lenny was keeping the 20,000-square-foot family home, she provided a divorce update during a December 2022 appearance on Bravo's Watch What Happens Live with Andy Cohen that they were "in litigation" on the matter. "I am living in our house with the kids, and he is living elsewhere," she said. (The couple's prenup reportedly stipulated that Lisa vacate the home within 30 days of the divorce filing.)
3. Reality TV
In addition to appearing on The Real Housewives of Miami beginning in 2011, Lenny first joined the Bravo family in 2004 as part of the cast of Miami Slice, a docuseries about Miami plastic surgeons. According to Variety, one storyline involved Lenny's mom wanting him to settle down with a nice woman, insisting that "the parade of Playboy bunnies running through his mansion" was hurting the odds of that ever happening. (For the record, Lisa has posed for Playboy three times.)
What Is Lenny's Net Worth?
The aforementioned Money Inc. post lists Lenny's net worth at $20 million, which the outlet attributed to his successful practice and reality TV appearances. Meanwhile, Celebrity Net Worth's estimated figure is on the higher end at $50 million. What both sites make clear though is that Lenny is considered to be one of Miami's best-known and most successful plastic surgeons. Only time will tell, however, how his ongoing divorce from Lisa will ultimately affect those financial figures.