Lewis Capaldi's Netflix Doc Trailer Will Leave You In Tears
"Pretty terrified for everyone to see this, but I'm so proud."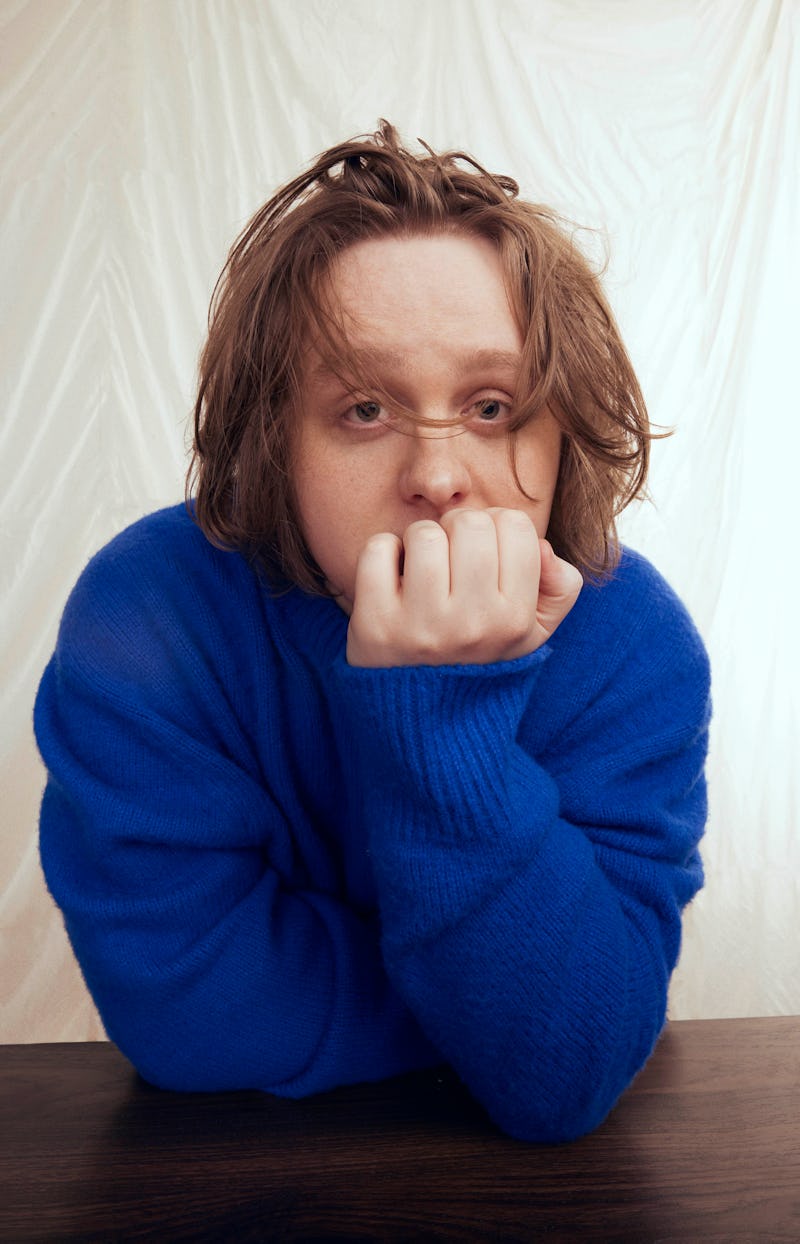 Alexandra Gavillet
"Is it all worth it, making you feel like this," the voice of Lewis Capaldi's mother asks him, in the trailer for his upcoming new documentary. The revealing new film, about the Scottish singer's rapid rise to fame, is out on April 5.
How I'm Feeling Now will take an in-depth look at Capaldi's life as he grapples with fame, and the pressure to build on the momentum of his 2019 debut album Divinely Uninspired To A Hellish Extent as he begins work on its follow-up. His first record went on to become 2019 and 2020's top-selling release. "Digging beneath the popular clichés surrounding the most unlikely of popstars reveals a deeply thoughtful and self-reflective young man at a unique crossroads in his life as he carries the weight of trying to eclipse the success of his record-breaking debut album," reads an official Netflix synopsis.
Meanwhile, Capaldi tweeted: "Pretty terrified for everyone to see this if I'm quite honest, but I'm so so proud of it." Here's everything we know so far.
How I'm Feeling Now Premise
As mentioned above, How I'm Feeling Now will give a behind-the-scenes look at the life of the record-breaking pop star as he gears up for the release of his forthcoming second album Broken by Desire to be Heavenly Sent. Filmed over the course of several years, the film follows Capaldi as he wraps up touring for his debut album and heads back to reconnect with family and friends at his parents' house in Bathsgate, a town in West Lothian, Scotland. The documentary is directed by Joe Pearlman (Harry Potter 20th Anniversary: Return to Hogwarts, Bros: After The Screaming Stops). "Two and a half years in the making, can't wait for the world to see what we've made together," Pearlman tweeted.
"This started out as a film about the process of creating the 'difficult second album' but ended up being an astonishingly unguarded portrait of the pressures of fame on young shoulders, exploring one of the great conversations of our age – mental health," Sam Bridger, head of music film at Pulse Films, told Variety.
Capaldi elaborated in a statement: "If the immense pressure of writing and recording a second album that has to live up to the expectations of so many people I've never met while also attempting to eclipse the commercial success of my previous album wasn't enough, I decided to film the process in its entirety for your viewing pleasure."
"I'm very excited to potentially capture the making of the best album of all time, or more likely, to permanently document the scorching of my dreams as years of my life's work is received like a pile of flaming sh*te. Either way it's going to be lots of fun and will be lovely to have people along for the ride."
How I'm Feeling Now Trailer & Release Date
Only a man as innovative as Lewis Capaldi could possibly dream up the idea of announcing the release of his own Netflix documentary by cosplaying as some of the streaming giant's best known characters. In a promo video for How I'm Feeling Now he dons a prison uniform in tribute to Orange Is The New Black, does his best Wednesday goth impression, pays tribute to Tiger King's Joe Exotic, and even fits in a nod to the dystopian Squid Game. But his most iconic moment comes when he takes a twirl as a Bridgerton heroine, in full Regency dress. The Bridgerton cameo we didn't know we needed!
It's admittedly not really a trailer in any conventional sense of the word. Does it give any hint of what to expect? In this case, we're going to say… not entirely sure about that one.
The singer later followed up with a full-length trailer, which gives a more serious look at what to expect from the candid film. Featuring a snippet of Capaldi's unreleased track "How I'm Feeling Now" – out at midnight on Mar. 17 – the trailer also alludes to a second, more private side to Capaldi underneath his comedy persona.
"My anxiety is out of control, I feel like I'm in a race against the clock to get my mental health in order. Other people are depending on me to get better, and I know that I can," the singer says, alongside footage of a concert where Capaldi asks the crowd if he can briefly pause his performance. Elsewhere, he speaks openly about the pressure to quickly deliver a second album that surpasses the record-breaking achievements of his debut, and the insecurities he feels in the public eye.
We also see Lewis and his mum sharing a joke about one particular time she ended up coming to his rescue. "You've still got a lot of growing up to do," she tells him. "You need to phone your mother to come and pick you up from your one-night stand". "That's not a story that needs to be told," Lewis laughs. "…Because you're having a panic attack," she continues, undeterred. "Glad you brought that up," he replies.
Netflix has confirmed that How I'm Feeling Now will hit the streaming platform on April 5, 2023.
This article was originally published on