Lili Reinhart Called Out The Glamorization Of "Skinny Arms" In The Media
"I wanted to throw my own thoughts out there to let other women know they aren't alone."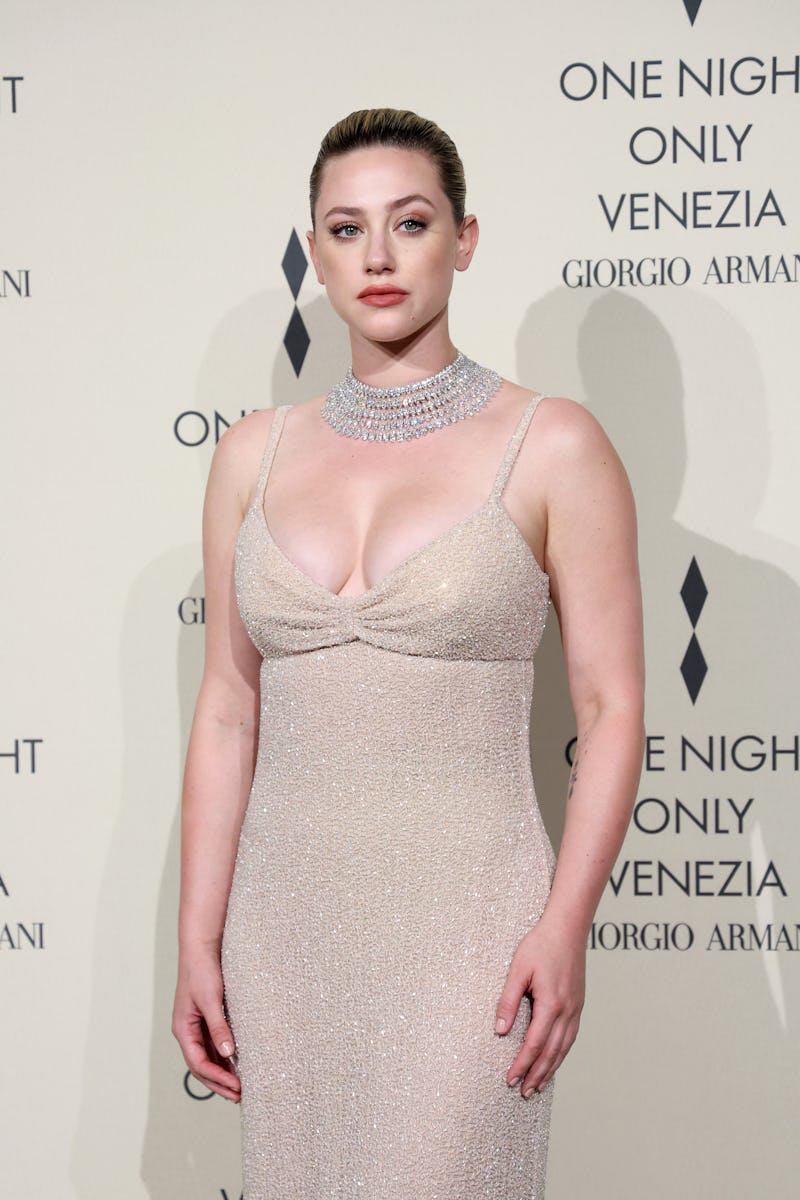 Lili Reinhart has long been open about her fraught relationship with her body: The Riverdale vet isn't only candid about struggling with body dysmorphia; she's also been known to use her platform to call out problems within society at large. On Sept. 14, Reinhart was at it again when she tweeted about how mainstream media has fueled her insecurities about her arms.
"I wish there were more average sized arms represented in mainstream media for women," Reinhart wrote in the first of her two tweets. "My body dysmorphia has been going crazy because I feel like my arms need to be half the size they are currently? We've glamorized these skinny arms that, for most of us, can only be achieved if you're a literal adolescent."
The Hustlers star noted in her second tweet that she isn't alone in feeling this way. "I truly wonder how anyone survives or gets through this life without having severe BD," she wrote. "Maybe it's a cruel amplified version in combination with my OCD, but damn. The amount of time I've wasted thinking about my arms in the last few months is insane."
Before signing off, Reinhart concluded by saying she hoped to "let other women know they aren't alone." Sure enough, the responses showed that many people related to her words and needed to hear them. "Thank you so much for commenting on this. I feel like my arms ruin every photo/outfit," one person replied. Another fan added that they "never wear tank tops for this very reason," while several others admitted that they "hate" their arms.
"Thank you for bringing this up!" yet another person wrote. "I know you've mentioned your struggles with BD before and I appreciate you being so open so others feel less alone. I definitely think seeing lots of body types and shapes in media will do wonders for all our self-esteems!"
Being candid on social media has been Reinhart's MO for years. "I try to [be open] because I'm not putting on a show," she told Entertainment Tonight in 2017. She explained that she's "not trying to look perfect" and her "life in general is not extremely glamorous."
That doesn't mean it's easy to be so vulnerable, though. During a 2022 episode of Amen Clinics' Scan My Brain, Reinhart got emotional while discussing how challenging it is to be "trying to promote these body positive messages" as she is "still learning them" herself. "Just because I'm talking about, like, I don't want there to be a one-size-fits-all for humans and that we should be able to happily accept people who look different, [it doesn't mean] that I'm not still struggling with that concept," she said. "I want it to happen and I want to fully believe it, but I'm also still on a daily basis struggling with it."
If you or someone you know is seeking help for mental health concerns, visit the National Alliance on Mental Illness (NAMI) website, or call 1-800-950-NAMI (6264). For confidential treatment referrals, visit the Substance Abuse and Mental Health Services Administration (SAMHSA) website, or call the National Helpline at 1-800-662-HELP (4357). In an emergency, contact the 988 Suicide & Crisis Lifeline by calling or texting 988, or call 911.
If you or someone you know has an eating disorder and needs help, call the National Eating Disorders Association helpline at 1-800-931-2237, text 741741, or chat online with a helpline volunteer here.