Love Actually Director Shares "Regret" Over An Iconic Scene
The 2003 romantic comedy remains a holiday favorite.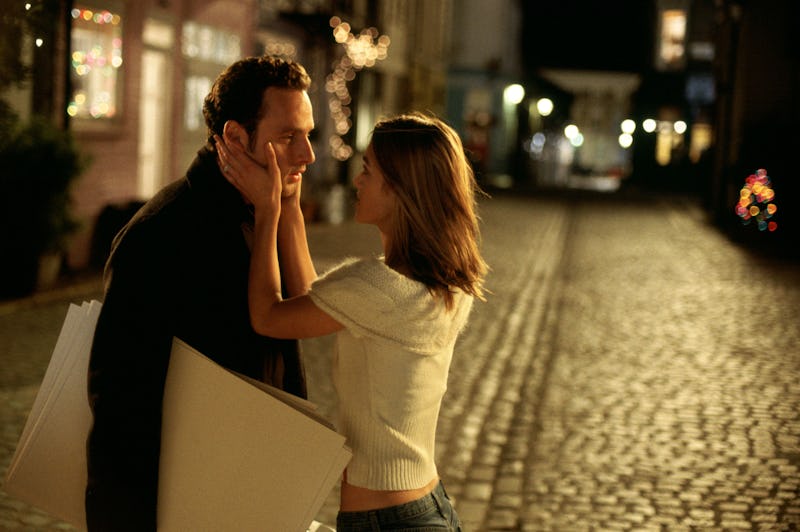 Peter Mountain/Universal/Dna/Working Title/Kobal/Shutterstock
Two decades after its release, the beloved romantic comedy Love Actually remains a Christmastime favorite of many. Starring the likes of Hugh Grant, Emma Thompson, Colin Firth, and Laura Linney, among many others, the 2003 romcom follows ten intertwining love stories in the run-up to the holiday season. However, Love Actually writer and director, Richard Curtis, has shared his "regret" over the film's iconic cue-card scene.
As fans will recall, the memorable scene sees the character of Mark (Andrew Lincoln) declare his love for Juliet (Keira Knightley) on her doorstep using a series of handwritten cue cards, that read: "To me, you are perfect, and my wasted heart will love you."
As per The Sunday Times, in an annotated version of the Love Actually script — which is to be sold in a charity auction for London's Good Chance Theatre — Curtis expressed his doubts over the famous scene, writing: "I came up with four things Mark could do as his big gesture. The people in the office chose their favorite and I went for it. I wonder: do we all regret the choice now?"
In spite of Curtis' reservations, Love Actually's cue card scene remains one of the most notable moments of the 2003 holiday flick, having been parodied and even criticized on several occasions over the past 20 years. Speaking in 2020, one of the film's stars Martine McCutcheon, who portrayed the character of Natalie, came out in defense of the famed scene following accusations that it was "creepy."
"I don't think it's creepy at all," McCutcheon told Digital Spy. "I think people do crazy things when they are in love with people. He had his moment where he thought, 'Enough now, I've told her how I feel, I love my friend too but I had to get it off my chest in the right way.'"