Everything To Know About Love Is Blind Season 5
The hit series returns this September.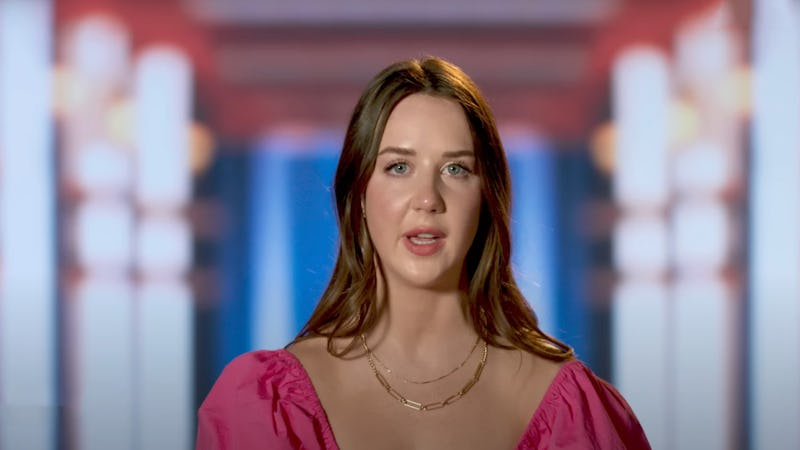 Netflix/screenshot
For those of us who can't get enough of the outside-of-the-pods drama, never fear: Love Is Blind Season 5 is on the way. In March 2022, Netflix revealed that they had renewed the series for Seasons 4 and 5, alongside their other reality TV dating shows like The Ultimatum, Love on the Spectrum US, and Too Hot To Handle. "We know that dating can be a real drag, but luckily Netflix has endless ways for us to explore. Love has no off season," they joked.
Since then, the streamer has been dropping hints about what Love Is Blind fans could expect on the show's fifth outing. Here's everything we know so far about Season 5.
Love Is Blind Season 5 Premiere Date
Netflix's reality TV shows tend to air a few months apart, and the last few Love Is Blind seasons had a gap of six to eight months in between. During the Netflix Tudum fan event in June, it was confirmed that the latest season will drop in September. On Aug. 22, Netflix announced that Season 5 will premiere on Friday, Sept. 22. The new installment will consist of 10 episodes, rolled out in the following batches over four weeks:
Week 1 (Friday, Sept. 22): Episodes 1-4
Week 2 (Friday, Sept. 29): Episodes 5-7
Week 3 (Friday, Oct. 6): Episodes 8-9
Week 4 (Friday, Oct. 13): Episode 10 (weddings)
There is no word yet on if or when a Season 5 reunion episode will air. But after the technical challenges caused by the live Season 4 reunion, it seems likely that Netflix will tape a reunion ahead of time, like in Seasons 1 through 3.
Love Is Blind Season 5 Teaser Trailer
During the Netflix Tudum June 2023 fan event, the teaser trailer for Love Is Blind Season 5 dropped. The clip features a couple on a blind date discussing their relationship track records. Other details have yet to be revealed.
Love Is Blind Season 5 Cast
Netflix introduced viewers to the Season 5 singles on Sept. 6. The full lineup — for what's been described as "the most shocking season yet," per Variety — is:
Aaliyah, 29, an ICU travel nurse
Carter, 30, construction
Chris, 28, a project manager for commercial and retail development
Connor, 31, a geoscientist
Efrain, 27, software sales
Enoch, 27, a financial advisor
Erica, 27, a marketing manager
Ernesto, 32, a supply chain manager, oil and gas
Estefania, 30, a teacher and dancer
Izzy, 31, sales
Jared "JP," 32, a firefighter
Jarred, 34, a university director
Johnie, 32, a lawyer
Josh, 32, a sales rep
Justice, 28, a personal trainer
Linda, 32, a talent acquisition recruiter
Lydia, 32, a geologist
Maris, 30, an HR specialist
Mayra, 25, a minister
Milton, 25, a petroleum engineer
Miriam, 32, a scientist
Paige, 32, a stylist
Renee, 32, a veterinarian
Robert, 30, a special education teacher
Shondra, 32, a flight attendant
Stacy, 34, a director of operations
Taylor, 26, a teacher
Uche, 32, a lawyer and entrepreneur
Kinetic Content's head of casting, Donna A. Driscoll, told Screen Rant in 2020 that social media plays a big part in the casting process. "You can tell a lot about a person through the content on their social media, like their personality, their goals, their interpersonal relationships. We look for a myriad of tells about who a person is on their social media, and we do outreach on a grassroots level everywhere," she explained.
She added that they then move to a virtual interview, where they can really get a feel for the contestant. "There's like a courting process, kind of. Instagram was huge for us; we used Facebook and LinkedIn. You would reach out to people and pitch them the concept for the series over the phone, and you could get a really good indication on how they responded to the creative for Love Is Blind as to whether or not they would be a good candidate for it."
Love Is Blind Season 5 Location
Love Is Blind has hopped all over, filming in Atlanta, Chicago, Dallas, and most recently, Seattle, Washington. The latest destination on the reality show's list is Houston, marking Love Is Blind's second visit to the Lone Star state.
This article was originally published on