Love Is Blind Star Mark Cuevas Is Engaged — & He Designed The Ring Himself
"She was over the moon with the ring."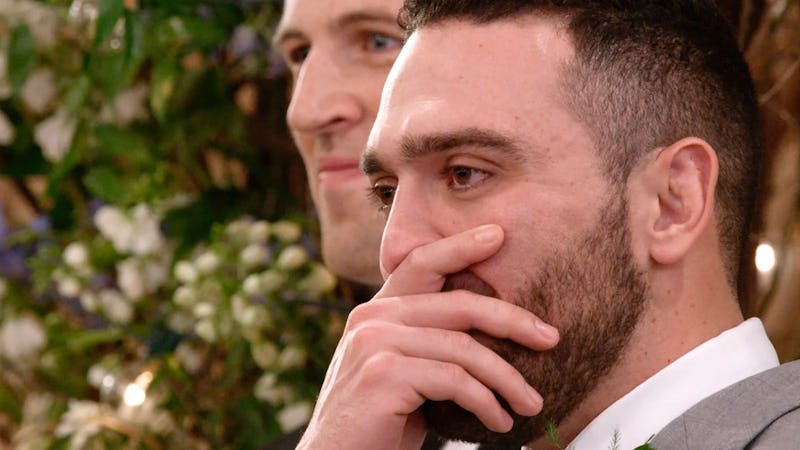 Netflix
Things may not have worked out between Love Is Blind stars Mark Cuevas and Jessica Batten, but love always finds a way. According to People magazine, Cuevas is engaged to girlfriend Aubrey Rainey, who he started dating early last summer. In late October, the pair revealed that they are expecting their first child together.
"I set up with the Rock & Roll Hall of Fame to light up their building the color of the gender, disguising the proposal as a gender reveal!" Cuevas told the magazine of their Nov. 21 proposal, which took place in Cleveland, Ohio. According to the outlet, the reality star presented Rainey with an emerald cut 3-carat diamond with a halo — which he actually designed himself.
"Brilliant Earth is the company I used and I designed it myself!" Cuevas said before sharing how Rainey feels about her sparkly new accessory. "She was over the moon with the ring." The couple released photos of the ring exclusively to People, along with intimate pictures from the proposal. Per the report, they were joined by their immediate family, as well as Rainey's best friend and fiancé.
"Aubrey was very surprised because she thought we were going to the venue, but I blindfolded her so she wouldn't know where we were actually going," Cuevas revealed, adding that the proposal took him about to plan to ensure that Rainey wouldn't suspect a thing.
Cuevas, who told People that he's "always known" Rainey was his match, took to Instagram last weekend to reveal some other exciting news: their baby's gender. "Aubrey's very impatient, we actually both are, and we already know the gender but we decided to do this for everyone and share it with the world," he said before setting off blue fireworks while the couple's family and friends waved blue streamers. "It's a boy!" Cuevas shouted.
"Y'all, we're super excited," the reality star continued before reminding fans to stay tuned in to the newly engaged couple's social accounts for baby (and apparently engagement) updates. The pair first announced the pregnancy last month, telling People at the time that Rainey is due in April 2021. Soon after, they confirmed the news on Instagram. "16 weeks and our baby is officially the size of an avocado," Cuevas wrote alongside a photo of him, Rainey, and her growing baby bump.
"We found out together after a weekend spent with friends and family in West Virginia for Labor Day weekend," the expectant parents told the outlet. They also shared the story of how they first got together, revealing that they met in an Atlanta restaurant, went on a Fourth of July trip together, and the rest was history. "We officially started dating and then never left each other's side since," they said.
Fans were first introduced to Cuevas on Season One of Netflix's Love Is Blind, where he hit it off with Batten despite their 10-year age gap. The former couple got engaged on the series, but after struggling with the age difference, Batten left Cuevas at the altar on the show's finale. Now, it appears that both have found love elsewhere. On July 4, Jessica introduced her new boyfriend on Instagram. And after Cuevas' proposal and baby announcement, it's clear things worked out exactly the way they were meant to.